Every Stop and Frisk in NYC in 2012, in 2 Charts
What an unconstitutional police policy looks like on the ground
Where did black and Hispanic New Yorkers get their Fourth Amendment rights violated last year?
A new set of maps compiled by a Columbia University journalism school class and tweeted out by Belgian Fulbright student Damien Spleeters provide a disturbing visualization of the full extent of the controversial New York Police Department program, which spanned the length and breadth of New York.
Using geolocation data from the New York Civil Liberties Union provided by Professor Mark Hansen, the students were able map each of the 532,911 police stops, many of which resulted in frisks, under the program in 2012. The major reason for stopping people under the program, according to the NYCLU data, was "furtive movements."
Each of the black dots below represents a stop. As you can see, certain Brooklyn and Bronx neighborhoods saw more stops than others. East New York, Brownsville and Bed-Stuy were among the top neighborhoods for stops in Brooklyn, and Mott Haven was tops in the Bronx. Areas that saw the fewest stops included Central Park, Kipps Bay, Murray Hill, and Turtle Bay in Manhattan, and Greenpoint in Brooklyn.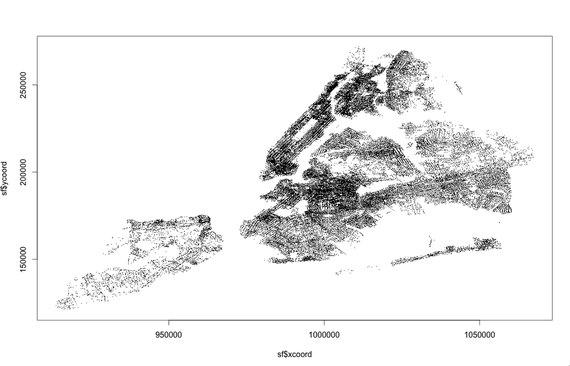 The second graphic shows the same data, broken down by race.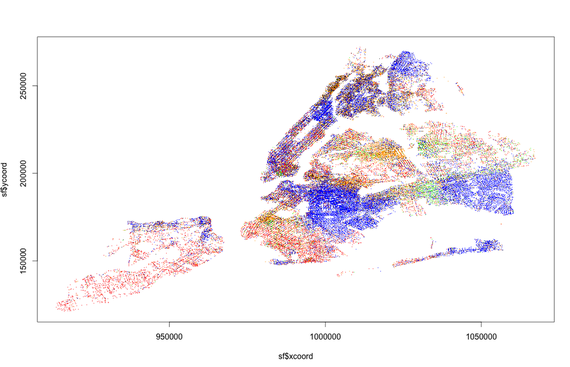 The key to reading those dots:
black: blue
black Hispanic: black
white Hispanic: orange
white: red
Asian/Pacific Islander: green
American Indian/Native Alaskan: yellow
While the program disproportionately targeted black and Hispanic New Yorkers, it also rolled up white people in Manhattan, South Brooklyn, and Staten Island. But it was mainly black and Hispanic New Yorkers who were targets. Per the NYCLU: "Of the 532,911 stops last year, 284,229 (54.8 percent) were of black people, and 165,140 (31.8 percent) were of Latinos. Conversely, whites accounted for only 50,366 (9.7 percent) of the stops."
(h/t The Verge)