Clinton Goes Political at 'I Have a Dream' Commemoration
The former president mocked the Supreme Court, endorsed Obamacare, and took on gun-rights advocates.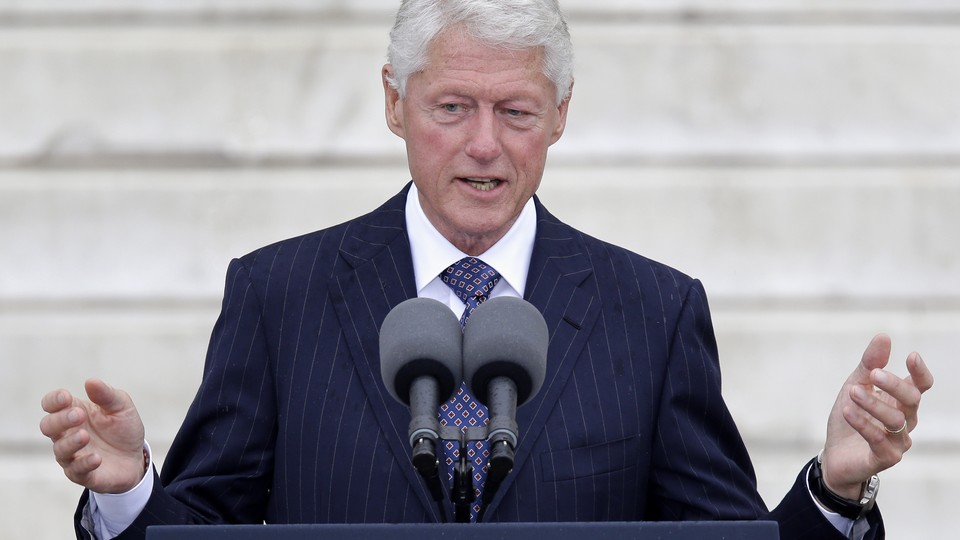 Former President Bill Clinton did not shy away from political advocacy while commemorating Dr. Martin Luther King Jr.'s "I Have a Dream Speech," opting instead to push a policy agenda closely aligned to President Obama's and to rip the Supreme Court over its decision on the Voting Rights Act.
Clinton mocked the logic the high court used in June to lift the requirement for certain states — largely in the South — to get federal approval before changing their voting laws and procedures.
The states "made it harder for African-Americans and Hispanics and students and the elderly and the infirm and poor working folks to vote. What do you know? They showed up, stood in line for hours, and voted anyway, so obviously we don't need any kind of law," Clinton said with heavy sarcasm.
"But a great democracy does not make it harder to vote than to buy an assault weapon," he declared.
The assault-weapon mention is a barb aimed at antigun control groups that successfully blocked Obama's proposal to expand background checks on weapons purchases.
Clinton's speech also included policy endorsements for several other of Obama's preferred policies, including the president's health care overhaul and more federal funding for science and technology.
Clinton spoke extensively in praise of King and other civil-rights leaders, saying the March for Jobs and Freedom was "one of the most important days in American history."
"They moved millions, including a 17-year-old boy watching alone in his home in Arkansas," he said.
The political nature of the rest of Clinton's remarks may open the former president to accusations of politicizing the speech's 50th anniversary, as other speakers opted to confine their remarks to non-controversial themes such as the abolition of Jim Crow laws, the condemnation of racially motivated violence, and support for the Civil Rights Act.
But, as National Journal's Matt Berman points out, King's positions were never limited to the "safe-for-all-political-stripes" themes he is often remembered for today; the reverend condemned American foreign policy in Vietnam in the strongest possible terms — including by comparing U.S. actions to those of Nazi Germany — andwas a strong advocate of social programming aimed at reducing poverty.
This post was updated at 6 p.m. to clarify the intent of the recently-defeated firearm background check bill.
{{ BIZOBJ (video: 4405) }}