Can the Tea Party Find Any Candidates?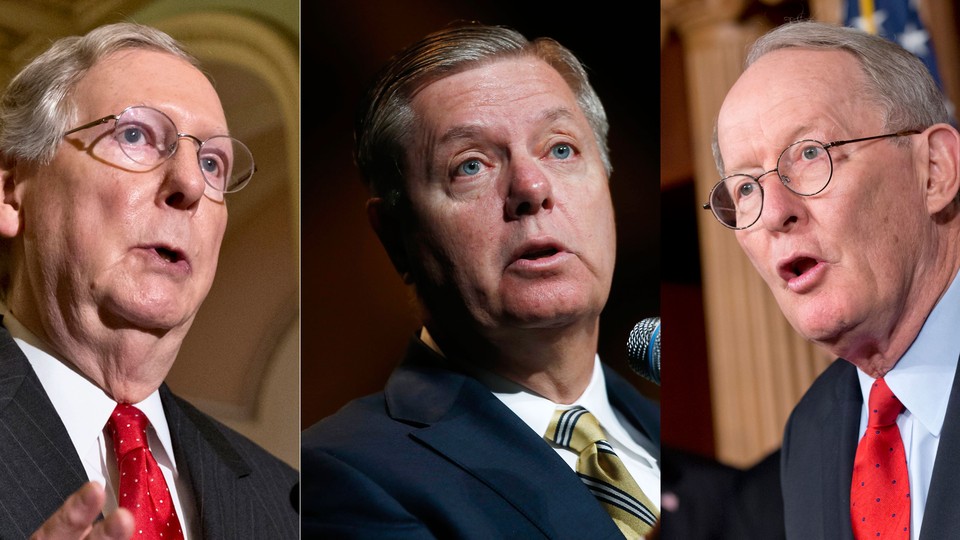 There aren't three Republican senators more vulnerable to a tea-party challenge than Lamar Alexander, Lindsey Graham, and Mitch McConnell — longtime incumbents with a history of deal-making and moderation that conservatives love to hate.
But conservative activists itching for primary fights are missing an essential element of victory: candidates.
In each of the three races, conservatives worry that they've yet to find a credible primary challenger, one capable of knocking off a better-known and better-financed incumbent. And now they fear that they'll squander some golden opportunities in what should be a great cycle.
It's not easy to defeat a Republican incumbent. While the establishment routinely loses open-seat primaries, only two GOP senators have lost a primary since 2010 — Robert Bennett of Utah in 2010 and Richard Lugar of Indiana in 2012.
"In order to run a successful grassroots campaign and defeat established incumbents with all their advantages, the candidate needs to be compelling," said Matt Hoskins, spokesman for the Senate Conservatives Fund, a group that frequently targets GOP senators it views as too moderate. "More times than not, the candidates who defeat incumbents are exceptional candidates."
The problem for tea-party activists is especially acute in South Carolina and Tennessee. It's not that Sens. Graham and Alexander haven't drawn challengers — Graham, in fact, has three of them. It's that conservatives say the candidates who have emerged lack the profile, message, and skill to defeat an incumbent.
Alexander, who has sparred with Volunteer State tea-party groups over the need for pragmatism in government, drew his first primary challenger, state Rep. Joe Carr, last week. The local lawmaker had been running against GOP Rep. Scott DesJarlais, but dropped out of the race to take on Alexander.
The two-term senator's votes this year have exposed vulnerabilities in a GOP primary. He backed cloture for a vote on expanding gun-sale background checks — although he opposed the measure itself — and supported comprehensive immigration reform, which conservatives decry as amnesty.
But Carr, according to conservatives tracking the race, isn't poised to take advantage of Alexander's vulnerabilities, because of his own baggage. Last year, Carr supported the incendiary remarks made by former Rep. Todd Akin, who suggested that women can't become pregnant after a rape.
"We're a little concerned about Carr," Hoskins said. "If he couldn't get traction in House race, he probably can't get traction in Senate race."
Three candidates have already stepped up to take on Graham in the Palmetto State: state Sen. Lee Bright, social-conservative activist Richard Cash, and Nancy Mace, who was the first woman to graduate from the Citadel. She is considered the strongest of the trio, but thus far, few consider her a serious threat to Graham, despite his outspoken advocacy for immigration reform.
"The early stages of her campaign indicate she might not be ready for prime time," said Chip Felkel, a veteran South Carolina GOP strategist.
He added: "[Graham] will have a race, but I think he'll win. It won't be nearly as competitive as some people would like to think. So far, the tea party has never shown an ability to rally around one person or issue."
McConnell faces the most significant primary challenge of the three. Matt Bevin, a Louisville-area businessman, has the best chance to emerge as the next Mike Lee or Richard Mourdock, the two challengers who defeated an incumbent Republican. Bevin has certainly gained McConnell's attention: The Kentucky lawmaker has already aired three negative ads targeting Bevin personally, and last week the senator released an internal poll showing him up big in a potential primary.
Bevin has yet to gain the coveted endorsement of the anti-tax Club for Growth, the de facto marker of a serious primary challenge. The club has said only that it is "watching" the race.
Conservatives still have time to recruit more candidates . Tennessee conservatives, for example, are holding a series of forums in September in which prospective challengers are invited to speak, a sort of monthlong audition to find and unite behind a candidate. Or conservatives can hope the looming fight over defunding Obamacare sparks more interest. Even as many GOP leaders back off the defunding idea , many activists remain fervently behind it.
"We've seen an increase in the number of candidates coming in to our office who are challenging or want to challenge incumbent members of Congress," said Barney Keller, spokesman for the Club for Growth. "Much of that is born out of a frustration that Republican leaders aren't doing enough to fight Obamacare and limit the size of government."