Blood for No Oil: What Newt Gingrich Isn't Saying About Syria
What do Keystone XL and Syria have in common? Less than Gingrich would have you believe.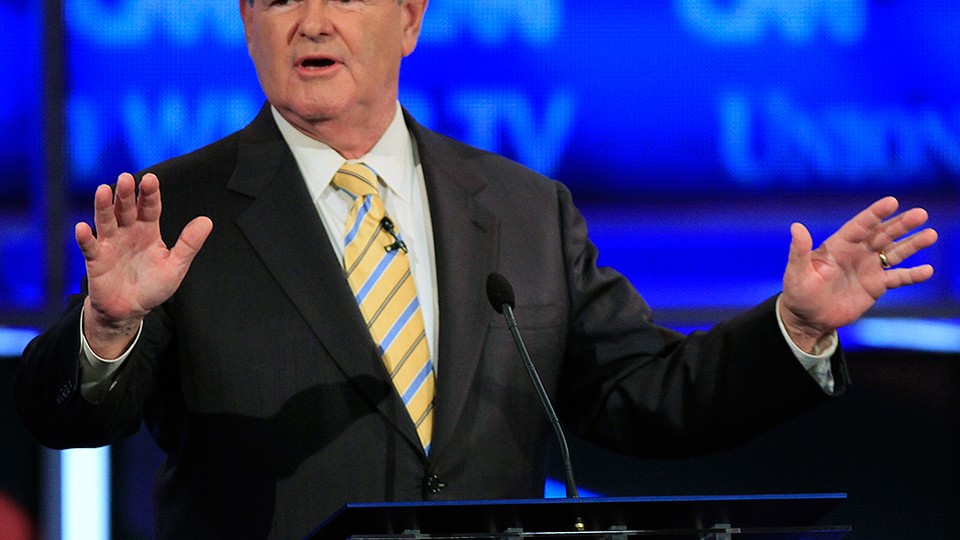 Newt Gingrich has a plan: If the House is going to vote on military action in Syria, Speaker John Boehner should attach war-authorization votes to legislation forcing approval of the Keystone XL oil-sands pipeline.
Gingrich made his pitch to House leadership Thursday on Twitter:
House GOP should combine Keystone Pipeline and Syria into one up or down vote. Lets see who wants war while opposing American energy

— Newt Gingrich (@newtgingrich) August 29, 2013
Politically, it has the markings of a shrewd move, as many House Democrats would be loath to vote against President Obama but equally unwilling to vote for a project that the party's environmental base despises. Indeed, Democrats have largely voted against the project during the House's seven separate attempts to force the White House's hand on the pipeline.
But Gingrich's bid to connect Keystone XL and Syria is plagued by a logical loophole: Unlike some of its Middle Eastern neighbors, Syria produces little oil, and almost none of it goes to the U.S.
By the numbers:
Syrian oil exports have been blocked by international sanctions since late 2011, and even before then, it was hardly a major player in world oil supply: It produced 0.4 percent of global supply pre-sanctions, and much of that was consumed internally.
The U.S. imported 476,000 barrels of oil from Syria in 2010, according to the U.S. Energy Information Administration.
That same year, the U.S. used 7 billion barrels of oil, again according to the EIA.
That means Syria supplied a shade under 0.0067 percent of U.S. oil consumption, or about enough to meet America's average 2010 oil demand for "¦ 36 minutes.
To be sure ...
There are plenty of other arguments for or against a Syrian military strike, and — should one feel a need to make a case based strictly on energy — there's an argument to be made that U.S. involvement in Syria could disrupt oil production throughout the region and put a major dent in U.S. supplies.
But if Gingrich is going to draw a direct line between Syria and Keystone XL, it's going to take more than a tweet.