Barack Obama, Media Critic
The president offered his take on the decline of the journalism business in an new Kindle Single interview.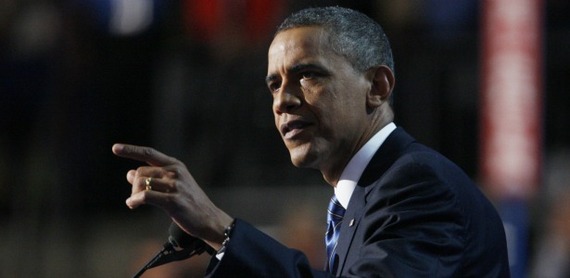 Reuters
Barack Obama put on a bit of a media critic's hat when he sat down with David Blum, editor for Amazon's Kindle Singles -- and also an old college friend of Obama strategist David Axelrod -- on Tuesday for an interview released Wednesday. In his remarks, the president talked about some of the major shifts in the economy -- and how journalists have been at the forefront of absorbing those changes.
We have increasingly resigned ourselves to a "winner-take-all" economy-- again, driven a lot by technology and globalization, where folks at the very top are doing very well and the broad middle class of people, people trying to get into middle class, are having a tougher and tougher time.

You see that in every profession. You see that in journalism.

It used to be there were local newspapers everywhere. If you wanted to be a journalist, you could really make a good living working for your hometown paper. Now you have a few newspapers that make a profit because they're national brands, and journalists are having to scramble to piece together a living, in some cases as freelancers and without the same benefits that they had in a regular job for a paper.

What's true in journalism is true in manufacturing and is true in retail.

What we have to recognize is that those old times aren't coming back. We're not going to suddenly eliminate globalization. We're not going to eliminate technology. If people are going to book their vacation over the Internet, they're not going to go down to the local travel agent. If that's the case, then where are the new opportunities? Where are the new industries? How are we preparing folks for those new industries? With just a few modest, but really important, changes to government policy, we could be doing an awful lot better than we're doing right now.
I suspect there are a lot of folks in journalism about now wondering precisely what government intervention to prepare them for a new industry might look like. According to the Huffington Post:
The Plain Dealer in Cleveland cut about a third of its newsroom staff Wednesday, months after announcing it was reducing home delivery of the newspaper.

About 50 reporters, photographers, page designers and other Newspaper Guild-covered employees received layoff notices, according to the guild.

The newspaper did not release a list of those who lost their jobs.
And yet, journalists, or at least writers, are, as wordsmiths, possessed of some pretty transferable skills. Having watched more men and women than I ever wanted to forced to find new jobs because of the shrinking media industry, I've also been impressed by the incredible resilience of those who've left the field -- and the surprising new opportunities they've found for well-paid work in industries that are not as hard-pressed as the one they were forced to leave behind. Indeed, if I had to make a generalization based on anecdotal observation, I'd say that those who strike out for new pastures do far better than those who try to find a new foothold in the beloved industry that shook them loose. But whether they stay behind in their old cities or move to new ones and different economic sectors, most journalists are among the country's college-educated elite, and don't stay out of the workforce for all that long. The unemployment rate for college graduates is less than 4 percent, which is pretty low, all things considered.