An Intimate Look at the March on Washington
Fifty years ago, photographer Leonard Freed captured the spirit of the protest through the faces in the crowd.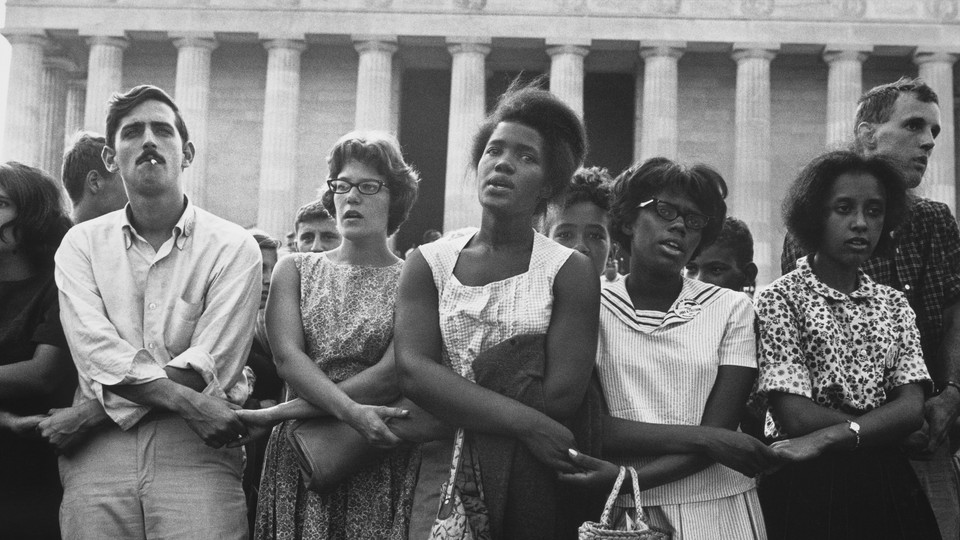 The anniversary of the 1963 March on Washington for Jobs and Freedom is most often memorialized as the anniversary of Martin Luther King Jr.'s "I Have a Dream" speech, his famous words resonating through half a century. But one man is not a movement, and the march made history for drawing more than 200,000 souls -- making it the single-largest protest in American history on that August 28 nearly 50 years ago.
The marchers came from all over the country, Maine to Mississippi, dressed in the prim styles of the time and bearing in mind the early-1960s protest strategy of looking more respectable on the picket line than in everyday life, the better to convince the outside world. The faces of the marchers -- ecstatic, eager, joyous, hot and tired -- are the major subject of This Is The Day: The March on Washington, a collection of the luminous images of photojournalist Leonard Freed (1929-2006) published by Getty Publications earlier this year. Images from the book will be on display in Washington for the next six months as part of the Library of Congress show "A Day Like No Other: Commemorating the 50th Anniversary of the March on Washington," which opens August 28 and also features the work of other important photojournalists of the day.
Newspapers often seek to document major rallies and marches with images that show their vastness and their speakers, but the 75 images in Freed's book show the march from a more intimate perspective, the one seen by the youthful crowd that gathered on the Mall. "Photographing is an emotional thing, a graceful thing," Freed is quoted as saying in the book. "Photography allows me to wander with a purpose."
The photos above and below, taken on a Leica, are from This Is the Day, which does not caption the images. (Click on the images to enlarge them.)
Security for the day was tight, according to a foreword to the book by Julian Bond: 150 FBI agents on the scene; 1,900 Washington police officers mobilized; 30 helicopters, a 4,000-person armed task force and 15,000 troops on standby. But protestors were allowed to use signs with wooden sticks, and the day began with stacks of them waiting to be picked up by marchers:
And so they marched ...
And held hands and sang.
It was still the era of hats and top-handle purses.
And wearing pearls to protests.
The trees are the same that shadow us when we walk along the path trod by marchers.
Some of those who marched were very young.