America's Most Outlandish Governor Says Obama Hates White People
Republican Paul LePage's long history of inflammatory remarks -- and why it might come to an end soon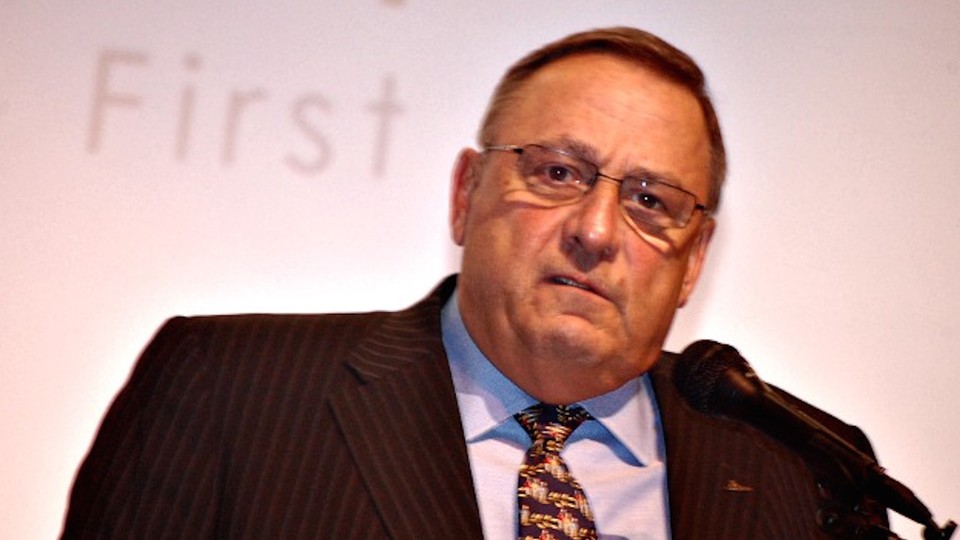 Depending on who you ask, Maine Governor Paul LePage's latest quote is either nothing out of the ordinary or outrageously shocking. Those familiar with LePage will react with a sort of irked nonchalance -- Oh, of course he said that -- while everyone else reacts with the sort of fury you'd expect when a governor claims the mixed-race president of the United States hates 78 percent of the population, including half of his own family.
The Portland Press Herald has the scoop:
Gov. Paul LePage told a group of Republicans last week that President Obama "hates white people," according to two state lawmakers who say they heard the remark directly ....

The lawmakers, both Republicans, confirmed the comment when asked by a Portland Press Herald reporter but asked that their names be withheld for fear of political retribution.

Each said LePage talked about how Obama could have been the best president ever if he had highlighted his biracial heritage. LePage said the president hasn't done that because he hates white people.

"Yeah, he said it," said one of the lawmakers. "It was one little thing from a speech, but I think most people there thought it was totally inappropriate."
The weary tone of that anonymous lawmaker hints at LePage's history of similar quotes. Set aside his claim about Obama; it's hard to believe the staunchly conservative governor would ever have been a fan of the president. The two men have legitimate policy differences, but LePage's ledger of commentary goes far beyond that.
Before he was elected, the candidate was caught on video telling some fishermen, "As your governor, you're gonna be seeing a lot of me on the front page saying, 'Governor LePage tells Obama to go to hell.'" (In retrospect: true!) In June, he said a Democratic lawmaker "claims to be for the people but he's the first one to give it to the people without providing Vaseline," adding, "People like Troy Jackson, they ought to go back into the woods and cut trees and let someone with a brain come down here and do some good work." Elsewhere, he ordered the removal of murals depicting labor scenes from the state's department of labor. Two weeks ago, while trying out a fighter-jet flight simulator, the governor quipped, "I want to find the Press Herald building and blow it up."
One July 2012 case was especially notable -- LePage apologized. That came after he compared the IRS to the Gestapo, acknowledging that any link with the Holocaust was inappropriate.
Nor is LePage exactly a champion of racial sensitivity. Shortly after being elected in 2010, he refused to attend a customary Martin Luther King day commemoration hosted by the NAACP, whom he described as a "special interest." Citing an adopted son from Jamaica, LePage said he was not racist and added, "Tell 'em to kiss my butt." One reason LePage might feel comfortable characterizing Obama as a race-baiter while insulting the NAACP is that Maine is the whitest state in the nation.
That's just one piece of what makes the Pine Tree State such a bizarre political theater. Even though the state has a noisy conservative like LePage (a native French speaker, interestingly) at the helm, President Obama handily won the state in both 2008 and 2012, with neither of his opponents cracking 41 percent of the vote. That followed a fraught GOP primary in which Ron Paul supporters felt they were cheated; it's one of only two states that allot electoral votes by congressional district rather than a winner-take-all system. Maine is one of the last refuges of the endangered northeastern Republican, with Senator Susan Collins looking like she has a smooth path to reelection in 2014. (When her fellow Republican Olympia Snowe retired in 2009, she was replaced by Angus King, an independent who's a Democrat in all but name.)
But Mainers might not have LePage to eyeroll at for much longer. The governor barely won his office in 2010, edging independent Eliot Cutler by fewer than 11,000 votes out of some 560,000 votes, or less than 2 percent. A poll in January found his disapproval at 55 percent, some 16 percent underwater, and voters said they'd favor either Cutler or Democrat John Baldacci in a head-to-head race. And political prognosticators Larry Sabato and Stu Rothenberg both rate the race as leaning Democratic (Charlie Cook rates it lean Republican).
So forget the idea that Obama hates white people. Given Maine's racial makeup, the 2014 gubernatorial election may end up being a referendum on whether white people hate Paul LePage.