A 'Dream' Deferred: Why Do Blacks Still Have So Little Clout in Congress?
Although there are 44 African Americans in Congress, up from just five in 1963, their ability to enact legislative priorities is arguably lower today.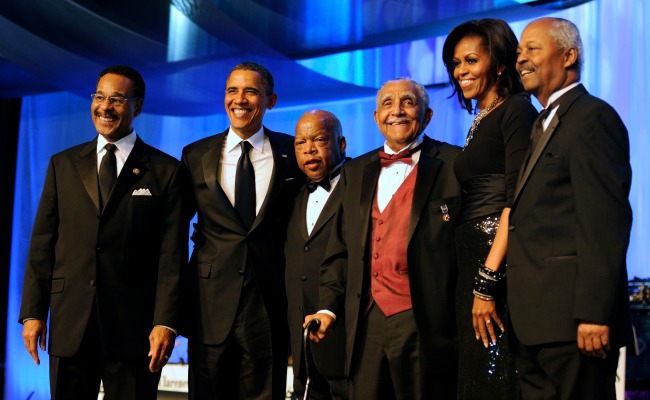 When Martin Luther King Jr. delivered his "I Have a Dream" speech 50 years ago this week, just five African-Americans held seats in Congress. There are 44 today.
But those numbers mask a hard reality: Even with an African-American in the White House, blacks arguably have less clout in Congress than they did in 1963.
"If you look at the legislation from that era, it was 1,000 times more favorable for African-Americans than it is now because they were dealing with civil rights, labor law, and the minimum wage," said David Bositis, a scholar of black politics at the Joint Center for Political and Economic Studies. "What can collectively the black members of Congress point to that they have accomplished in this Congress?"
Three priorities listed on the Congressional Black Caucus's website -- protecting voting rights, passing comprehensive immigration reform, and maintaining social- and economic-safety nets -- have little momentum in the Republican-dominated House.
Gun control, which was a focus of the most recent meeting between President Obama and the CBC, has slid off the front burner since the Senate failed to pass an assault-weapons ban in April.
The most significant law to come out of Congress in years, which will help insure millions of poor Americans, is being rebuffed by governors throughout the South, where more than half of the black population lives.
And in a particularly bitter blow to black members, the Supreme Court gutted part of the Voting Rights Act in June, opening the door to states escalating voting restrictions.
For African Americans in Congress, it feels like they are going backwards.
"We don't have the collective impact that we should have, and we don't have the relationship with Barack Obama that people think we have," said Rep. Alcee Hastings, who in 1992 was among the first African-Americans elected to Congress from Florida since Reconstruction. "I don't have as much hope as I used to and, in some ways, greater fears. It's remarkable that we've come this far but damned upsetting that we still have so far to go."
One key hurdle is obvious: All of the African-Americans in the House are Democrats serving in the minority, with scarce hope for a takeover in 2014. No matter their race or ethnicity, few House Democrats manage to get their way in an institution where the majority rules. What's more, an increasingly polarized political climate has left Congress more gridlocked than ever. No one is getting much done, and the black members are no exception.
Another reason for their limited influence is that most come from relatively safe voting districts. Party leaders tend to dole out plum assignments and opportunities to carry legislation to members facing competitive elections, a strategy that once allowed the smaller caucus of moderate Democrats known as the Blue Dogs to wield significant clout. The ban on so-called earmarks also precludes black members (as well as their white colleagues) from setting aside money for pet projects in their district.
Hastings recalled visiting a city in his district recently where he had once directed $11 million for programs for frail seniors and at-risk children.
"That money is taken away from me now," he said. "I am disappointed that as a representative, except for symbolically, I am unable to make the big impact that I would like to have made. But as the saying goes, the struggle continues."
Rep. Charles Rangel of New York, a founding member of the CBC in 1971, said, "This is the appropriate time for a march, not just for commemorating what happened 50 years ago but to rededicate ourselves to the struggle for civil rights."
At the top of the agenda is heeding the Supreme Court's demand that Congress revamp a provision of the Voting Rights Act that required localities with a history of racial bias to get federal approval before changing voting practices. Although some black Democrats point to encouraging signs from top Republicans, such as House Majority Leader Eric Cantor of Virginia and Judiciary Committee member Jim Sensenbrenner of Wisconsin, there appears to be little momentum for reform in the House. The burden seems to be falling to the Obama Administration, which last week sued the state of Texas over its new voter ID law.
"The gains made under the Voting Rights Act must be preserved amid these threats to turn the clock back," declared Rep. Barbara Lee, D-Calif., who spent part of her childhood in Texas. "We have to be vigilant because all would be lost if left up to the tea-party Republicans."
Former Rep. Allen West, the lone Republican member of the Congressional Black Caucus in 2011 and 2012, called blaming the GOP a "cop-out." The caucus should get its priorities straight, he said, and spend more time raising awareness about teen pregnancy and promoting school choice.
"I think the challenge for the CBC, the NAACP, and other groups is whether their priorities are in line with what's plaguing the black community," West said. "If you want to expand the dependency society, that's not what Republicans or conservatives or even the black community believes in."
The Senate's sole African American -- Republican Tim Scott of South Carolina -- chooses not to participate in the CBC.
"I'm not a member because ultimately I believe I get more done and that we're better off not joining organizations that create lines of delineation," said Scott, who was appointed in December by Gov. Nikki Haley to serve out Jim DeMint's term. "They certainly have some players with influence, but ultimately the CBC's positions are inconsistent with where I think our country needs to head. It's a philosophy that the growth of government is going to make our people stronger and our people better, and I don't think the answer is yes."
The CBC has had its successes over the years. It pushed for anti-apartheid sanctions against South Africa in the mid-1980s, helped establish King's birthday as a federal holiday, and was a driving force behind getting assistance to victims of Hurricane Katrina.
More recently, Rep. Frederica Wilson, D-Fla., said the caucus has been effective on some lower-profile issues, such as making more families eligible for college loans, compensating black farmers who faced discrimination, and discouraging prosecutors from seeking harsh prison sentences for nonviolent drug offenders.
"There's only so much we can do individually, but there's a great deal we can do as a caucus," Wilson said. "You can't always do it in the public and in the press but you have to stick together." She sighed and added, "It's not easy."
Exacerbating the frustrations felt by some black Democrats is a sense of responsibility to carry on the legacy of the civil-rights movement amid painful memories of segregation and ongoing racial inequities. Rep. Terri Sewell of Alabama, who hails from one of the birthplaces of the movement, noted that the median income for a family of four in her district, which is 64 percent black, is $30,327.
"Growing up in Selma, Alabama, you grow up very conscious of the fact that you are a beneficiary of the movement and that the best way you could strengthen the legacy of those whose shoulders you stand on is to continue to press for social and economic change," Sewell said. "It's a full-circle moment for me, because the issues that affected the district when I was a college intern are still the issues now, 28 years later. It's unacceptable to be in an institution where you can make a difference, and yet we're not addressing the major issues of the day."
What keeps her going? The portrait of Shirley Chisholm, the first black woman elected to Congress in 1969, hanging in the Capitol. "I get a pep in my step because there's no way my journey is as hard as what she faced," said Sewell, whose mother was the first African-American to serve on the Selma City Council. "I can in no way be tired."