21,000 Syrians Flee Into Iraq in Last 4 Days
The Kurdistan region in northern Iraq opened a bridge across the Tigris River last week as fighting continues.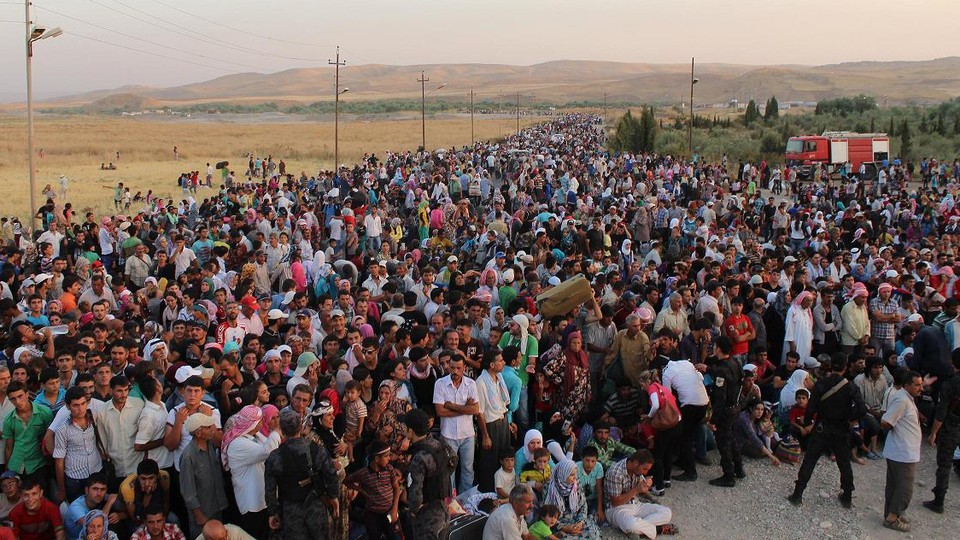 A staggering number of Syrians fled into northern Iraq in recent days after the country opened a bridge across the Tigris River.
Since last Thursday, an estimated 21,000 people have crossed into the Kurdistan region of Iraq — 10,000 just on Saturday alone. The United Nations says it expects the influx to continue dramatically in the coming days, making this one of the largest single border-crossings in the two-year Syrian conflict.
Northern Syria, primarily the major city of Aleppo, has seen some of the bloodiest fighting between the regime of President Bashar al-Assad and rebel forces. Aleppo sits 280 miles from the Iraqi refugee camp that will host the fleeing Syrians near the town of Dahuk.
The bridge was once open to fleeing Syrians, but local Kurdish authorities closed the crossing in May. That left only one formal crossing in the northern region, according to Reuters.
The U.N. captured the reactions of some of the refugees in a video posted Monday. There, they interview two Syrians on why they fled:
"We came from Qamishly," said Biruz Rashid. "It took us three days to get here. We are escaping an impoverished life under fire and bullets that have affected thousands of innocent people. There are no jobs, no future for our children and that is one reason we came, to change our lives."

"We had no choice but to leave," Reivan Farco said. "There is no work there. I thank the president for opening the border."
The video released by the U.N. shows hundreds of refugees surrounding trucks with men distributing food and water. As they toss boxes of food into the crowds, the few who catch the nourishment celebrate the new meal.
Northern Iraq has only one operating refugee camp, sitting about 220 miles north of Baghdad, but threre are plans to open another one by the end of August. Since the start of the conflict, 1.5 million people have fled Syria to neighboring countries and registered as refugees with the U.N. There are already 150,000 Syrians taking refuge in Iraq.
Meanwhile, a U.N. team arrived in the capital city of Damascus on Sunday to begin investigating reports of chemical weapons use by the Assad regime. Both rebel fighters and the Syrian government have accused each other of using the deadly sarin gas, but Washington maintains the weapons were deployed by the Assad regime — a "red line" for President Obama. The investigators will visit three sites in Syria where chemical weapons were supposedly used, including one town in the north.
Here is the video of the refugee crossing released by the U.N.: