13 Women's Accusations Against Bob Filner
What began with the complaints of three women against the former San Diego mayor snowballed into allegations of crude come-ons from more than a dozen.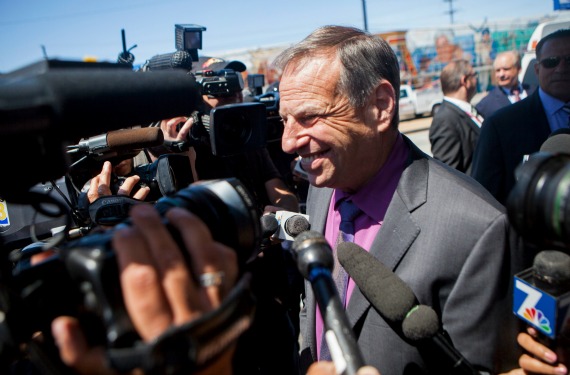 Editor's note: Since this post originally ran in August, Bob Filner has resigned as mayor of San Diego. On October 15, he pleaded guilty to one count of felony false imprisonment and two counts of misdemeanor battery. Under a plea agreement, he will receive three years of probation and three months of house arrest.
He was one of the early members of the Congressional Progressive Caucus in the House of Representatives. From 2007 to 2011 he chaired the House Veteran's Affairs Committee. He represented an area that includes almost all of California's border with Mexico. And now, at 70, he is mayor of San Diego.
Bob Filner may have begun his political life fighting for a just society as a Freedom Rider in the summer of 1961, but the former 10-term congressman, who entered a treatment facility for a two-week stay on Monday following accusations of sexual harassment, seems destined to end it in ignominy, surrounded by the stench of corruption and moral turpitude.
There is something wrong with Bob Filner, and whatever it is, two weeks of intensive therapy won't fix it. He is being sued for sexual harassment by his former communications director. The San Diego City Council voted unanimously to sue him to recover any costs associated with that lawsuit. City attorneys have ruled he can't be alone with a woman anymore while on city business for liability reasons. Democrats and Republicans in San Diego want him gone.
He should go. This is not a question about private conduct, but of misuse of public power.
Fresh allegations out Wednesday from two survivors of military sexual assault who sought Filner's aid while he was in Congress accuse him of using his power to try to take advantage of women who were at their most vulnerable. The president of the National Women's Veterans Association of America, which supports survivors of military sexual assault, says he made a play with seven or eight women who were part of her group while they were trying to get him to take their issue seriously.
"He went to dinners, asked women out to dinners, grabbed breasts, buttocks. The full gamut. Everything that is complete violation of what we stand for," Tara Jones told CNN. "He's a sexual predator. And he used this organization for his own personal agenda."
The latest allegations of inappropriate behavior come on top of accusations from 11 other women, bringing the total of on-the-record named accusers to 13 in incidents dating to 2009. That is some Bob Packwood territory. Filner's former fiancee has also accused him of verbally abusive behavior and blatant and recent sexting, and dumped him in the wake of the scandal.
"I brought this on through my own personal frailties, and the biggest monster right now is, you know, inside me, which we will deal with,'' Filner told Univision before entering treatment. "I'm clearly doing something wrong," he acknowledged earlier.
If you have not been following this story closely, here is what you need to know to get up to speed. Read the stories of the 13 women, as excerpted from reports over the past three weeks.
1. Irene McCormack Jackson, as reported by KPBS:
Reading in a clear and powerful voice from a prepared text, McCormack Jackson said the day she was named Filner's communications director -- a job for which she took a $50,000 per year pay cut -- was one of the proudest of her career. But the past six months proved to be the worst period of her working life, she said. (She earned $125,000 annually at the city.)
The mayor treated women working for him as either sexual objects or idiots, said McCormack Jackson, who did not take reporters' questions.
She described Filner's penchant for putting her into a headlock and pulling her about, while whispering sexually explicit comments in her ear. She said the mayor often told her he loved her, wanted to kiss her, told her he wanted to see her naked and that she should work without panties at City Hall; and that he wanted to "consummate their relationship."
"I saw him place his hands where they did not belong on numerous women,'' she said.
2. Laura Fink, as reported by KPBS:
Fink said her troubling encounter with Filner happened when she was staffing him at a fundraising dinner. The Democratic congressman was making amends to the LGBT community, she said, for his "yes" vote years earlier on the highly controversial Defense of Marriage Act.
Her job was to escort Filner from table to table during the dinner. At one point, Fink said, an attendee singled her out for praise saying, "this girl has worked her ass off for you."
At that, Fink said, Filner told her to turn around.
"As a staffer, I know it sounds silly to say that you just do it, but you just do it," Fink said.
Once she'd turned, Fink said, Filner "took his hands, patted my posterior, laughed, and said: 'No, it's still there!'"
For a moment, Fink said, she was in shock, "and it certainly gave the people at the table pause."
She then escorted Filner to the next table. Moments later, Fink said, one guest tried to gently upbraid the congressman, telling him Fink was not his wife and that he shouldn't treat a woman like that. Filner brushed it off.
Fink said the incident left her "in disbelief that it could have happened."
She needed a few days to process it. But Fink said, "the more I thought about it, the more upset I became."
She emailed Filner demanding an apology; copied on the message was the congressman's chief of staff, Tony Buckles. Buckles returned to that position with the mayor earlier this month after Filner's former chief of staff resigned amid the harassment scandal.
Buckles soon called, Fink said, to ask what she wanted.
"An apology," was her response.
But Filner's half-hearted effort at that apology soon afterward left her sad and disappointed, Fink said; she added that Filner never responded to her email.
3. Morgan Rose, as reported by KPBS:
In January 2009, Rose and her team met with then Congressmen Filner in an effort to bring their initiative to a national stage. After their initial meeting, Filner called her home phone to request an additional, private meeting.
Rose states, "He asked for this meeting because he wanted to know, in his vernacular, 'who in the hell you are.'"
They scheduled to meet at Marie Callender's across from his congressional office in San Diego County.
When Rose arrived, she remembers being greeted by his assistant, community representative, Willie Blair, who suggested a booth facing the door. Blair then left, and she says the restaurant was empty.
When Congressman Filner arrived he informed Rose that he had brought the mission of America's Angel Campaign to Michelle Obama. Filner stated Mrs. Obama requested a follow up memo concerning how the campaign would discuss the escalating violence in America's military families.
Rose's initial excitement turned to confusion when she says Congressman Filner started staring at her. He then allegedly said, "your eyes have bewitched me."
Rose states that Congressman Filner stood up, walked over to her side and sat down next to her and wanted to kiss her.
"He tried to move my face towards his to kiss me on the mouth," Rose said. She turned away from him and remembers negotiating for him to stop.
"Would you please go back so we can continue this meeting? This is an important topic," she said.
According to Rose, Congressman Filner said he would not move until "you kiss me."
Rose alleges Congressman Filner tried to kiss her four separate times.
4. Sharon Bernie-Cloward, as reported by KPBS:
Sharon Bernie-Cloward, president of the San Diego Port Tenants Association, said then-Congressman Filner approached her at a National City event in 2010, told her she was beautiful and that he "wanted to date me" after his re-election.
She also told of an event at the Town & Country Convention Center in 2012, when Filner was running for mayor of San Diego.
"He came up to me after the event was over. I was talking with friends and he gave me a hug. And then he touched me, actually groped me on my backside inappropriately," Bernie-Cloward said. "I was left there startled and fearful. In fact, I actually had someone walk me to my car that night."
5. Patti Roscoe, as reported by KPBS:
Patti Roscoe, a prominent businesswoman in San Diego's tourism and hospitality industry, said she's known Filner since his days on the City Council decades ago.
"And on numerous occasions, he put in me what I guess now is the famous headlock; and I felt fearful, even as well as I knew him, because it was an invasion into my space," Roscoe said. "And he would come in and try to kiss me on the lips and I'd have to squirm to get away. And just as recently as a few months ago this happened. I turned and he just slobbered down my chin.
"And I was so violated and so offended. It's just such a terrible invasion."
6. Veronica "Ronne" Froman, as reported by KPBS:
Froman, who was chief operating officer of the city of San Diego during Mayor Jerry Sanders' administration, said that at a meeting "a couple years ago (at) Filner's congressional office," he blocked the doorway after everyone had left.
"He stopped me and he got very close to me. And he ran his finger up my cheek like this and he whispered to me, 'Do you have a man in your life?'" Froman said. "I jumped back. I was very, very startled. And I said, 'Yes, I have a man in my life.'
"And he said, 'who?' And I said, 'Linden Blue.' He says, 'Oh, of the Blues Brothers?' And he says, 'Maybe we can get together some time and have lunch and he can support me for mayor.'
"I was really rattled, I got in the car with the two guys I was working with and I told them never to leave me alone in a room with Bob Filner again."
7. Joyce Gattas, as reported by KPBS:
She described to KPBS a series of "interactions with Bob where he's held me too tight, a kiss on the cheek which is inappropriate, hands on the knee that last too long."
Gattas, who helped craft the university's sexual-harassment policy, said she has often seen Filner make "sexual comments to others. And I've seen the interactions with others when they cringe. I've experienced his sexual innuendos with me at various events that again, have left me in that strange feeling of: This is inappropriate, this is unwanted and this shouldn't be happening."
8. Lisa Curtin, as reported by KPBS:
She said that in 2011, former Congressman Jim Bates set up a meeting between her and then-Congressman Filner to discuss potential uses for property near the old Naval Training Center.
Curtin said that after the meeting, Filner asked to meet with her in private. She said once alone, Filner grabbed her left hand, twirled her wedding band and asked if it was real. Curtin said she responded with, "It's about 25 years worth of wedding band."
"He then asked me if it could come off while I was in D.C. and if I would go out with him," Curtin said. "I said I really didn't think so. And at that point, he pulled my hand closer to him and he reached over to kiss me. I turned my head at that moment and on the side of my face, I got a very wet, saliva-filled kiss including feeling his tongue on my cheek."
9. Emily Gilbert, as reported by the Washington Post:
Emily Gilbert, who performs as a Marilyn Monroe impersonator, told Fox5 that Filner groped her at a fundraiser where she was hired to sing.
"He grabbed me a little too tight, then proceeded to slide his hand down my arm and then did a little grab on my derriere," Gilbert said. "I didn't want to make a scene; there were kids around."
Jason Gilbert, who is Emily's husband, said he was livid when he heard what had happened but felt powerless to do anything about it.
10. Renee Estill-Sombright, as reported by ABC 10 News:
"We were standing face-to-face and he held on to me and he was like, 'You are so beautiful,'" she said.
Estill-Sombright was at the church attending a breakfast to benefit a group that helps refugees from Africa. She had met Filner once before, so she decided to walk over to him and re-introduce herself.
She says Filner grabbed and held on to both her hands. But the "you're so beautiful" comment was just the beginning.
"'You are so beautiful and I cannot take my eyes off of you,'" she said. "'I just cannot take my eyes off of you.'"
Estill-Sombright says she was taken off-guard.
"I said,' Oh, thank you,'" she said. "I kind of felt weird."
Then came a line which has become all too familiar.
"'Do you have a husband? Are you married?' And I was like, that was kind of odd for him to ask me that," said Estill-Sombright.
Then, there was an invitation.
"And he said, 'Well, you know this is a personal invitation. I would like to take you out sometime,'" she said.
11. Michelle Tyler, as reported by Politico:
Michelle Tyler, a nurse, alleged that Filner asked her to engage in a personal and sexual relationship in exchange for his help in the case of U.S. Marine Katherine Ragazzino, who was wounded in Iraq.
"He made it very clear that his expectation was that his help for Katherine depended on my willingness to go to dinner with him, spend personal time with him and be seen in public with him," Tyler said at the news conference.
12. Eldonna Fernandez, as reported by CNN:
The man on the voicemail is flirty and clearly asking for a date. But it's the name on the message that's raising red flags.
"Hi, it's your newly favorite congressman, Bob Filner. You know, the one who fell in love with you at your last speech," he told Eldonna Fernandez.
He also asked her out to dinner in the message.
"I don't want to wait 'til you come back to have dinner with you," he said.
That message was left a year ago, while Filner was serving his 10th term as a U.S. congressman. He had met Fernandez at a National Women's Veterans Association of America "Healing and Hiring Fair."
When Fernandez got the message, she immediately deleted it. But when sexual harassment allegations against the now-San Diego mayor began to surface a few weeks ago, she remembered the "creepy" message and was surprised to find it still sitting in her iPhone's voicemail trash....
Fernandez was speaking at an NWVAA event in August 2012 when she exchanged business cards with Filner.
"He looks at my card. He looks at me. He says, 'Fernandez. Are you married? Do you have a husband?' Very quick, very direct. I said, 'No, I'm divorced.' 'Well, you're beautiful, and I can't take my eyes off you, and I want to take you to dinner.' I was really shocked and I was like, 'Uh, OK,'" Fernandez said.
Then came the phone call and voicemail, which Fernandez never returned.
13. Gerri Tindley, as reported by CNN:
At the same NWVAA event where Fernandez spoke, Army vet Tindley gave a speech about her violent rape, which she said happened during her eight years of service. She bore a son from the sexual assault.
Filner, who was running for mayor of San Diego at the time, was also scheduled to speak. In the green room, he asked Tindley about her rape.
"He got as close as he could to me. His jacket was touching my jacket," Tindley said. "I was bent down. He was bent down with me, rubbing like he cared, like he was consoling me."
Tindley said she felt uncomfortable as Filner moved closer and closer. So close, she said, that she nearly fell off the couch trying to move away from him.
"I felt very weird," she said.
While not herself charging him with unwanted sexual advances, Bronwyn Ingram, who until the scandal was engaged to Filner, broke it off because of his sexting and his attempts to date other women. As reported by ABC 10 News:
San Diego Mayor Bob Filner's former fiancee said she recently broke off their engagement because he was verbally abusive toward her and blatantly sent sexually explicit text messages to other women, KPBS reported....
"While I had heard rumors that he was engaging in sexual relationships with other women, I was never able to determine their validity," Ingram wrote. "However, as Bob's behavior continued to become more aggressive, standard decorum seemed to disappear. Bob recently began texting other women sexually explicit messages and setting up dates while in my presence and within my line of vision."
Ingram and Filner dated for more than three years prior to her announcing their split last week.