Why Republicans Think They've Got the Math for a Senate Majority
Brian Schweitzer's decision not to run for the Senate greatly increases the odds of a GOP takeover in 2014.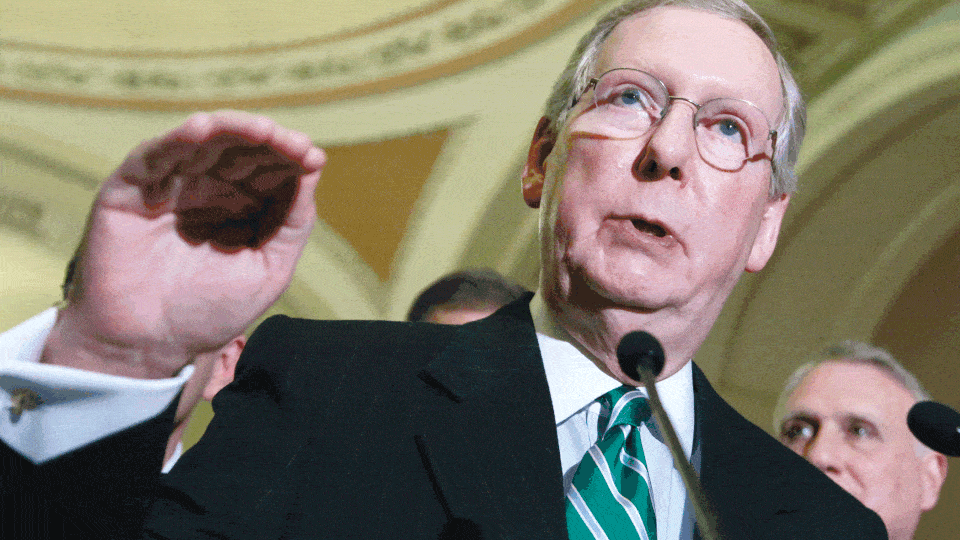 For the first time this year, Republican strategists believe they're within striking distance of taking back control of the Senate, thanks to untimely Democratic Senate retirements and red-state Democratic recruits deciding not to run for Congress. The latest blow to Democrats: former Montana Gov. Brian Schweitzer's surprising decision Saturday to pass up a campaign.
Republican recognize they need to win only three Senate seats in the most of conservative of states--Arkansas, Louisiana, and Alaska--and Mitch McConnell could be majority leader in 2015. (That is, if McConnell can hold onto his own Kentucky seat.) The latest developments underline how punishing the map is for Democrats for 2014, and how little margin for error they have.
(RELATED: How Conservatives are Helping Democrats for 2014)
Democrats can afford to lose up to five Senate seats and still maintain their majority, but they already risk conceding over half that number before campaigning even gets under way.
Schweitzer was the type of grade-A recruit who could nearly guarantee victory despite Montana's Republican leanings. His near-universal name recognition, blunt outspokenness, and statewide organization made him a heavy favorite, especially when Republicans had yet to field a first-tier challenger. Big Sky Country was beginning to look like a long shot for the GOP.
But somewhere along the way, Schweitzer got cold feet. Montana Democratic officials were expecting Schweitzer to announce his campaign earlier this week, and were caught by surprise when they didn't hear from the former governor. Democrats are claiming--after the fact--that they were concerned about vulnerabilities in his background, but Republicans say that the difficult political environment for Democrats in Montana also played a role.
(RELATED: The House Is the Most Conservative It's Been in More Than 60 Years)
"We did our homework, and there was a lot of rust under Schweitzer's hood--a LOT of rust," said Brad Dayspring, spokesman for the National Republican Senatorial Committee. "Just as important, though, is that Schweitzer looked at the race and realized he couldn't win in light of how unpopular the Democrat agenda of higher taxes, bankrupting spending, and the Obamacare train wreck is in Montana these days."
Indeed, Schweitzer's backing out is illustrative to a mounting recruiting problem for Senate Democrats in conservative states, which make up a disproportionate share of the battleground matchups in 2014. The party has failed to persuade any of its top choices in West Virginia, where Rep. Nick Rahall and lawyer Nick Preservati passed on bids. In South Dakota, the party missed out on former Rep. Stephanie Herseth Sandlin and the son of retiring Sen. Tim Johnson. In Georgia, Rep. John Barrow decided not to run, but the party rallied behind Michelle Nunn, daughter of former Sen. Sam Nunn. The party's biggest red-state recruit is Kentucky Secretary of State Alison Lundergan Grimes, whose campaign against McConnell has gotten off to a rocky start.
Possible Democratic candidates for the Montana Senate seat include Stephanie Schriock, president of EMILY's List; Denise Juneau, state superintendent of public instruction; Monica Lindeen, the state's auditor; Brian Morris, a state Supreme Court justice; and state Sen. Kendall Van Dyke.
On the Republican side, all eyes are on freshman Rep. Steve Daines, who comfortably won the state's at-large House seat last year.
(MORE: How the Sequester Hurts Poor People)
"We remain confident that Democrats can hold the Montana seat, and the overall math still favors Democrats next year," said Democratic Senatorial Campaign Committee Executive Director Guy Cecil. "Only three Democratic incumbents have lost reelection in the last decade. Our incumbents are positioned to win, we've already recruited a strong challenger to Mitch McConnell, and Republicans have failed to expand the Senate map into blue and purple states."
That's been the Democratic saving grace this election year--that Republicans have struggled to recruit top candidates in the traditional battlegrounds against Sen. Al Franken in Minnesota, Sen. Jeanne Shaheen in New Hampshire, Sen. Mark Udall in Colorado, and for open seats in Iowa and Michigan.
But if Democrats struggle to put Montana in play without Schweitzer, that means the path to a majority will run through Louisiana and Alaska, not the more Obama-friendly confines of the Midwest and Northeast. That's an unnerving proposition for Democrats, given how badly the party has struggled outside their comfort zone lately.