This Is America On Fire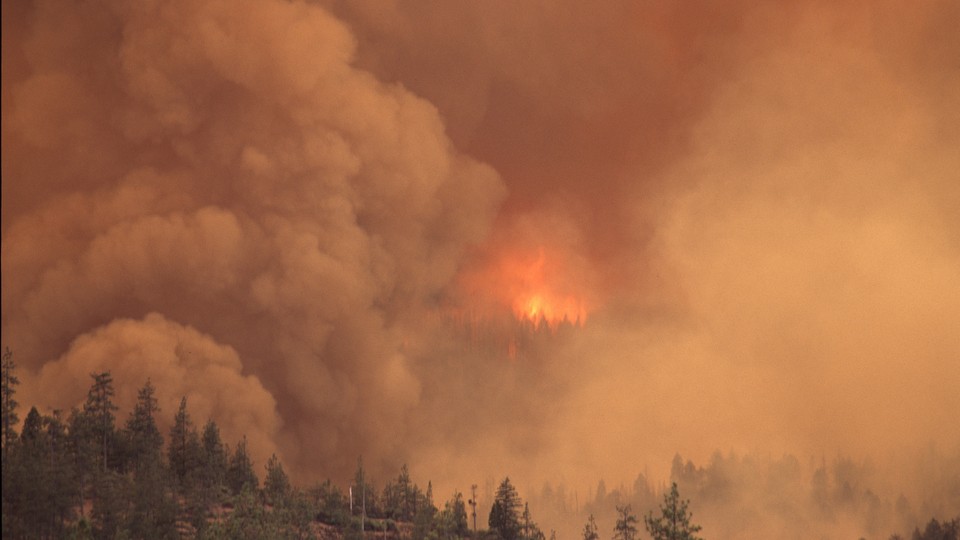 As of Tuesday, 1.8 million acres (an area the size of Delaware) in the United States have been burned by wildfires this year — and about a half a million of those acres are currently ablaze. Earlier this week, 19 elite firefighters died trying to contain a wildfire in Arizona. Colorado experienced its most destructive fire of all time last month, consuming more than 500 homes. But according to data from the National Interagency Fire Center, 1.8 million acres is actually typical for this time of year. The 10-year average for acres burned between January and July is 2.4 million.
But the past 10 years might represent something of a new normal, as The New York Times reports today. "The fire season has lengthened substantially, by two months, over the last 30 years," Craig D. Allen of the United States Geological Survey told the newspaper. The past 10 years have also been some of the hottest ever.
The stories of wildfire are dramatic; so too are the photos. This is America on fire:
A fire eight miles northwest of Prescott, Ariz., blazes behind a row of houses June 24. ( USDA.gov) Fires burn at night in Gila National Forest in New Mexico on June 12. (Gila National Forest)  Fire overtakes much of the Black Forest community near Colorado Springs, Colo., on June 21. (USDA.gov) A refrigerator stands in the ashes of a home destroyed by the Black Forest wildfire north of Colorado Springs, Colo., on June 17. More than 470 homes burned in the wildfire. (AP Photo/Ed Andrieski) A plane drops fire retardant in the Gila National Forest on June 8. (Gila National Forest)  The West Fork fire in Colorado on June 25. (dsearls/Flickr) A helicopter fills up with water for use on a fire near Palm Springs, Calif., on June 25. (USDA.gov) U.S. Army pilots and crew members release water over terrain near Black Forest, Colo., on  June 12. (U.S. Army photo by Sgt. Jonathan C. Thibault/Released)  The Silver Fire in Gila National Forest near Kingston, N.M., that began June 7 was caused by a lightning strike. The blaze has destroyed an estimated 136, 867 acres as of July 2. (U.S. Forest Service) The Gila National Forest on June 10. (Gila National Forest)  The Gila National Forest on June 10. (Gila National Forest)  A plume rises over the Gila National Forest on June 12. (Gila National Forest) Burnt trees and destroyed homes are left in the wake of a wildfire in the densely wooded Black Forest area northeast of Colorado Springs, Colo., on June 13. More than 350 homes have been lost in what is now the most destructive wildfire in Colorado history. (AP Photo/John Wark)  View of the Black Forest burn scar from space. Colored in red is the unburnt area. (NASA Earth Observatory) A fire in the Pacific Northwest in May. (BLM) A fire in the Pacific Northwest in May. (BLM) Toby Schultz pauses after laying flowers at the gate of the Granite Mountain Hot Shot Crew fire station on July 1 in Prescott, Ariz. An out-of-control blaze overtook the elite group of firefighters trained to battle the fiercest wildfires, killing 19 members as they tried to protect themselves from the flames under fire-resistant shields.  (AP Photo/Julie Jacobson)