The Moment Weiner Was Waiting For
"I love him. I have forgiven him. I believe in him," the mayoral candidate's wife said, as he confronted new allegations he'd warned were coming.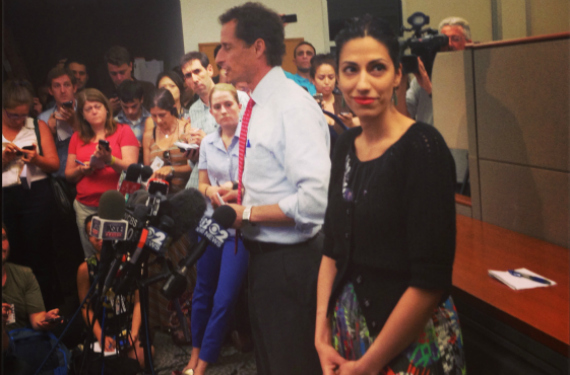 Huma Abedin, standing by her man. (Garance Franke-Ruta)
NEW YORK -- There was no question but that they were prepared. Anthony Weiner and Huma Abedin approached the podium calmly. He looked tan and resolved. He had done this before. Stood there teary-eyed and sniffling before the baying New York press corps to talk about his mistakes. His marriage. The hurt he had caused his wife.
This time he was ready, steadier. On the other side of that moment of uncontrollable emotional crisis, so apparent at the then-congressman's excruciating 2011 press conference in which he admitted to sexual chats and image sharing with multiple strange women online.
"Good afternoon. My name is Anthony Weiner, Democratic candidate for mayor of the City of New York. I have said that other texts and photos were likely to come out and today they have," Weiner said Tuesday. It was a hastily called press conference in an unused office space at GMHC before a mayoral candidates forum on HIV/AIDS.
Earlier in the day the site The Dirty published new sexy chats and graphic images allegedly sent by Weiner under the pseudonym Carlos Danger.
"As I've said in the past, these things I did were wrong and hurtful to my wife and have caused us to go through many challenges in our marriage that extended past my resignation from Congress," he continued. "While some of the things that have been posted today are true and some are not, there's no question that what I did was wrong. This behavior is behind me. I have apologized to my wife Huma and I am grateful that she has worked through these issues with me and that I have her forgiveness." Weiner also apologized "to anyone who has been on the receiving end of one of these messages."
"With 49 days left to primary day, perhaps I'm surprised more things did not come out sooner," he said. "In many ways things are not much different than they were yesterday."
Abedin, meanwhile, looked exactly like what she was: a careful, shy person of refined sensibility who is used to being the person behind the scene, facing for the first time 13 cameras and more than 70 reporters to talk about the state of her marriage and the graphic sexual images and messages her husband had sent other women during it.
They both had prepared remarks. He took questions. She did not. She cast her eyes about, trying to find a comfortable place to look as he spoke -- up, down, to the side. At times she smiled.
Like her husband, Abedin is a political professional. A person who has made her career and also her life with people who live at the center of constant public media storms. She knew what she was signing up for when they decided to take on the mayoral race together, she said.
Still, her voice quavered a little as she began. "You'll have to bear with me because I am very nervous," she said.
"When we faced this publicly a few years ago, it was the beginning of a time that was very difficult and it took us a very long time to get through it. Our marriage, like many others, has had its ups and its downs. It took a lot of work and whole a whole lot of therapy to get to a place where I could forgive Anthony," she said, emphasizing that she made the choice to stay in her marriage for her self, for her son and for her family, and that she would be standing by him now, too, as they stayed in the mayoral contest together.
"We discussed all of this before Anthony decided to run for mayor," she said of the day's new revelations. "So really what I want to say is I love him, I have forgiven him, I believe in him and as we have said from the beginning, we are moving forward."
"I know that this is a very public thing that we have had happen to us," Weiner said. "But by no means does it change the fundamentals of my feelings here and that is that I want to bring my vision to the people of the city of New York. I hope they are still willing to continue to give me a second chance."
Polls have shown Weiner to be competitive in the race, either neck and neck with New York City Council Speaker Christine Quinn or in second place behind her and likely to force her into a one-on-one run-off election in September.
What happens now is anyone's guess. But one thing is clear: Weiner and Abedin were prepared for this moment. They knew there would be another day of scandal, when they would have to face the cameras and a new round of questions about their marriage and his online sexual adventures. And they decided he should make a run for it, anyway.
One political adviser speculated in an April New York Times Magazine piece that Weiner was running to get exactly what he had to do today out of the way. "Is this about winning?" the person asked. "Or is this an attempt to get the scandal off the books? Then the next time he runs for something, he can say: 'You know what? We talked about that last time. Aren't we beyond that?'"
If such a thought was part of the Weiner-Abedin strategy, they can check that box on their list. After today Anthony Weiner, strange as it may be to say, is one difficult step closer to his eventual comeback.