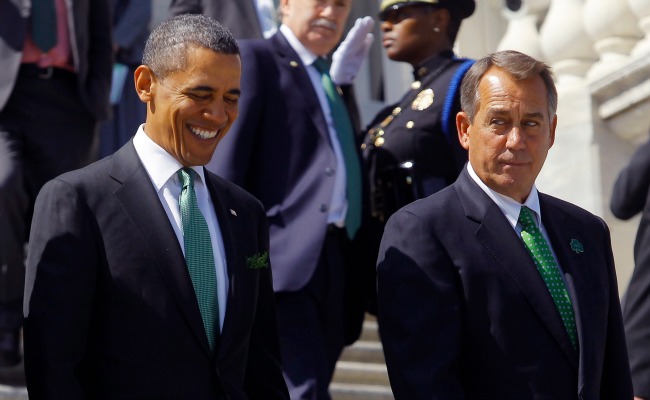 It's like clockwork -- which is good, because nothing else about the nation's budgeting process seems to work these days: If it's a late summer in the Obama era, it's time to talk about a "grand bargain" on spending that's almost certain to go nowhere.
(Linguistic aside: Perhaps it's telling that the origin of the phrase is borrowed from foreign policy. It used to be that Grand Bargains were reserved for negotiations with U.S. enemies (or at the very least delicate, multilateral trade agreements with frenemies). Now it's a term for battles between Democrats and Republicans; or rather, between the Democratic executive and Republican legislators.)
One can trace the rising and falling fortunes of the grand bargain using Google Trends: 
Here's the chronology to match that timeline:
May 2009: The phrase first bubbles up not in the context of spending -- this is barely 100 days into Obama's term, of course, and the Tea Party and the vogue for spending reduction are but a glimmer in Grover Norquist's eye -- but the environment. In a profile of White House budget boss Peter Orszag, Ryan Lizza reports: 
Obama's White House is filled with former members of Congress and congressional staffers. They are legislative strategists and dealmakers, and these days they often use the phrase "grand bargain" when asked how they expect to achieve their ambitious agenda. The senior White House official told me that they were exploring an energy deal that would include a "serious" and "short-term" increase in domestic production—perhaps opening up for oil exploration places like the waters off the coast of California—that would appease the "Drill, baby, drill" crowd, while also adopting a cap-and-trade plan that could take effect one or two (or more) years after 2012, which is when Obama's current plan would start. 
Setting a precedent for every grand bargain to come, the push for a climate deal collapses ignominiously in July after Harry Reid decides he doesn't have enough votes to pass the bill.