Senator Saxby Chambliss's Confusing Defense of the NSA
The Senate intelligence committee member says he'll be shocked if Edward Snowden's account of analyst access to emails and calls is correct.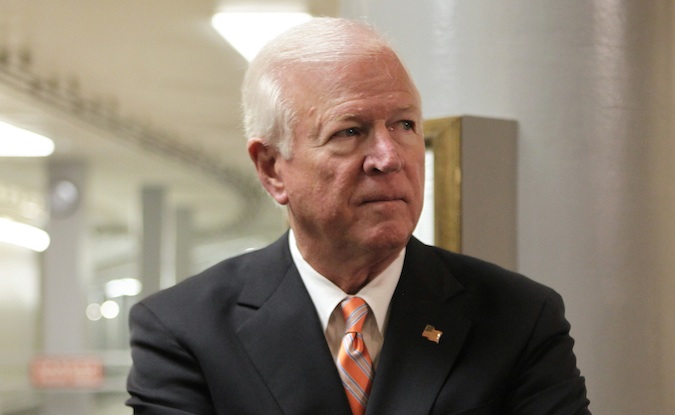 Reuters
On This Week, after Glenn Greenwald claimed that NSA analysts can easily access the stored phone calls, emails, and web histories of Americans (and promising to publish a story on the subject soon), host George Stephanopolous cut away to the senior Republican on the Senate intelligence committee.

Here's their exchange:
Stephanopolous: Would it surprise you if you found out that what Mr. Greenwald is reporting there is true -- that low level officials have that kind of capability to read email, see Internet traffic, listen to phone calls?

Saxby Chambliss: George, it wouldn't just surprise me, it would shock me. I was back at NSA just last week. I spent a couple of hours there with high-level and low-level NSA officials. And what I've been assured of is that there is no capability at NSA for anyone without a court order to listen to any telephone conversation or to monitor any email. As a matter of fact, we don't monitor email, that's what kind of assures me that what the reporting is, is not correct. Because no emails are monitored now. They used to be. But that stopped two or three years ago. So I feel confident that there may have been some abuse, but if there was it was pure accidental.
What a confusing answer.

If the NSA can monitor phone calls or web activity with a court order, how can Saxby Chambliss claim that there is no "capability" to do that sort of thing when there isn't a court order? Does he mean that there's no "permission" or "authorization"? Or is he claiming that once a court order is granted, a switch is flipped or a code is entered or something, and only then do analysts have the "capability" to do monitoring? And is he suggesting that, court order or not, the NSA just doesn't monitor email at all? Or just that they no longer collect it in bulk like phone metadata?

Are copies of emails scooped up in the past still accessible to NSA analysts for searches, but not being "monitored" now? Perhaps that interpretation is consistent with both men's claims? It's hard to tell. Finally, if there is no "capability" to abuse the system in the way Greenwald claims, then how can there be accidental abuses? Is Chambliss just being clumsy in his speech? Intentionally obfuscating? Uninformed about what's actually happening, despite his oversight duties? Perhaps we'll find out this week. If Snowden and Greenwald are proven correct, remember, Chambliss will be on the record having characterized the NSA's behavior as shocking.