Rick Perry Will Not Seek Reelection in Texas
Longest-serving governor of the state stepping aside after 2014.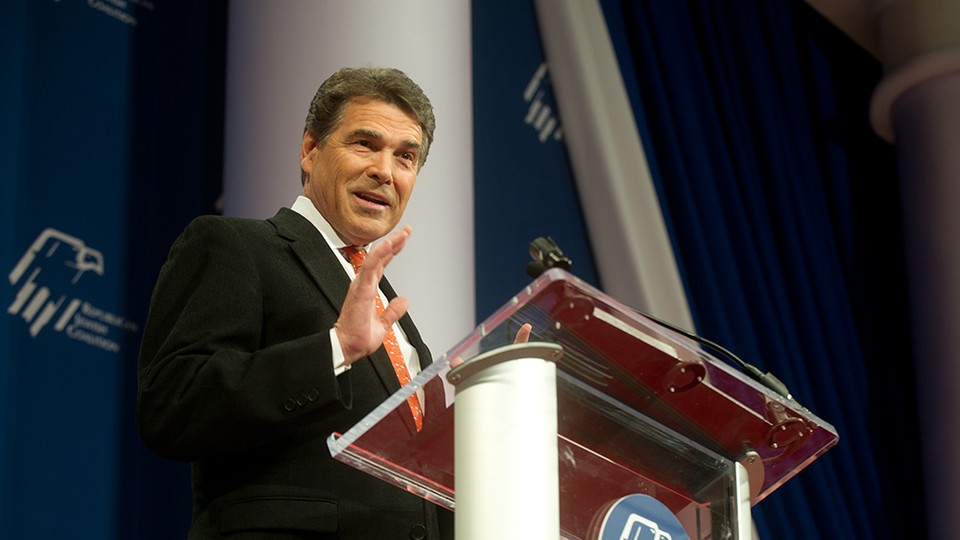 Despite the stagecraft, the sweeping musical intro with a voice-over of "Texas Works" spoken by the governor himself, Rick Perry on Monday afternoon announced that he would not seek reelection in 2014 for the governor of Texas.
At a point, it seemed like the speech could either be a campaign platform or a eulogy. "It's been an improbable journey," Perry, 63, recalled about his life, "that has taken me from a farm in this place called paint creek Texas to the governor's office. And each day has been an honor." He then went on to list his accomplishments and adherence to conservative values, despite bristling feathers along the way. But when he got to quoting Ecclesiastes's "a time to be born and a time to die, a time to plant and a time to uproot, a time to kill and a time to heal, a time to tear down and a time to build," it became clear Perry was chanting a dirge.
"I remain excited about the future and the challenges ahead but the time has come to pass on the mantle of leaders," Perry told the crowd. He has no plans to announce what he will do when his term ends in 2015.