No More Fighter Jets for Egypt, but We're Still Not Calling It a Coup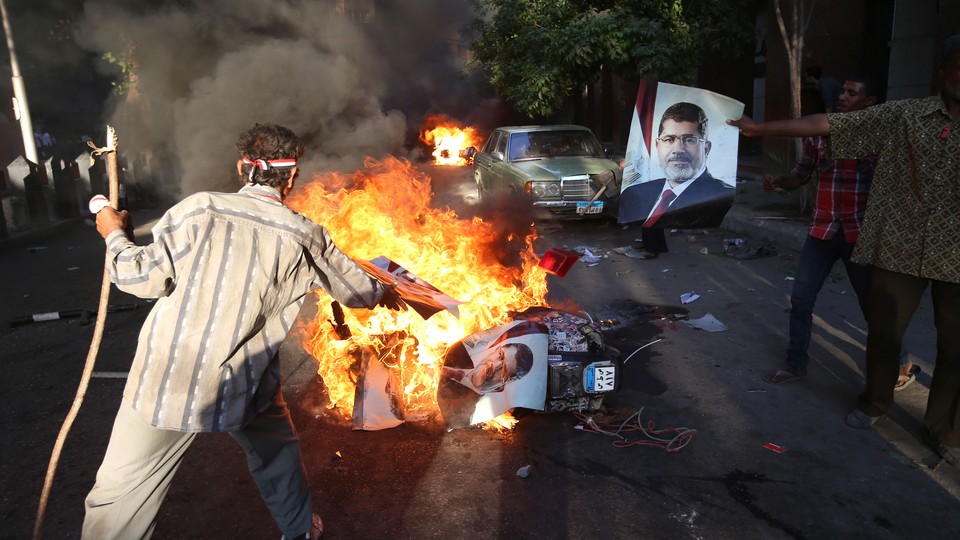 The Pentagon announced Wednesday that the U.S. will delay selling four F-16 fighter jets to Egypt, amid the violence that has erupted across the country.
The United States may not call what happened in Egypt a coup, but the Defense Department's actions show that it is wary of the instability and lack of clear political leadership in the North African nation.
The U.S. still plans to move forward with a joint military exercise with the Egyptian military later this year, but President Obama is still debating how to move forward with the rest of U.S. military aid.
After the military took over several weeks ago, taking power away from the democratically elected Islamist president Mohamed Morsi, the U.S. attempted to keep its distance from the drama, saying this country does not take sides. But in refusing to call it a coup, Washington was able to continue to legally justify sending $1.5 billion  in aid to Egypt annaully — $1.3 billion of which is military assistance.
A majority of Egyptians may dislike the U.S., but they can credit their armed forces to the American taxpayer.
This might be changing now. Already, a subcommittee of the Senate Appropriations Committee is proposing new restrictions on the foreign aid the U.S. provides. While the panel said the United States could continue sending the amount of aid the Obama administration requested, there would be caveats that force Egypt to restore civilian rule.
Here's how their proposal would work, according to The Hill:
Under the measures, one-quarter of the military aid is transferred immediately to Egypt, with a second slice approved once Secretary of State John Kerry certifies that the government in Cairo has released political prisoners and supports an "inclusive political processes," according to a staff summary. 

Another round of military aid will be transferred once there is a new election and a new government, and the final portion of aid will be approved once the new regime is deemed to be democratic and working to protect the rights of minority groups and women. 

The administration is allowed to waive the first two restrictions if there is a national security issue with failing to provide the aid, however.
Congress tried this before, during the last Egyptian uprising, but the Obama administration waived those requirements. Additionally, it's unclear whether the full committee or the House would go along with the subcommittee's measure.
What is clear, however, is that the U.S. — across the executive and legislative branches of government — is showing concern for Egypt's future and the future bilateral relationship.
And as Egyptian Islamists call for a civil war in their latest rally, expect more moves from a worried U.S. government.