More Top Obama Officials Have Graduate Degrees From Oxford Than Any Public University in the United States
Is the Obama Administration elitist?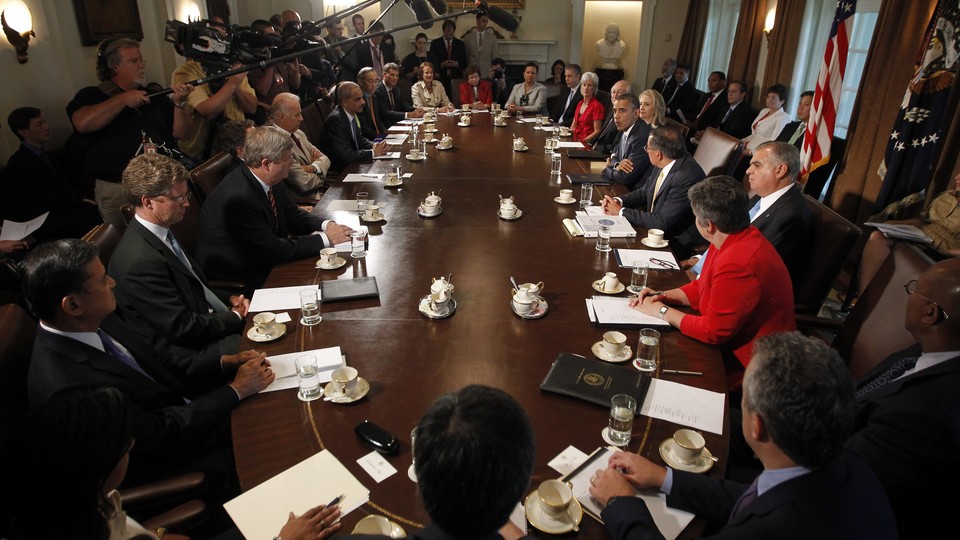 The 250 administration officials National Journal has selected as its 2013 "Decision Makers" are an elite group. That's not too surprising. Four years ago, when we conducted a similar survey, the most common undergraduate and graduate school for administration officials was Harvard.
This year, the findings are similar. As seen in the chart below, Harvard is still No. 1 for both undergraduate and graduate degrees. Overall, forty percent of Decision Makers have either an undergraduate or a graduate degree from an Ivy League school.
One striking fact: Only 25 percent of those holding graduate degrees in our sample attended public universities for those degrees. Oxford University, in England, is more common than any American, public graduate school.
The case that the Obama administration is elitist isn't helped by a map of where the officials grew up. Even more so than in the first term, Obama's administration comes mainly from the Northeast. Relatively few are from redstates, with only 18 percent growing up in a state that voted for Mitt Romney. Texas is severely underrepresented in the sample. It's the second-most populous state, but only four (1.6 %) of those surveyed grew up there.
Read more about Decision Makers methodology here.
Visit NBCNews.com for breaking news, world news, and news about the economy