Meet the Underdog Who Could Beat Mitch McConnell
Alison Lundergan Grimes is young, untested, and off to a slow start in her Senate race in a solidly red state. Don't count her and her dad out.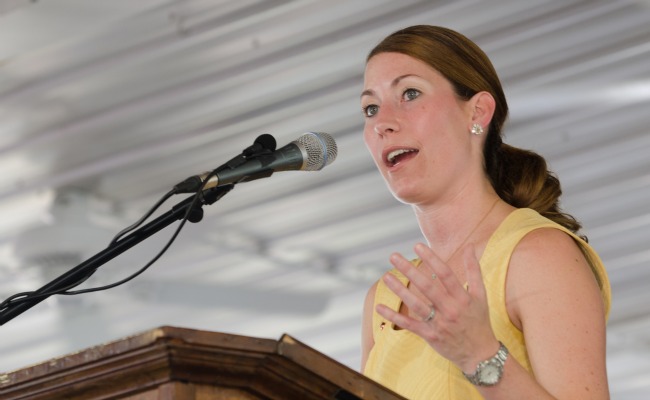 Daniel R. Patmore/Associated Press
To understand why 34-year-old Alison Lundergan Grimes would choose to vault into a nationally watched U.S. Senate race against the most powerful, well-funded Republican in the country, it's instructive to start with her father.
Though Grimes has been Kentucky secretary of state for only 18 months and remains largely a blank slate to voters, Jerry Lundergan is one of the most influential Bluegrass State Democrats of the past three decades. If they're able to buck the odds and dethrone Mitch McConnell next year, it will be in no small part due to the combination of Grimes' untarnished profile and her father's deeply forged relationships.
"Her dad clearly is a huge asset. He will be a strong adviser," said a Grimes political aide.
Lundergan runs a lucrative Lexington catering business -- "If you've ever been to the Democratic National Convention, you've eaten his food," quipped one longtime Kentucky journalist -- but he earned his political stripes as a long-time legislator, state party chairman and FOB (Friend of Bill ... Clinton, that is). Lundergan helped plan Chelsea Clinton's wedding, and when Clinton comes to Kentucky, he stays at Jerry's house -- so political observers say the former president's private pledge of support and resources weighed heavily on Grimes' ultimate decision. A Clinton spokesperson declined to comment further.
But the true test of Lundergan's political muscle came in 2011 when his daughter chose to wade into electoral politics for the first time with a challenge to a sitting secretary of state from her own party.
Democratic Secretary of State Elaine Walker, appointed by Governor Steve Beshear to fill the position after Republican Trey Grayson resigned, knew what she was up against when she was greeted by Grimes banners and signs in the farthest flung corners of the state.
"I think probably the biggest asset that she had is that tremendous grassroots support that her father built and she built upon," Walker recalled in an interview. "She had a very strong political background, had grown up in the political arena and was very knowledgable about the people involved."
Despite holding the office and being boosted by Beshear robocalls, Walker was outspent 3-to-1 and trounced on primary day by 10 points.
"When Jerry Lundergan sets his mind to a task, he is relentless," wrote Al Cross in The Louisville Courier-Journal at the time. "He and his daughter have run rings around Walker and Beshear, organizationally and financially."
(Beshear is on board this go-round, but clearly wounds are still raw from the feud: He told reporters he wasn't given a heads-up on Grimes' entry into the contest.)
In the general election, Grimes' campaign was largely based on a single issue: opposition to requiring a photo ID to vote. She also placed her two grandmothers in a highly effective television spot where they promoted her ideas to ease the business-licensing process. "What rhymes with Alison Lundergan Grimes?" asked one. "Oh, such a long name," quipped the other.
The result: She more than doubled her margin against Republican Bill Johnson -- thumping him by 22 points.
Johnson, who predicted afterward Grimes would run against McConnell, said he now thinks she can beat him.
"I think it's a very winnable race for her. I don't say this as a fan of hers, I'm just being honest," he said in an interview. "She's an aggressive campaigner, she's going to be smart on how she speaks on issues, she's going to try to have it both ways. And frankly there's no record to run against. I think it will be very difficult for McConnell to run a negative campaign against her on any kind of issues. It'll have to be personal. And it's very hard to run against a woman and be negative. Other women don't like that."
Still, under the harsh gleam of a nationally tracked Senate race, Grimes will be pelted with tough questions on immigration, energy policy, and taxes, and be forced to navigate thorny cultural minefields like abortion and gay marriage -- issues she was clearly not prepared to address during her shaky July 1 announcement.
"She's clearly untested," said Billy Piper, a former chief of staff to McConnell. "There's not a lot of there there."
But her lack of a lengthy record is exactly what could throw a kink in the well-oiled McConnell machine known for surgically picking apart opponents. Portraying Grimes as Barack Obama's Siamese twin could be trickier than imagined.
"I'm sure it's driving Mitch McConnell a little bit zingy," said Dale Emmons, a longtime Democratic consultant and Lundergan Grimes family friend.
Besides her staunch opposition to requiring a voting ID and an unsuccessful legislative push this year for online balloting for overseas military, Grimes is bereft of public-policy positions. "She doesn't like to deal with the press. They keep her in a pretty tight cocoon. You tend to run into a wall unless the issue is on her terms, which is odd for a secretary of state," observed one longtime political reporter in the state who requested anonymity to speak without restraint.
But the generational and demographic contrast with the dour, characterless 71-year-old McConnell couldn't be brighter. In her first campaign email to supporters, she began to outline her frame of McConnell as a stick-in-the-mud, promising to "build a Kentucky that we can all be proud of. One that isn't dead-set on obstructionism." The frame Grimes hopes to construct: She's for what works for Kentucky; he's Senator Gridlock.
"While McConnell's certainly a formidable opponent, people are tired of the same old thing. They're going to associate McConnell with some of the problems. That's baggage he has," said Johnson. "I think the energy's going to be on her side. She's an up-and-comer in the party. I don't think the Tea Party's going to come out energized for McConnell. I think she can win it."
History says otherwise, given McConnell's massive war chest, the midterm election dynamic and the state's GOP tilt on the federal level.
This wasn't the race Grimes was originally eyeing, according to state political observers. Attorney general looked like a promising spot, or perhaps even governor in 2015, when Beshear is term-limited. But sometimes the best laid long-term plans are disrupted by the volatile high-pressure politics of the moment. After other Democrats, including actress Ashley Judd, passed on the race, Grimes opted to jump in. "She was born premature and been a fighter ever since," said Emmons.
Whatever the result of the campaign, if Grimes' political profile is lacking now, it will be filled in by the end of the next 16 months.