Just Another Night in This Town
At the book party for Mark Leibovich, the irony threatens to engulf the ironist.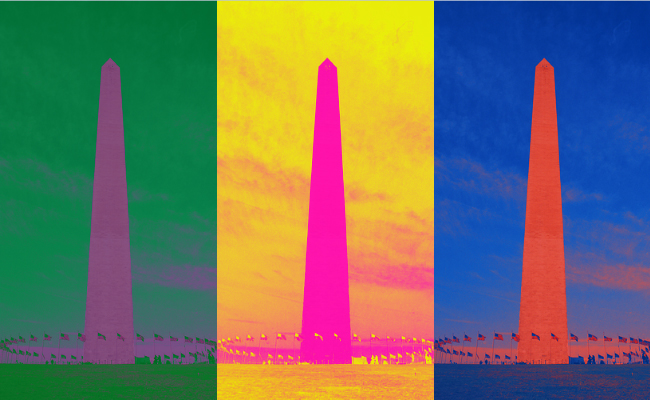 "Can you fucking believe this?" Mark Leibovich says with a smirk when I finally get through the crowd to him. He is referring to the party that has been convened in his honor at a cavernous mansion in the Adams Morgan neighborhood. Leibovich's mildly hostile send-up of D.C.'s incestuous ways, This Town, came out last week, an arrival that slightly upset the kibitzers of the capital, much the way a fresh zebra corpse might slightly upset the vulture habitat.
The author, whose book it is possible to see as an extended exercise in Jewish guilt, agonized over his book party. How do you throw a party for a book about the ridiculousness of Washington parties? Whom do you invite? What kind of canapes do you serve? The layers of irony threatened to engulf the master ironist, seen here in a black V-neck tee and casual blazer.
In the event, the party was co-hosted by seven of Leibovich's closest Washington friends, two of whom are big shots at the New York Times, like him, and three of whom, I should disclose, are affiliated with The Atlantic (one of them being editor in chief James Bennet). If a bomb went off in here, the New York Times Washington bureau would pretty much cease to exist; I am not one of the people who thinks that would be good for America. The hors d'oeuvres are on a table in the back, not passed around by waiters, and are far below the standard of the swanky Washington parties described in the book. One platter holds what appear to be meatballs skewered with cinnamon sticks.
Wendy Davis, the Texas state senator, is here. She tells me she is in town to meet with Emily's List, but declines to say whether that means she's going to run for governor of Texas.
Carl Hulse, the jolly, mop-haired Washington editor of the Times, is roaming around with a yellow plastic maraca. Why does Carl Hulse have a maraca?
"Do you know someone named Kurt?" my husband asks. My husband, a youthful-looking Japanese-American who does not work in politics, has twice been mistaken for Kurt Bardella, the Korean-American congressional staffer who plays a major role in This Town. The hosts solved the invitation dilemma by inviting everybody, but I do not see Kurt here. I also do not see Bob (Barnett) or Mikey (Allen) or Tammy (Haddad), some of the book's other dubious characters. Washington values being a good sport about things, but Kurt and Bob and Mikey and Tammy are maybe still a little sore. Harry Reid, the Senate majority leader, comes off in the book as an antidote to all the phoniness, endearingly crusty and weird. He is not here, but I hear he has read the book and wants to meet Bardella.
I strike up a conversation with a doctor who is here with another journalist. A civilian! What do they think of us? He has not read This Town, but he read the excerpt (about Kurt Bardella) in the Times Magazine, and he did not find it infuriating or repulsive or sad; he found it funny. This is perhaps the scariest prospect to the rapacious climbers of this town -- that we lack even the power to piss anybody off. I feel obligated to remind the doctor that there are taxpayer dollars at stake.
I am talking to Karen Tumulty of the Washington Post on the front porch when Sally Quinn approaches, wearing large and very sparkly earrings. Portrayed in the book as the doyenne of a declining Washington social scene, Quinn once wrote a column in the Post about the scheduling of her son's wedding. She wants to talk to Tumulty about Anthony Weiner, whom she finds "totally appalling." Impressively, despite her long tenure in the capital, Sally Quinn retains the ability to be shocked.
Tumulty has lots of meticulously reported gossip about how the Weiner thing is going over in Clintonworld, all of which will be in the morning's Post. I try to contribute to the conversation, but Quinn does not turn toward me even once, and continues to converse with Tumulty as though I were not there.
Word goes around that the author is going to make remarks. (Not "speak," like a normal person might say, but "make remarks," which is what staffers say when a politician is about to make a speech.) Everybody is sweating in the under-air-conditioned room. Peter Baker, the Times White House correspondent, says, "Thank you all for coming to Mark's acting-out of his book." Everybody laughs.
David Leonhardt, the Times' Washington bureau chief, says Leibovich was moved to write the book by the "vaguely late-Roman character of our current prosperity, even as the country is suffering." He plugs a collection to which he and Leibovich both contributed. David Plotz, the editor of Slate, discloses that he and his wife and Leibovich and his wife have daughters who are best friends, and that the two families share a minivan. "This book is about deplorable people doing deplorable things, and it is never not a pleasure," he says.
Leibovich, who is burly and bald with a craggy face, says, "This is the point of the evening where I become everything I mocked." He plugs Baker's forthcoming book and Dan Balz's book. He allows a brief, sincere paean to print journalism: "There's a lot that's good about Washington, D.C., in this room right now." And he solves the Carl Hulse mystery: Hulse is in a band called the Native Makers, and they have written a song called "This Town."
Hulse's bandmate plays guitar while Hulse, a drummer without a drumset, shakes his maraca. "They'll talk you up, then cut you down, and you might never know -- in this town." It is pretty awful, but of course I will tell Hulse it was terrific, and so will everybody else.