John Roberts Should Recuse Himself From Challenges to FISA Court Decisions
The chief justice appointed everyone on the FISA court. It would make him look bad if they got big questions wrong.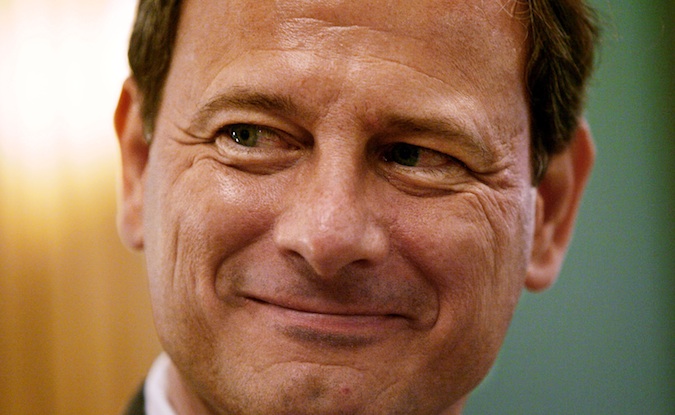 Reuters
The secret court that is supposed to oversee the NSA and prevent it from violating our civil liberties is unusual in its composition: Its 11 members are all appointed by the chief justice of the United States. "In fact, every FISA judge currently serving was appointed by Chief Justice John Roberts, who will continue making such appointments until he retires or dies," Ezra Klein explains. "The chief justice can't choose the judges who rule on health law, or preside over labor cases, or decide software patents. But when it comes to surveillance, the composition of the bench is entirely in his hands and so, as a result, is the extent to which the National Security Agency and the Federal Bureau of Investigation can spy on citizens." It's an incredible amount of power. So what happens if appeals of FISA court decisions start getting heard by the Supreme Court?

Now that Edward Snowden's revelations have robbed the NSA of the ability to play dumb and possibly given the ACLU standing to challenge its surveillance efforts (among other cases it has affected or may prompt), the odds are better than ever that the Supreme Court will weigh whether to reverse the FISA court, declaring that it was too permissive in what it permitted government to do.
A reversal wouldn't reflect very well on Roberts.
It would effectively mean that jurists he appointed failed in hugely consequential ways -- that they permitted civil liberties abuses that they ought to have stopped. If SCOTUS reached such a decision, it would certainly be understandable if the result and its implications made Roberts uncomfortable. Depending on the scale of the abuses, it might even make him fear for his legacy. It's hard to know. We can't get inside his head. And we can't know if it's possible for him to impartially weigh cases that have already been handed down by a court that he alone staffed.
He won't (and can't) be forced to recuse himself. But if I were him, I would.