Joe Biden Relives His Childhood in the Way You'd Expect
"I used to weed that garden. Hey, how you doing? I'm Joe Biden," and other great quotes from GQ's profile of the vice president.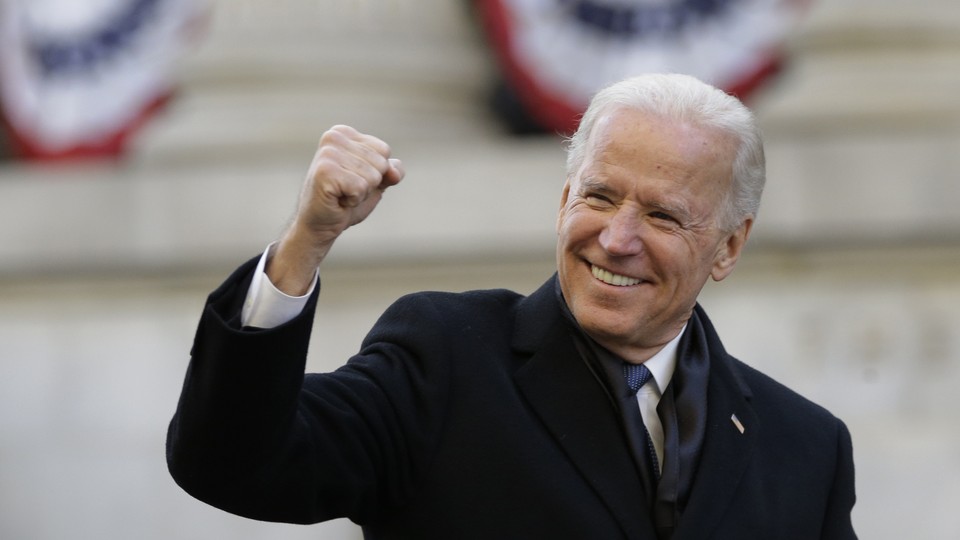 GQ's July issue profile of Vice President Joe Biden is a funny, deeply detailed sketch of the veep's idiosyncrasies. In it, we don't learn much about Biden's 2016 aspirations. But we do learn that his staff says things like, "Well, he would be crazy not to keep his options open," and that he has portraits in his Naval Observatory office of Thomas Jefferson and John Adams, "both vice presidents who became presidents," and that GQ's Jeanne Marie Laskas says he likes to "look at their very satisfied expressions."
But this is not why the profile is an entertaining read. Much of the text takes up capturing Biden touring his hometown of Wilmington, Del., and telling Shailagh Murray, his communications director, stories about old Wilmington that she can't possibly find interesting. It's like taking a living history tour of a place with your dad. But your dad is Joe Biden.
This is the duo, along with Secret Service escort, inspecting Biden's childhood home:
"You can see the old porch, Shailagh, see it?" ... "This deck wasn't here," he says. "Oh, I used to come out here and put pebbles in my mouth, try to shout against that wall."
And Dominic, who could forget Dominic?
We worked for a guy named Dominic. Dominic talked like this, "Hey, Joe, get over here." You think I'm joking, but I'm not.
Why would we think he was joking about that?
A great scene is when they go visit his old high school, the Archmere Academy. It's the last day of school. No one is expecting the vice president of the United States to show up. Here is Biden at his best, seamlessly telling the story of how, as a boy, he used to do groundwork for some extra cash, all the while glad-handing with the future voters of America. Did you know that he was class president? Go figure.
The girls, maybe 20 of them, giggle, hold up their phones, and he pauses for pictures. He moves into the manor house, everyone following like fish swirling. "And I washed every window in this building," he says, reaching toward the stained-glass dome of the rotunda. "Most of the summer. I swear to God. With water and vinegar and paper." He spins, works all angles of the crowd. "My kids went here. My oldest son, he's the attorney general of the state of Delaware. We have a rugby team now? I want a picture! Ho ho ho, where's the White House photographer? And where's the class president? Can I have a class-president picture? Kate? Hello, Kate! I was class president, too, Kate! Folks, folks — "
It's  amazing how quickly he can pivot with his words. And this is a guy who used to stutter.
"We played in that gym, that's how ancient I am. I used to weed that garden. Hey, how you doing? I'm Joe Biden."
However, the most intimate moment in the profile comes when Biden takes the reporter and his whole team, through the mud, to Biden and his sister's "Bridge to Terabithia" playland of woods:
"My sister and I thought this was the enchanted forest." There's mud, wet leaves. Shailagh's in her pointed heels. He's in his tassel loafers. He doesn't care, doesn't notice. He's chasing ghosts in Wilmington, and there might be some more back here.

We get to the stream, wide, meandering around a jumble of boulders under the canopy of hardwoods, the sun piercing in patterns. It's picture-perfect, nothing to worry about but bugs. "Can you believe this?" he says, lifting his arms as if to say "Ta-dah!" ...

"This used to be the dam, right here. It's all filled in now. You're looking at the pool, but it was four times as wide. You could dive off. The edge, it went all the way out here, you follow me? That's how wide it was! You follow me? It was that far over. Where these trees are? The most magical place in the world! Can you imagine? You're 13 years old? It was a fairy tale!"