Is Immigration Reform Dead? Not If Evangelicals Can Do Anything About It
Socially conservative Christians find themselves in a strange position: allied with Democrats and demanding Republicans take action.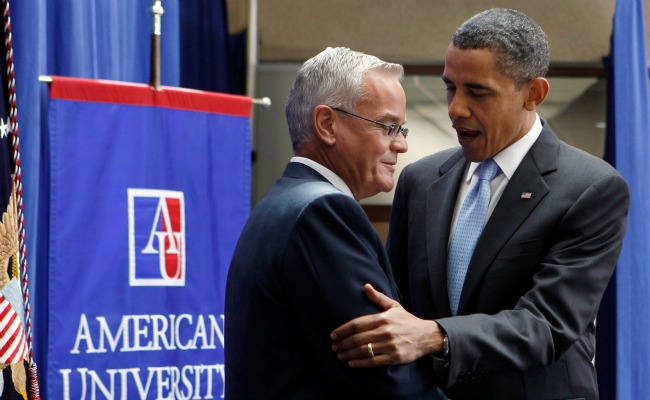 President Obama and Pastor Bill Hybels speak before a speech on comprehensive immigration reform at American University in Washington on July 1, 2010. (Larry Downing/Reuters)
The path to immigration reform has been long and divisive, and it is difficult to see the finish line even now. Despite passing the Senate with 68 votes, reform is now tied up in a House. Speaker John Boehner says he won't pass a bill without a majority of the Republican caucus, and he says the chamber will write its own bill rather than take up the Senate's. Even if that is successful, the bills will have to be reconciled in conference. In short, it's a hard slog ahead, with no quick finish in sight.
For evangelical Christians, this type of drawn-out, hard-fought legislative battle is nothing new. But for a diverse coalition of evangelical leaders and congregants, it is new to be aligned with Democrats, and prodding Republicans to do what they believe is the right -- and moral -- thing. The reform camp is relying on evangelicals to help pressure the right into agreeing to changes, and leadership of the Evangelical Immigration Table -- a group that is organizing evangelicals who support immigration reform -- will meet with House Republican leadership on July 24 to state their case, according to the Rev. Samuel Rodriguez of the National Hispanic Christian Leadership Conference "Evangelicals have the opportunity to be the conscience of the nation," Democratic Rep. Joaquin Castro of Texas told me.
Based on interviews with evangelical leaders, political strategists, and policymakers, this is an inside look at how the evangelical movement became a major backer of immigration reform, how it turned traditional political allegiances on their head, and what the future holds.
***
The West Wing wanted to have a faith leader introduce President Obama's major address on immigration reform at American University in June 2010. Democrats controlled the House and the Senate, but it was clear that this effort would require conservative constituencies to push recalcitrant Republicans -- especially in the Senate -- along. So when the White House Office of Faith-Based and Neighborhood Partnerships was asked to recommend an evangelical to introduce the president, Bill Hybels was the clear choice (full disclosure: I served in the office at the time).
Hybels is the pastor of the 12,000-member Willow Creek Community Church in suburban Chicago, and he's also one of the most respected voices in church leadership around the world, with a leadership-and-training network including thousands of churches worldwide. And, for moral and practical reasons, he and his wife Lynne have long been strong supporters of comprehensive reform.
Hybels explained to me that his interest in immigration reform was at first a result of the makeup of his congregation. In 2003, Willow Creek started a Spanish-language service to accommodate their congregants, and soon learned that as many as nine out of 10 participants were undocumented. "That led us on a journey where we searched the scripture and we asked, 'What does God say about immigrants and the strangers within our gates?'" Hybels said. He concluded that the immigration system was broken, and that existing laws were "not serving the purpose for which they had been established."
Hybels was convinced reform was necessary, and so when he received the call from the White House, he left his vacation early and made his way to American University. "I wanted to send the signal that there are tens of millions of serious and intelligent Christ-followers in this country who actually believe we need to forge a better way forward for those who are undocumented," Hybels explained.
Before the speech, Hybels met the president backstage briefly, and Obama thanked him for leaving his vacation early to make it to the event. Chuckling, Hybels recalled that he and Obama asked each other the same question at virtually the same time: "Are you serious about this?"
They both laughed. Hybels said, "I'm dead serious about it." Obama replied, "Great -- so am I." They then shared a brief moment of prayer, and Hybels walked up to the podium to introduce the president of the United States.
***
At a time when many believe the influence of faith is waning in American life, the White House's top second-term legislative priorities -- immigration reform, gun control, climate-change legislation, nuclear non-proliferation -- all depend on an active religious lobby. On immigration progressives and Democratic strategists embrace, to a striking degree, the central role evangelicals will have to play in any successful attempt at reform.
Evangelicals are no fringe demographic. They account for about a quarter of the American population and are increasingly diverse racially, ethnically, and geographically. Though they generally lean conservative for theological and cultural reasons, there are evangelicals across the political spectrum. By definition, evangelicalism -- like faith in general -- defies political categories.
This is clear when you look at the Evangelical Immigration Table. The EIT represents organizations ranging from the Rev. Jim Wallis' progressive-leaning Sojourners group to the very conservative Southern Baptist Convention's Ethics and Religious Liberty Commission. The EIT also includes the National Association of Evangelicals, the moderate umbrella organization for evangelical denominations and churches; Bread for the World, a leading evangelical anti-hunger organization; the National Latino Evangelical Coalition, a moderate-to-progressive evangelical coalition led by the Rev. Gabriel Salguero; Liberty University Law School Dean Mat Staver; top denominational heads; seminary presidents; and dozens of other national figures.
These groups did not always support immigration reform. Samuel Rodriguez told me that in 2005, the evangelical support of immigration reform consisted mostly of Hispanic evangelicals. After that effort failed in 2006, Hispanic and other pro-reform evangelicals began to build support across the evangelical community. Now, says Rodriguez, evangelicals of all races are no longer the tail of pro-reform forces -- they are leading the effort.
One person responsible for this change is Matthew Soerens. As a staff member of World Relief, the National Association of Evangelicals' development arm, Soerens has traveled the country speaking at churches and hosting seminars where he, in his words, "gently reminds the local church about what the Scriptures say about the topic of immigration." When Willow Creek was working through the issue, it called on Soerens. Hybels praises Soerens as "one of the brightest minds on the issue" of immigration, and someone who has "sound theology." He and his World Relief colleague Jenny Yang (who is similarly well-respected in evangelical and pro-reform circles) co-wrote what has become the signature book for evangelicals on the topic, Welcoming the Stranger: Justice, Compassion and Truth in the Immigration Debate. In our conversation, he casually mentioned that the Hebrew word for immigrant, ger, occurs in the Old Testament alone 92 times, a sign of its importance. Immigration, Soerens says, was long a "blind spot" for evangelicals, but not anymore.
In my interviews with Soerens and other leaders, three main pillars of evangelical support for "compassionate, just" immigration reform emerged. The first is theology and scripture. For evangelicals, the Bible is not simply a series of books full of suggestions and nice thoughts, but the foundation for how they try to live their life, relate to God, and relate to other human beings. Jesus' teaching in Matthew 25 that "whatever you did not do for the least of these, you did not do for me," has clear implications for the immigration debate for evangelicals. "How we treat immigrants is literally how we treat Jesus," said Jim Wallis. Dr. Russell Moore, who was elected as the new president of the Southern Baptist Convention's ERLC in March, says that support for reform reflects "an activated evangelical conscience" that rejects worldviews that dismiss "embryos and fetuses" just as it "cares about those that society would dismiss as 'anchor babies.'"
Second, personal relationships have accelerated this movement. Ali Noorani, executive director of the National Immigration Forum, explained that as Hispanic populations have expanded in the Midwest, Southeast and Mountain West, churches like Willow Creek have had to grapple with the human aspect of the immigration problem. Evangelicals take anti-immigrant rhetoric personally, because they know hardworking, God-fearing immigrants in their churches and their neighborhoods.
Several national leaders bluntly asserted that many reform opponents are motivated by "nativist" sentiments, which they blamed Republicans in Congress for encouraging. Many evangelicals find it difficult to understand a "pro-family" politician who opposes reform that would recognize the dignity of immigrants and their families.
"The gulf between how religious leaders discuss immigrants as children of God and how many House Republicans talk about immigrants as criminals and gang-bangers has been noticed by many of my colleagues," said Rep. Luis Gutierrez, an Illinois Democrat. "A few of the Republicans who have quietly told me they are hoping we resolve the issue in a sensible, just way have told me the fact that evangelical preachers talk about immigrants and their families as human beings really got their attention."
Castro, whose San Antonio congressional district includes two of the largest megachurches in the country, hoped that evangelicals' commitment to missions might play a role as well. "[They are realizing] that the people they are trying to help in those countries are very similar to those who are seeking a better life in this country," he said.
Third, there is a practical motivation. "If they deport 11 million immigrants, they will be deporting the future of the American church," Wallis said -- the primary source of growth in the American evangelical church is immigrants. "Evangelicals have always been missionaries reaching out to new people," said Leith Anderson, president of the National Association of Evangelicals. "Since there are so many immigrants in our churches and denominations it is expected that we care about how they are treated." In a cultural landscape that provides evangelicals many reasons for pessimism, the energy provided by immigrants is cause for optimism.
***
The growth of pro-reform sentiment in the evangelical community began in earnest six years ago. In 2007, following his election as NAE president, Anderson made clear immigration was a priority for his term and began a two-year conversation with NAE leaders and pastors. In 2009, in what Noorani called a "watershed moment," the NAE released a consensus policy statement in support of comprehensive immigration reform.
Around the same time, Democrats in the White House and Congress began a concerted effort to form partnerships and relationships with the evangelical community. From White House officials like Cecilia Munoz and Valerie Jarrett to Senate Majority Leader Harry Reid, Democrats held dozens of meetings, lunches and off-the-record gatherings to build trust. Hybels' introduction before Obama's 2010 immigration speech -- a speech that even conservative evangelical opinion leader Richard Land applauded -- was in many ways a culmination of that effort. Today, Dr. Luis Cortes of the Hispanic evangelical group Esperanza noted, it's difficult to find major remarks from the president on immigration reform that did not mention the efforts of the faith community. Indeed, Obama or Vice President Biden have attended the National Hispanic Prayer Breakfast, hosted by Esperanza, each year since taking office.
Support for reform continued to build in the evangelical community as the Southern Baptist Convention -- the nation's largest, most conservative Protestant denomination -- passed a resolution in 2011 in support of a "path to legal status." Moore said he wrote the resolution at the request of pastors from Florida and Texas who were concerned about harassment and anti-immigrant rhetoric facing members of their communities. The measure stated that "[A]ny form of nativism, mistreatment, or exploitation is inconsistent with the Gospel of Jesus Christ."
Last year, the EIT composed a statement of principles that included "a path toward citizenship." The signatories included evangelical heavyweights from not just the policy and advocacy world, but also leaders not known for engaging in political issues, including evangelical author Margaret Feinberg, Pastor Max Lucado, and respected theologian Scot McKnight. It was, arguably, the most impressive, widely representative evangelical policy statement in modern American history. In the days leading up to a press event releasing the statement, Jim Daly, the president of Focus on the Family, asked to be added to it. Something historic was happening in the church.
But it isn't just top-down pushes from national evangelical leaders, as is sometimes the case. A real grassroots movement has formed, and it was central to the passage of the Senate immigration bill. In surprisingly personal remarks, South Carolina Republican Lindsey Graham told colleagues during committee mark-up of the bill that support from evangelical churches "made it possible for a guy like me to survive the emotional nature of this debate."
Through the EIT, the broader Bibles, Badges and Businesses for Immigration Reform (a project of the National Immigration Forum), and other efforts, hundreds of evangelical and faith rallies have taken place across the country in key states and districts in support of reform. During the July 4 Congressional recess, the EIT dispatched members to town-hall meetings to thank Republican senators who supported reform and to inform House members where evangelicals in their districts stand on the issue. EIT has bought ads in key states -- including Florida, Texas, South Carolina, and North Carolina--thanking senators who voted for the Senate bill and asking the House to act. EIT member organizations, representing tens of millions of Americans, are mobilizing to write and call their representatives. And on July 24, EIT will hold a rally-and-lobby day on the Hill.
Pro-reform groups view these efforts as essential. "I don't think a House vote happens without evangelicals," Noorani said. "The only reason it happens is because evangelicals are engaged."
The evangelicals I spoke with know that the fate of reform, for now, lies in the hands of Republicans in the House. "The faith community has to create the moral space and political cover for politicians to do the right thing," Wallis said. But they insist this is not a partisan fight. Some are apprehensive about tension with Republicans, their traditional allies, and sounded concerned about the future of the party. GOP strategists can be forgiven for not trusting the warnings from progressives that failing to pass reform will doom them, but the same warnings are coming from conservative evangelicals.
Many of these leaders are sympathetic to Republicans' political situation, and they signaled flexibility on how the House moves forward. But they vowed not to accept inaction or a failure to include a path to citizenship. That's a practical stand, on one hand -- "Amnesty becomes a very easy slogan... [but] what we have now is amnesty," Moore said -- but more importantly for these leaders, inaction is morally inexcusable.
It is unclear whether the GOP will heed these warnings. Reports from the House Republican caucus meeting last week suggested they would not consider legislation resembling the Senate bill. A joint statement from House leadership following the meeting endorsed a "step-by-step" approach that would avoid a "single, massive, Obamacare-like bill." Evangelical reaction was overwhelmingly negative. Salguero called the statement "inertia masked as deliberation."
"These are the lives of real people and according to the CBO can really help our economy," Salguero said. "Dr. King once said, 'Justice delayed is often justice denied.'" Moore said he was "disappointed," but that he reserved hope "the House will pass legislation that reflects the principles we care about in fixing this broken system of amnesty by inaction and injustice by neglect." Rodriguez said that "by delaying passage of CIR, Republicans in the house sacrificed political courage and long term viability on the altar of short term political expediency."
Rodriguez said his political message to House Republicans on July 24 will be simple: "Do you want to alienate the most faithful voting constituency supporting Mitt Romney in the 2012 election? If we had 78 percent of evangelicals supporting Mitt Romney, that is the base of the base. Do you alienate that in order to acquiesce to parts of the party that don't speak to the future of the country, but suffer from cultural myopia, sacrificing the very viability of the Republican Party?"
Immigration backers like Karl Rove warn that Republicans will struggle to win presidential elections without greater Hispanic support. But there are potential repercussions at the state level, too. Democratic strategists are lining up to take advantage of the fallout if a bill fails. Jeremy Bird, the field director for Obama's reelection campaign, is working on a push to take advantage of changing demographics and political allegiances to turn Texas blue. "People of faith support a fair pathway to citizenship -- many Texans can see the broken immigration system's impact on other families in their own congregations," said Bird, a former Harvard Divinity School student. "This is one more issue where the Republican Party in Texas says one thing but their actions speak differently - opposing common sense immigration reform is completely out of line with the evangelical teachings I grew up with in the Southern Baptist church."
Over the coming weeks and months, Republicans are going to be asked by evangelicals the same question Bill Hybels asked President Obama three years ago: "Are you serious about this?" As Republicans worry about making gains among constituencies that opposed them in 2012 -- women, youth, Latinos, African-Americans -- they would be wise to not discount the chance that they stand on the precipice of losing the support of one of the strongest elements of their base: evangelicals.
At the close of our interview, Hybels told me his message for the House of Representatives: "The sense I received from country is that once Senate passed something was a sense of relief. If the House reneges, or decides to delay putting good legislation together, the frustration level will go over the top. There is a consensus nationwide that we need a new plan. The Senate was responsive to that; I have to believe the House will do the right thing."
Evangelicals across the country working for reform are praying that is the case.