How Wyoming Democrats Feel About Liz Cheney
The fight between Cheney and a popular Republican incumbent is only the latest feud to split the Wyoming GOP. Can the state's beleaguered Democrats capitalize?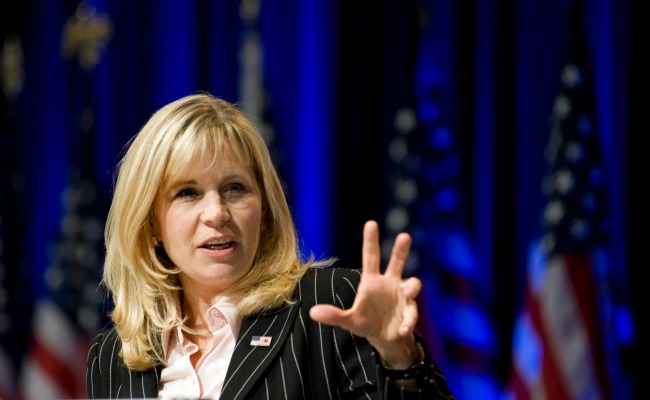 Cliff Owen/Associated Press
Liz Cheney, the firebrand conservative pundit and daughter of former Vice President Dick Cheney, has announced she's running for Senate, taking on a popular Republican incumbent, Mike Enzi, in what promises to be a bruising primary. Former Senator Alan Simpson has called it "a divisive, ugly situation -- and all it does is open the door for the Democrats for 20 years."
But nobody in Washington really believes that. This is Wyoming, after all -- "a tiny state consisting entirely of Republicans," as Jonathan Chait put it. "There is no way a Liz Cheney race will cause the party to lose the Senate seat, or any Senate seat." The Cook Political Report rates the race "Solid R," a rating that has not changed in light of the Cheney news, and the New York Times article on Cheney's announcement does not even mention the general election.
You might think this would be a bit galling for Wyoming's Democrats. But they are under no illusions about their minority status. Of 100 members of the Wyoming state legislature, just 12 are Democrats, the party's executive director, Robin Van Ausdall, told me when I called. "There was one time in Wyoming's history where it was down to only one Democrat, in the early 1900s," she noted. "But Republican policies got out of hand, and we turned it around."
President Obama got 28 percent of Wyoming's votes in 2012, making it the second-least Democratic state, after Utah. Democrats make up about 21 percent of the state's registered voters; no Democrat has been elected to federal office since the 1970s. (Until recently, there was a popular two-term Democratic governor, Dave Freudenthal; he left office in 2011 with an approval rating above 70 percent.)
The Cheney news brought levity and an influx of phone calls to Wyoming Democratic headquarters in Cheyenne, where Van Ausdall, a native of the state and former regional political director for the Democratic National Committee, is one of two paid staffers. They have dubbed Cheney "The Virginian," a reference to her roots on the East Coast. And though Democrats don't have a candidate for the Senate race, they cherish some hope that the bloody spectacle of the GOP primary will offend Wyomingites' polite sensibilities and provide an opening for the down-and-out opposition.
In fact, Wyoming Republicans were in the midst of an acrimonious feud long before Liz Cheney announced her intentions. Legislators, who meet for 60 days a year, have historically been collegial, but the past session saw the rise of a far-right faction that pursued a more partisan tack. They killed Democratic bills without a hearing and proposed bills such as one that would allow Wyoming to "implement a draft" and "raise a standing army" if the nation collapsed. (As Tim Murphy reported, a provision allowing the landlocked state to acquire an aircraft carrier was scrapped.)
GOP legislators feuded over a set of failed bills that would have loosened the state's gun laws, including one that would have barred the federal government from enforcing gun restrictions. Lawmakers who decried the bills as potentially unconstitutional political posturing were labeled "gun grabbers" by an aggressive firearm lobby and its allies. The party was further split over the state's superintendent of education, who is accused of mismanaging her agency, threatening employees with a knife, and inappropriately touching male workers. When legislators stripped her of her powers, the GOP Central Committee drafted a resolution demanding that three conservative legislators, including the speaker of the House, leave the GOP. According to the Casper Star-Tribune, the resolution, which was debated but not passed, accused the trio of "disgracing the Republican Party."
Like voters in neighboring Colorado and Montana, Wyomingites have an independent, libertarian streak, allergic to extreme ideologies and content to be mostly left alone. This sort of partisan feuding alienates them. But Van Ausdall admits Democrats lack the infrastructure and bench of candidates to fully capitalize on the GOP chaos. "The Republican Party is fractured and eating their own," she told me. "Whether that hastens people being willing to consider Democrats, I don't know. I mean, hopefully?"
Freudenthal, 62, who would be the party's top recruit, has shown no interest in running for Senate. Van Ausdall said Democrats are working to recruit a strong candidate and notes that it doesn't take a lot of money -- usually under $1 million -- to run a competitive Senate race in Wyoming. "If the right Democrat spends time talking to voters while Enzi and Cheney are beating each other up in the press, with a little help from [national Democrats], I do think they could be a contender," she said.
For now, though, to say the race is not on the Democratic Senatorial Campaign Committee's radar would be an understatement. The national committee views the Enzi-Cheney primary primarily as an opportunity to make Republicans look bad in other, more liberal parts of the country: "This Republican primary, like many others next year, will demonstrate just how extreme the Republican Party has become," the committee's deputy executive director, Matt Canter, told me. As for their own potential candidate, he said, national Democrats "plan to monitor the race closely."