George W. Bush's Forgotten Gay-Rights History
He defied his party by endorsing civil unions in 2004. (But that same year, he backed a constitutional amendment forbidding same-sex marriage.)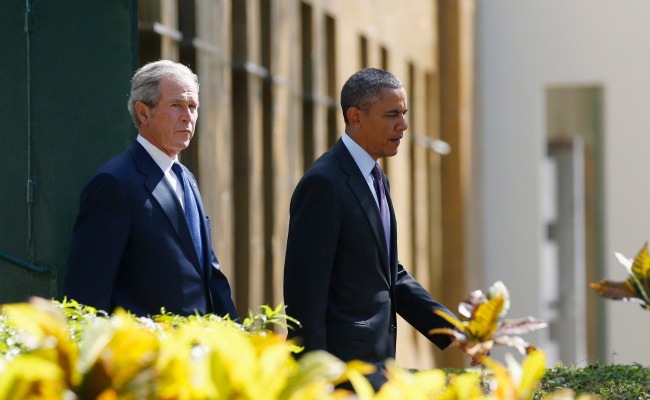 George W. Bush and Barack Obama at a ceremony in Dar es Salaam, Tanzania, commemorating the 1998 bombing of the U.S. Embassy. (Reuters)
George W. Bush ran for election and reelection as a compassionate conservative. Now slowly inching his way back into the public eye with an interview with ABC News's Jonathan Karl that aired Sunday and a planned major speech on immigration Wednesday, the former president who likes to call himself "retired" is being suddenly feted for views he's held for years.

Maybe it's just the hard-right turn in Republican rhetoric since Bush left office, but Bush's historic kinder, gentler approach is suddenly being treated as a kind of GOP novelty act.

Consider this ABC News story Sunday:
President George W. Bush cautioned against criticizing gay couples, saying in an interview on "This Week" that you shouldn't criticize others "until you've examined your own heart."

Bush had waded into the revitalized same-sex marriage debate last week -- if only barely -- in a comment to a reporter in Zambia, who asked whether gay marriage conflicts with Christian values.

"I shouldn't be taking a speck out of someone else's eye when I have a log in my own," Bush said last week.

In an interview in Tanzania with ABC News Chief White House Correspondent Jonathan Karl, the former president explained his comment further.

"I meant it's very important for people not to be overly critical of someone else until you've examined your own heart," Bush told Karl.
The story went on to note that "As president, Bush opposed gay marriage, and Republicans pushed ballot measures to ban it at the state level."
But Bush also endorsed civil unions for same-sex couples, along with a state-based rather than federal approach permitting such, as an incumbent president running for reelection in 2004. He did so in defiance of his party, which opposed civil unions in its platform. "I don't think we should deny people rights to a civil union, a legal arrangement, if that's what a state chooses to do so," he said that October. Meanwhile his vice president, Dick Cheney, opposed the constitutional amendment to ban gay marriage that was a popular idea among social conservatives at the time. Cheney did this while campaigning in Iowa, a well-known bastion of GOP grassroots social conservatism, in the summer of 2004:
At a campaign stop in Iowa, Mr. Cheney, who has a daughter who is a lesbian, said on Tuesday that he favored the right of states, rather than the federal government, to define marriage, and, with his daughter Mary in mind, said ''freedom means freedom for everyone'' to enter ''into any kind of relationship they want.''
As Republicans seek to find a new way forward in the wake of the Supreme Court decision striking down DOMA, it's worth recalling that one frequently discussed proposed path -- backing civil unions but not full marriage equality -- would just take the GOP back to where its successful presidential candidate was in 2004.

Romney, the more conservative candidate who lost where Bush won, opposed both gay marriage and civil unions in 2012.

The picture with Bush was hardly one of straightforward support for gay unions, of course. He also backed a proposed constitutional amendment to forbid same-sex marriage. At the same time, he benefited from an aggressive state-by-state campaign to turn out evangelical voters opposed to giving gay unions the same standing as heterosexual ones.

That was the genius of compassionate conservatism as party strategy: a small helping of moderate rhetoric at the top never prevented the hardest-right elements in Bush's party from getting their way on social issues, even as the gentler tone helped woo a broader base of support for the president. From a New York Times post-election analysis:

Proposed state constitutional amendments banning same-sex marriage increased the turnout of socially conservative voters in many of the 11 states where the measures appeared on the ballot on Tuesday, political analysts say, providing crucial assistance to Republican candidates including President Bush in Ohio and Senator Jim Bunning in Kentucky ....

[T]he ballot measures also appear to have acted like magnets for thousands of socially conservative voters in rural and suburban communities who might not otherwise have voted, even in this heated campaign, political analysts said. And in tight races, those voters -- who historically have leaned heavily Republican -- may have tipped the balance.
So now Bush, in response to a journalist in Zambia asking about whether gay marriage is against Christian values, said, "I shouldn't be taking a speck out of someone else's eye when I have a log in my own."
That sounds nice and all, but it's kind words without kind content.

Pressed by Karl to elaborate on what he meant, Bush declined to get specific and refused to say anything substantive about marriage equality or the DOMA decision.

"I meant that I wasn't going to answer the question then and I'm not going to answer it now in terms of the political question about whether or not, uh, you know --  just don't wanna wade back in the debate. I'm out of politics," Bush said. "But I meant it's very important for people not to be overly critical of someone else until you've examined your own heart .... I'm not going to wade back into those kinds of issues. I'm out of politics .... I'm off the stage unless I'm promoting something I strongly believe in."
It was classic Bush: compassionate rhetoric followed by ... what exactly?