George W. Bush Is Back (Sort Of)
He's inching back into view, but so slowly he's unlikely to have much influence on a party that's moved on without him -- at least when it comes to immigration.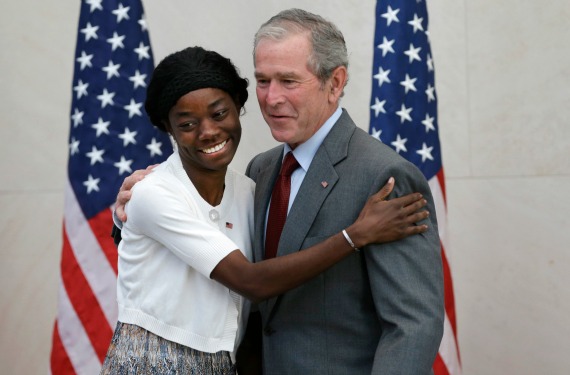 George W. Bush poses for a photo with Mondell Bernadette Avril after she was sworn in as a U.S. citizen. (LM Otero/Associated Press)
George W. Bush dipped his toe back into the national immigration debate Wednesday, calling for a "positive resolution" in Congress to a "broken" immigration system in remarks before a citizenship ceremony at the George W. Bush Presidential Center in Dallas.
"We have a problem. The laws governing the immigration system aren't working. The system is broken. We're now in a important debate on reforming those laws, and that's good," the 43rd president said, before quickly distancing himself from any particular path forward.
"I don't intend to get involved in the politics, or the specifics of policy, but I do hope there is a positive resolution to the debate," he said. "And I hope during the debate, that we keep a benevolent spirit in mind and we understand the contributions immigrants make to our country."
It was an important, if small, step in increasing the visibility of the former president, who has hidden himself away from the public eye for much of the past four and a half years. But it was clear from his brief remarks that his cautious step forward would be too measured to have much impact on the roiling national debate over immigration, which the former president was unable to win even when he had the full power of the White House bully pulpit. Nor were his remarks particularly new -- in his calls for a respectful debate, recognizing the value of immigrants, and solving immigration-system problems, Bush returned to language he's used often since 2006.
"We're a nation of immigrants and we must uphold that tradition, which has strengthened our country in so many ways. We can uphold our traditions of assimilating immigrants and honoring our heritage of a nation build on the rule of law," Bush said Wednesday.
Compare today's remarks to what Bush said in December 2012, at another Bush institute forum on immigration:
Immigrants come with new skills and new ideas. They fill a critical gap in our labor market. They work hard for a chance for a better life. Today our panelists will discuss those contributions in a sober and enlightening way. America is a nation of immigrants. Immigrants have helped build the country that we have become and immigrants can help build a dynamic tomorrow. Not only do immigrants help build our economy, they invigorate our soul. America can be a lawful society and a welcoming society at the same time. As our nation debates the proper course of action relating to immigration, I hope we do so with a benevolent spirit, and keep in mind the contribution of immigrants.
This echoed what he said as president in 2006:
We are a nation of laws, and we must enforce our laws. We're also a nation of immigrants, and we must uphold that tradition, which has strengthened our country in so many ways. These are not contradictory goals. America can be a lawful society and a welcoming society at the same time. We will fix the problems created by illegal immigration, and we will deliver a system that is secure, orderly, and fair.
Nor was it his first recent reference to the system being "broken"; Bush earlier used the same term in May.
Obama also has used a Bush legacy outfit as a platform for promoting the need for immigration reform, using the occasion of the dedication of the George W. Bush Presidential Library in April 2013 to praise the former president's support for immigration reform.
"Seven years ago, President Bush restarted an important conversation by speaking with the American people about our history as a nation of laws and a nation of immigrants," Obama said, adding later: "If we do it will be in large part thanks to the hard work of President George W. Bush."
If immigration reform passes, it's possible George W. may take on an even more prominent public role. But it's hard to see why he'd want to risk the reputational gains he's made while staying out of the limelight by now inserting himself into a contentious legislative fight that he might be destined, for the second time in his life, to lose.