Gabby Giffords' Gun-Control Group Brings in $6.6 Million This Year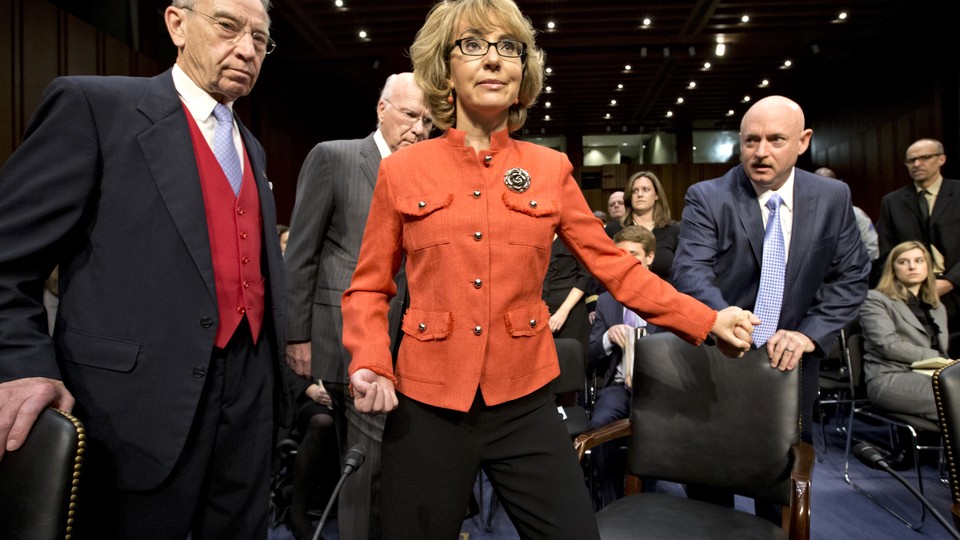 Gabby Giffords is gearing up for a midterm fight, and her gun-control PAC is bringing in big cash for the effort.
Since the former Democratic representative from Arizona and her husband, former astronaut Mark Kelly, started their group earlier this year, they have brought in more than $6.6 million, according to Americans for Responsible Solutions PAC disclosure reports released Wednesday.
Though the group brought in many small contributions, some individuals gave as much as $250,000.
Here are 10 notable donations:
Thad Allen, former Coast Guard admiral and now of Booz Allen, gave $5,000
George Zimmer, the former CEO of Men's Wearhouse, gave $5,000 (He's actually a pretty reliable Democratic donor, previously giving to both President Obama and House Minority Leader Nancy Pelosi.)
Marissa Mayer, CEO of Yahoo!, gave $250,000
Sean Parker, social-media entrepreneur, gave $250,000
Gloria Giffords, mother of the former congresswoman, gave $4,500
Michael Bloomberg, mayor of New York, gave $250,000
Marc Benioff, CEO of Salesforce.com, gave $500,000
Mostyn Law Firm, which deals with hurricane victims, gave $250,000
Richard Plepler, the CEO of HBO, gave $1,000
And a Texas rancher gave $10,000
The group also has plenty of cash on hand, only spending $1.8 million thus far, more than $500,000 of which went into media campaigns.
Giffords, who was shot in 2011 at an event in Tucson, has been one of the leading voices in the fight for expanded gun control. Though stricter laws, including those for background checks and an assault-weapons ban, failed in Congress, Americans for Responsible Solutions and other gun-control groups have vowed to continue their fight in the upcoming 2014 midterm elections. Right now, it looks like they have a sizable sum of money with which to work.
---
Matt Berman contributed contributed to this article