Former CIA Chief: Snowden's Leak Is 'a Little Like the Boston Bombers'
Michael Hayden likened an ideological preference for transparency to Islamic fundamentalism. Seriously.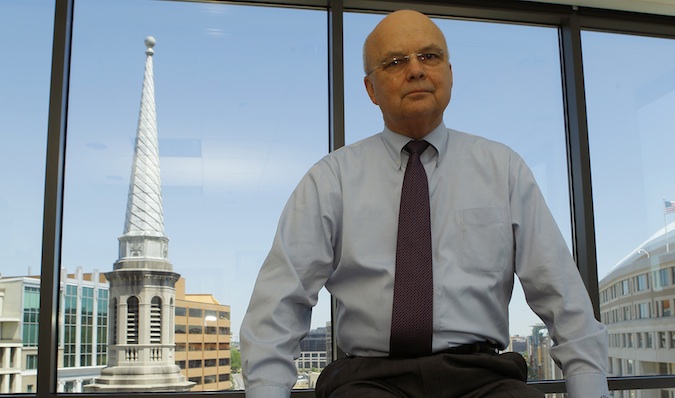 In an interview with Financial Review, an Australian publication, General Michael Hayden, who has served as head of both the NSA and the CIA, made what may be the most jaw-dropping statement of the whole Edward Snowden controversy. Asked if he was a hero or traitor, Hayden said (emphasis added):
He's certainly not a hero. The word traitor has a very narrowly defined legal meaning that he may not in the end quite meet. I personally think Snowden is a very troubled, narcissistic young man who has done a very, very bad thing.

 

I don't think Snowden spied for the money, and he probably did not spy for the power. He seems to have revealed this information because of his ideological embrace of transparency as a virtue.

It is a little like the Boston bombers. The issue is at what point does Islamic fundamentalism flip-over and become a genuine national security threat? Likewise, at what point does a cultural tendency towards transparency flip-over to become a deep threat inside your system?

They are similar issues.
For those keeping score at home: The Boston bombers, who tried to kill masses of innocent Bostonians by packing sharp metal objects in explosive devices and detonating them at a marathon, are a little like the leaks of Edward Snowden, who revealed that the U.S. government is spying on its citizens.
And Islamic fundamentalists, who believed they were justified in killing 3,000 Americans on 9/11 by flying planes filled with people into the Pentagon and World Trade Center; who are proud of numerous suicide bombings that have killed untold thousands in Iraq, Afghanistan, and beyond; who subjugate women and minorities, murder gays, and transgress against all the values of liberal democracy -- those people are similar to folks who embrace transparency as a virtue.
Every day, the national-security establishment reveals its illiberal radicalism and utter lack of perspective a bit more.
This part of the interview is also incredible:
Do you have any issues with the media reporting of the Snowden leaks?

Gen. Hayden: Yes, our 24/7 constant news networks have really mangled this so story badly that Americans don't quite understand what it is that their government is or is not doing.
Yes, it's the media's fault that the American people don't quite understand the secret programs that the government failed to reveal, refuse to detail, and actively mislead the public about even now.