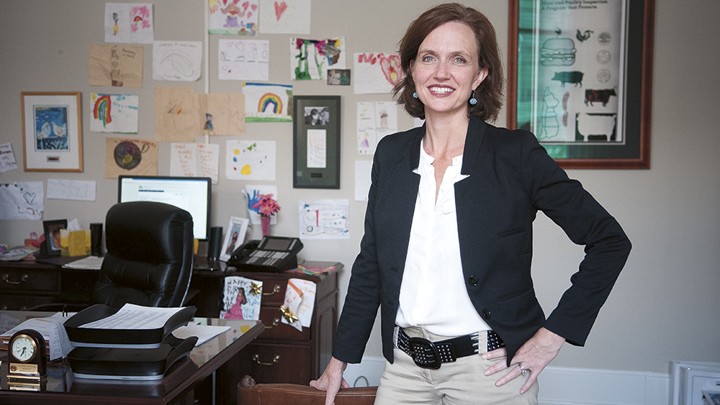 When Hagen left a career in medicine in 2006 to pursue public-health interests at the Agriculture Department, she didn't imagine she'd stay very long. "I thought I'd just try it out for a year," she said. But she fell in love with the work and has risen to the top of the food-safety division in what she calls her "accidental career." Appointed to be the undersecretary for food safety in 2010, she's in charge of the nation's meat-inspecting apparatus. In her previous roles at USDA, she worked in applied epidemiology — which investigates food-illness outbreaks — and was the department's chief medical officer. As undersecretary, her priorities of modernizing the poultry-inspection system ("We've been doing things largely the same way since the 1950s," she said) and reducing the number of salmonella outbreaks (which are stubbornly consistent year to year) were made more difficult by the sequester budget cuts. Although a bill was approved to prevent the furlough of all of USDA's meat inspectors, Hagen shuffled the budget to turn a 20-day furlough into an 11-day one. "We would have been looking at shortages" in the nation's food supply and up to $10 billion in industry losses, she said. Hagen, 43, who grew up outside Harrisburg, Pa., has an undergraduate degree from St. Joseph's University in Philadelphia and a medical degree from Harvard.
We want to hear what you think about this article. Submit a letter to the editor or write to letters@theatlantic.com.
Brian Resnick
is a former staff correspondent at
National Journal
and a former producer of
The Atlantic
's National channel.