DSCC Chair Says Democrats Are "˜Optimistic' They'll Hold Majority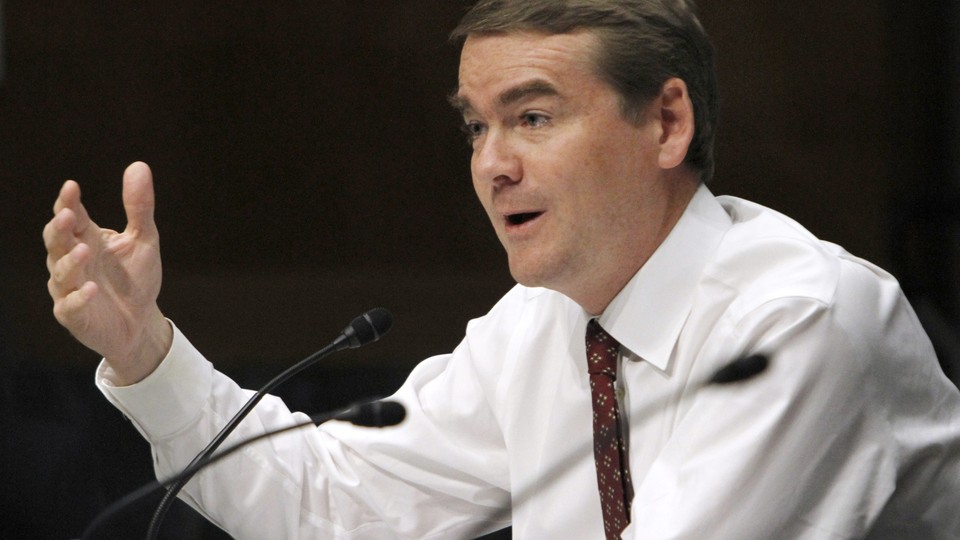 The chairman of the Democratic Senatorial Campaign Committee said Wednesday that despite a difficult map, the GOP's failure to avoid divisive primaries and recruit strong candidates in key states has Democrats "optimistic" they'll hold the Senate majority next year.
"Republicans have not missed an opportunity to miss an opportunity," Michael Bennet, the junior senator from Colorado, told reporters during a pen-and-pad session near the Capitol. "What's stunning about this map today is how small the competitive landscape is. Republicans have failed to put any blue or purple state into play and find themselves mired in divisive primaries that pit tea-party conservatives against establishment Republicans favored by the Washington elite."
Bennet was referencing the GOP's failure, at least so far, to get behind qualified candidates in a host of blue states such as Colorado, Iowa, Minnesota, and Virginia, all second-tier battlegrounds where the party was expected to at least make it a competitive race. Republicans have also struggled to recruit in Michigan, though Rep. Dave Camp's acknowledgment this week that he might run rekindles hope that they can win the state's open-seat contest. That means the Republican Party's path back to the majority in the Senate — it needs to win a net of at least six seats for control in 2015 — runs almost entirely through seven red states, including Alaska, Arkansas, and Louisiana. In some of them, like North Carolina, a bare-knuckles fight in a GOP primary could thwart Republican candidates before they even reach the general election, Bennet said.
But Senate Democrats have had their own recruitment woes. When asked why the DSCC has yet to recruit a strong contender in Montana, South Dakota, or West Virginia, Bennet could offer only a vague assurance that the party is still recruiting and will find qualified candidates by year's end.
"We're going to work very diligently to recruit," he said, mentioning that now-Sen. Heidi Heitkamp, D-N.D., did not enter her race until December of 2011. "Everybody wants the races to gel today. They're not. And they never are."
Democrats fear that South Dakota and West Virginia, where multiple high-profile candidates have already passed on a campaign, might already be slipping out of the party's grasp. The same could soon be true of Montana, where former Gov. Brian Schweitzer's decision not to run has left the party scrambling to find a replacement.
Other notes from Bennet:
Asked if the DSCC planned to interfere in a Republican primary as it did during the 2012 cycle, Bennet demurred. "Even if we were, I wouldn't tell you." He pointed to Georgia's GOP primary, where a handful of Republican candidates have already entered, as a great opportunity for Democrats.
With such a red-state-heavy map, Democrats might be breathing a sigh of relief that President Obama isn't running for reelection again. "As much as the Republican Senate campaign committee is going to suggest Barack Obama is on the ballot in 2014, he's not on the ballot," Bennet said.
Bennet suggested that, in some races, Obamacare's implementation might help Democratic candidates because voters will begin to benefit from the law.