Can Democrats Win in the South?
Uphill Senate battles in Georgia and Kentucky may be the party's only hope to keep control of the upper chamber.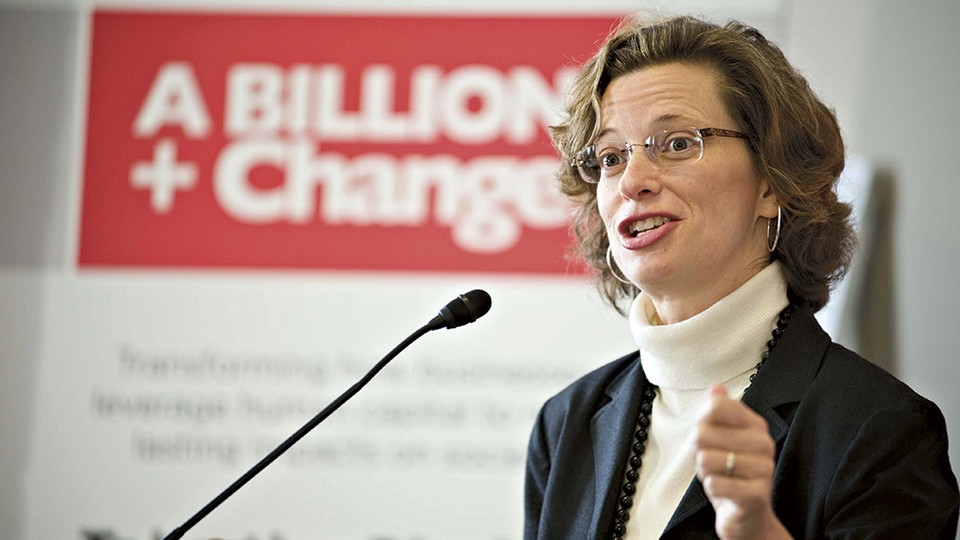 Senate majorities can be won or lost 18 months before Election Day. At least it felt that way after Brian Schweitzer, the popular former governor of Montana, opted this month against a Senate campaign. The decision stunned Democrats, who had confidently courted Schweitzer for months, publicly pledging support and pri-vately boasting that his entrance would all but guarantee the party would retain the seat held by retiring Sen. Max Baucus.
Now, instead of confidence, Democrats feel the first inklings of panic. They're worried the Montana campaign will deteriorate like the open-seat races in West Virginia and South Dakota, deep-red states where the party lacks anything resembling a strong candidate. The trio amounts to half the number of victories the GOP needs to retake the majority, and there are still vulnerable Democratic incumbents in conservative states such as Alaska, Arkansas, and Louisiana. As election prognosticator extraordinaire Nate Silver wrote in The New York Times, Schweitzer's dropout makes Republican takeover chances "close to even-money."
So, with their majority looking shaky for the first time this cycle, Democrats are turning to a surprising strategy to keep themselves afloat: Take the fight to the Republicans on their home soil. While trying to steal a seat deep in enemy territory is a long-standing goal of both parties, such aggression had been considered unlikely in 2014, when almost all of the Senate contests will take place in red states. (Party operatives frequently say it's the most one-sided map they've ever seen.) But a pair of Republican-leaning states held by the GOP, Kentucky and Georgia, suddenly have viable Democratic contenders. "We've recruited strong candidates that put Kentucky and Georgia in play," wrote the Democratic Senatorial Campaign Committee's Guy Cecil, in a memo distributed last week. "Now the public polls are confirming we are playing offense in red states for the second consecutive cycle."
To be successful, the two candidates who have emerged this summer, Alison Lundergan Grimes in Kentucky and Michelle Nunn in Georgia, will have to walk a similar line. The women face different kinds of races — Nunn is running for an open seat against a potentially weak Republican opponent, while Grimes will square off against Senate Minority Leader Mitch McConnell — but they'll both have to distance themselves from the national Democratic Party, which is deeply unpopular in their home states. Republicans are already hard at work making sure they have no such opportunity.
Of the two, Grimes is considered the longer shot. McConnell's 30-year tenure in the Senate, at a time when public disapproval of Congress sits at all-time highs, makes him vulnerable. But the minority leader is a prodigious fundraiser and ruthless campaigner, and he represents a heavily white, conservative state where Mitt Romney grabbed 60 percent of the vote. Democrats tried to take down McConnell in 2008, in an electoral climate that was more favorable to the party than 2014 is likely to be, and still fell short by 6 percentage points.
But the 34-year-old Grimes, the scion of a powerful political family in the Bluegrass State who won election as the secretary of state in 2011, was universally regarded as the party's best hope, even while Hollywood actress Ashley Judd's flirtation with a campaign made headlines early in the year. The more locally rooted Grimes, the thinking went, could more easily repel GOP characterizations that she would simply carry out President Obama's bidding if elected.
That doesn't mean the Republicans aren't trying. Kentuckians for Strong Leadership, a super PAC backing McConnell, began airing ads just weeks after Grimes entered the race that featured a clip of the candidate saying she supports the Democratic Party's national platform. "Alison Lundergan Grimes will do whatever Obama wants," the ad intones.
Even Grimes's allies say her policy positions on hot-button issues such as gay marriage remain a mystery. And they caution that on a topic like that, she'll have to break from her party. "I don't know if it's the best position to be pro-gay marriage in the state of Kentucky," said Jimmy Cauley, the former chief of staff to Democratic Gov. Steve Beshear. "It's not where you want to be and get elected statewide."
Nunn, who officially declared as a candidate only this week, stands a better chance of victory. Georgia's rapidly diversifying electorate almost made the state a target of Obama's campaign last year, and Democrats hope the GOP's scramble for the seat of retiring Sen. Saxby Chambliss produces another Todd Akin-like nominee. (Rep. Paul Broun, who brags about calling Obama a "Marxist," tops the Democrats' wish list.) Nunn also has the benefit of a famous last name: Her father, the centrist Democrat Sam Nunn, served in the Senate for 24 years.
But she too could be hurt by being associated with Democratic Party policies. In an interview after her campaign announcement, Nunn backed abortion rights, calling for the procedure to be "safe, legal, and rare."
Nunn and Grimes do share a mutual advantage: their gender. Although the "war on women" that Democrats charge the GOP is waging lacks the resonance in either Georgia or Kentucky that it has in more-liberal battlegrounds, a fresh-faced female challenger to long-standing Republican rule could pick off otherwise GOP-leaning women. When disapproval of Congress tops 80 percent, offering something different isn't a bad gambit.
For now, the battle for the Senate majority remains focused on red states that Democrats are defending. Georgia and Kentucky sit on the second tier: competitive but not yet guaranteed to remain so through Election Day. But if Democrats manage to squeeze out an unexpected victory in either state, their majority is likely safe. And party operatives won't be cursing Brian Schweitzer under their breath.