Busting 'Busty' Reporters for the Tape Recorders in Their Bras
Decades before Tina Tchen, there was a woman named Connie Stuart to keep reporters -- and their underwear -- in their rightful place.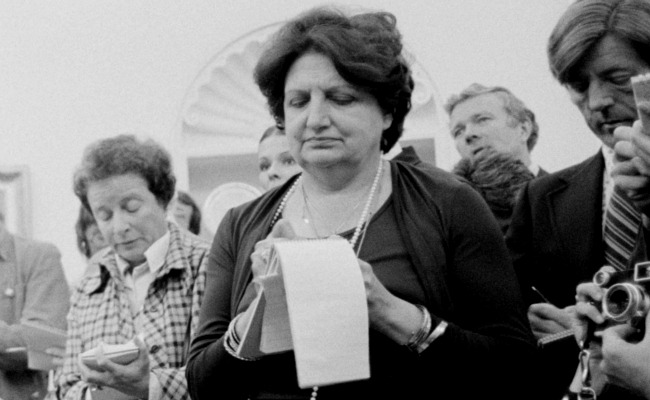 Forty years before Michelle Obama's "Let's Move" campaign, and 10 years before Nancy Reagan encouraged America's kids to "Just Say No," the First Lady's chief of staff tackled a different kind of challenge: Transforming the women of the White House press corps into ladies.
As Frances Lewine, herself a barrier-breaking political journalist, reported in the Sarasota Journal in December 1969, Pat Nixon's chief of staff, Constance Stuart, tried to civilize the feisty crop of female reporters who covered the First Lady with strict rules for attending social functions. These included a prohibition against taking refuge behind plants to do some reporting (a temptation we all face at one time or another). "Please ladies," Stuart implored, "you are guests. And guests do not wander around taking notes -- even behind potted palms." After all, she believed, female reporters might have been professionals, but above all, they were ladies. As Lewine wrote, "Mrs. Stuart suggested further that reporters introduce themselves with names, job and media affiliation, 'just like any nice brought up lady would do.'"
But Stuart's greatest wisdom was in warning the women away from conspicuously storing recording devices in their underwear. "I think some of you have gotten exceedingly busty because you are carrying tape recorders around," Stuart chided. "I might question how you gained so much weight."
Sadly, it's doubtful that Michelle Obama's chief of staff, Tina Tchen, will share similar advice in her interview with Linda Douglass on Wednesday afternoon, but we can always hope. After all, it's a lesson all First Lady staffers have to learn at some point -- Stuart certainly did after her comments were published by The Associated Press, Time, and other outlets. "I probably will not refer to physical anatomy again," she reflected ruefully.