Are Troops Being Protected From Roadside Bombs in Afghanistan?
A new report shows that some contractors might not actually be installing the protections the Pentagon is paying $32 million for.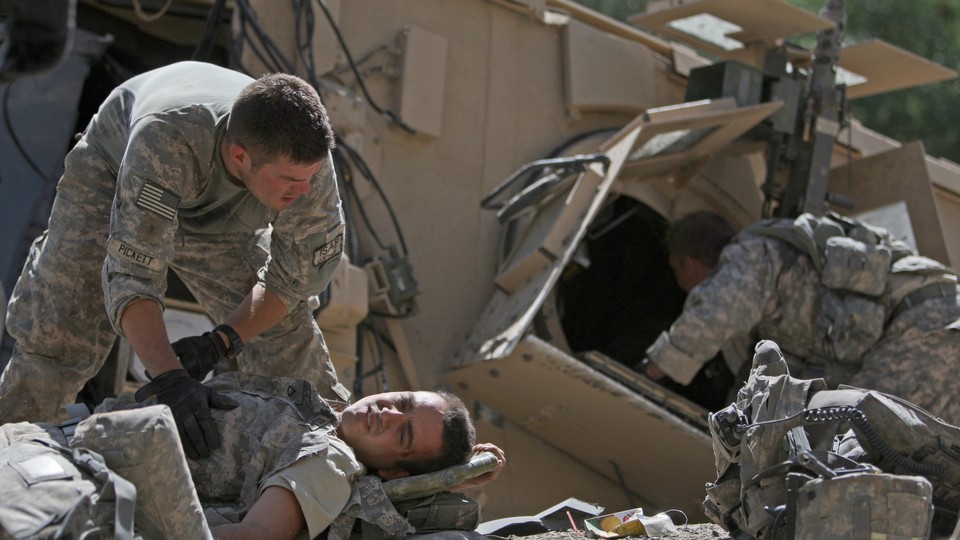 The Pentagon is spending tens of millions of dollars on one of the strongest defenses to protect U.S. troops from improvised explosive devises in Afghanistan. But some of them might not actually be in use.
To protect U.S. troops from IEDs, the Pentagon awards contracts for the installation of grates to prevent militants from putting road-side bombs in drain pipes. The problem is that it is unclear whether these so-called culvert-denial systems (pictured below) are functioning or even installed, according to a new report from the Special Inspector General for Afghanistan Reconstruction, which shows several disturbing trends of fraud by Afghan contractors.
(SIGAR)
Although fatalities are down among American and NATO troops — as Afghan forces take a more active role in combat missions — IEDs are the leading cause of death in Afghanistan. On Tuesday, three NATO servicemembers were killed by a roadside bomb in Afghanistan. This brings the total number this month to seven, and a total of 98 this year.
As of late 2012, 60 percent of U.S. casualties in Afghanistan that year came from 17,000 IED attacks. Most of these bombs are made from ammonium nitrate, a fertilizer that was used in the Oklahoma City bombing in 1995. Because of the simplicity of the bomb, it became a widespread tool for militants fighting NATO soldiers. From 2009 to 2011, attacks rose by 42 percent.
Despite these concerns — and lack of documentation from the Defense Department — the Pentagon still awarded $32 million worth of contracts for the construction and installation of these protectors since 2009.
Previous investigations from SIGAR led to the arrest and charging of two contractors for fraud and negligent homicide of U.S. troops by billing the Pentagon for the installation of 250 systems that were either never installed or installed incorrectly. Their contract totaled $1 million.
"The loss of life because individuals were not doing their job is horrific and unacceptable," Special Inspector General John Sopko said in a statement. "This case shows so clearly that fraud can kill in Afghanistan. We will find out if contracting officers did not do their job and if that proves to be true and Americans have died, we will hold those individuals accountable."
SIGAR will continue to investigate whether further contract failures and incorrect installations of these systems have led to the deaths of more U.S. troops.
One of the problems the report outlines is the lack of clear oversight for the installation of the culvert-denial systems throughout Afghanistan. Therefore, the U.S. does not know whether it is receiving the services that it pays for, nor does the Pentagon know if its troops are adequately protected.
Here is the report's conclusion:
We were unable to determine the total number of contracts awarded for the construction and installation of culvert-denial systems due, in large part, to the various ways that these systems are contracted for and installed in Afghanistan. Requirements for culvert-denial systems are generated in a decentralized way by various military units around Afghanistan based on the need and threat level in their area. Further, once a requirement for a culvert-denial system has been identified, the contract can be awarded and administered through a number of entities or organizations — from the unit that identified the requirement to the larger contracting commands. As a result, we found that there is a fragmented understanding of and a lack of visibility into the universe of contracts for these systems among DOD's military and civilian contracting officials in Afghanistan.