Americans Turn on Obama Over Foreign Policy
Once considered the president's strength, a new poll shows troubling signs.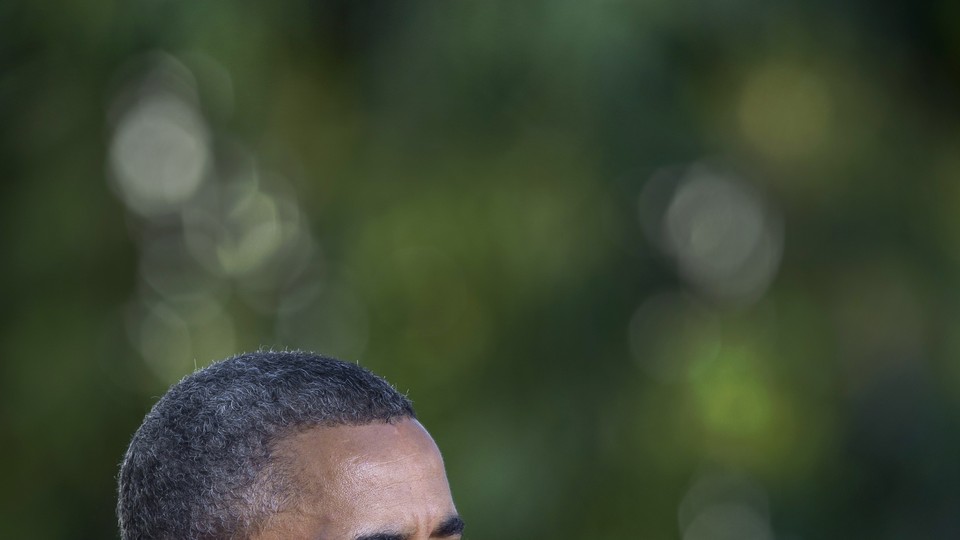 What a difference a few months make.
Just 40 percent of Americans give the president positive marks on foreign policy, his worst rating ever in that category, according to a new Quinnipiac poll released on Thursday. Now, a majority of Americans, at 52 percent, disagree with the way he's dealing with those issues.
Below, you can see the general downward trends:
Even on specific issues, things are bleak for the president. Just 33 percent Americans agree with the path the president wants to take in Syria. And while pressure from lawmakers and some foreign policy groups may be on President Obama to intervene in the country, the American people still don't think he should.
The results reaffirm a general trend among Americans in recent polling on Syria: they don't truly think the U.S. should be providing weapons to the opposition, nor do they think it's in our best interests to get involved. But that's not stopping the Obama administration from going ahead with its plans to arm some of the rebels fighting President Bashar al-Assad.
Among those polled, only 27 percent of Americans think getting involved in Syria serves the national interest of the U.S. Just 27 percent of Americans also think the U.S. should provide arms and military supplies to rebel groups, while 59 percent of Americans would oppose such action. This lack of support goes across party lines, as Republicans, Democrats and independents show similar numbers.
However, when asked if the U.S. should instead use weapons that don't risk American lives — like drones or cruise missiles — against Syrian targets, 49 percent of Americans think the U.S. should. Only 38 percent say the U.S. should refrain from using that sort of weaponry. Here are some specific figures with Syria:
Still, the president does see positive support on counterterrorism issues, with 52 percent approval. Voters remain split 46 percent to 45 percent on his handling of the war in Afghanistan.
Here are some results for other Afghanistan questions:
Thinking about the situation in Afghanistan, do you think the United States should or should not negotiate with members of the Taliban?

Yes 28%, No 63%

Do you think the United States should or should not negotiate with members of the Taliban, if such negotiations could end the war in Afghanistan?

Yes 53%, No 40%

Some people say the United States should not negotiate with terrorists because it encourages more terrorism. Do you agree or disagree?

Agree 60%, Disagree 33%

Some people say the United States should have negotiations with the Taliban because it will get American troops home more quickly. Do you agree or disagree?

Agree 35%, Disagree 57%
It's unclear why Americans have turned on the president with this specific issue, whether it's the recent leaks about U.S. surveillance programs or general fatigue of war, but the numbers are telling.
The poll was conducted between June 28 and July 8 among 2,014 registered voters with a margin of error of 2.2 percent.