Will North Carolina Shape the Future of the Senate?
The race there could go a long way to determining whether Republicans or Democrats control the upper chamber in 2015.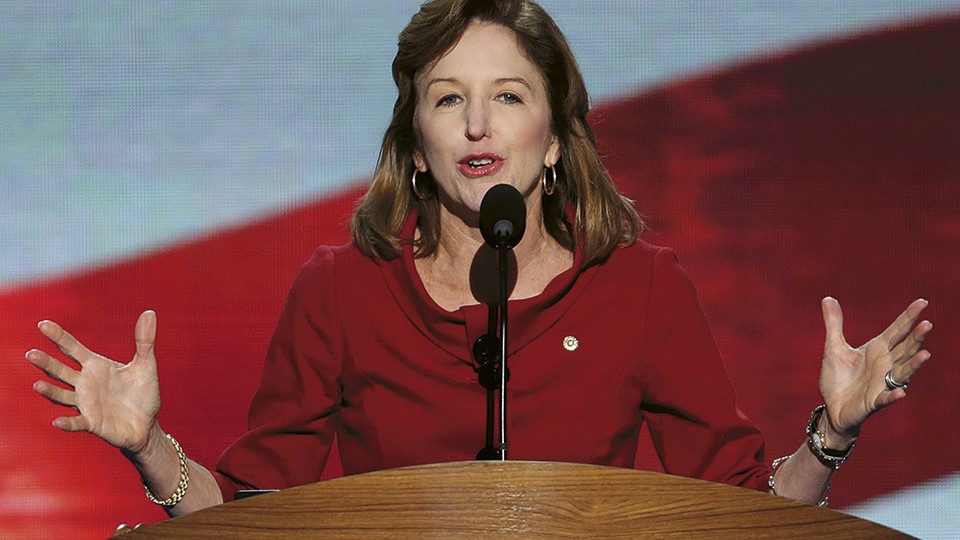 The Republican Party's hopes for a Senate majority will rise and fall on 2014 elections in seven red states where Democratic senators are running for reelection or retiring. If the GOP is going to capture the six seats necessary for control of the upper chamber, the bulk of its victories — possibly even all of them — will come from this red-state septet.
Within this group (Alaska, Arkansas, Louisiana, Montana, North Carolina, South Dakota, and West Virginia), one state stands apart. North Carolina is represented by freshman Kay Hagan, seeking reelection for the first time since her 2008 victory. And while the Tar Heel State is red — Mitt Romney won it by 2 percentage points — it's not the deep crimson of other states on the 2014 Senate map, such as Alaska, Arkansas, and Louisiana. In fact, of the seven states, North Carolina is the only one President Obama won in 2008. And it's the only one he didn't lose by double digits last year. As one GOP pollster put it, the state is the "swingiest of the swing states" that are featuring competitive races next year.
That makes North Carolina the best bellwether of next year's national political climate, particularly if Republicans, as they have so far, fail to recruit strong candidates in quintessential swing states such as Colorado and Virginia. Republicans can't count on winning in North Carolina — they may very well need help from a favorable political climate nationally. "North Carolina is more like Northern Virginia than it is like Arkansas or South Carolina," said Paul Shumaker, a GOP strategist in the state. "We are very much reflective of the nation as a whole, more than that of the South."
Its competitiveness, in large part, stems from its diversity. Unlike heavily white Alaska and Montana, North Carolina has a minority vote that exceeded the national average last year — 30 percent, compared with 28 percent. The state's minority vote is heavily black: African-Americans had a 23 percent share of the total electorate. Another significant factor is the vibrant college and young professional community in the Research Triangle.
North Carolina's demographics present a challenge for both parties. For Republicans, it means finding a Senate candidate and running a campaign that can attract minority and young voters. Or, at the very least, avoiding an incendiary campaign that fuels turnout for Hagan. In a race that could be marked by such issues as gun violence and immigration, that could prove tricky. "You're going to see the Republican nominee is going to have to run to the middle and attract the kind of voters that aren't voting in a Republican primary and aren't reflexively Republican all the time," said one GOP strategist familiar with the state, who requested anonymity to speak candidly.
Democrats, however, must fight to lessen the likely midterm drop in minority turnout. That's a daunting task without President Obama on the ticket or his campaign in the field; the Obama operation invested heavily in North Carolina during last year's election. Making it especially difficult is the state's disparate and widely distributed population, divided among eight media markets and tucked away in a collection of cities and far-flung rural enclaves. Republicans and Democrats alike agree it's a test of campaign organization.
"To win there, you have to have a really good campaign that knows how to find voters, identify them, and then count them, precinct by precinct," one Democratic strategist said. "That's something unique. Most states this cycle, they have a population center or two, and then you've got rural areas like Montana. North Carolina — you've got Greensboro, you've got Charlotte, and it's so spread out, with large rural pockets in between. It's a harder state to canvass, to make a major TV buy."
Democrats are confident that campaign mechanics will give Hagan, who has had nearly five years to prepare for reelection, an edge. So far, no Republican has emerged as a clear-cut favorite in a still-forming primary field, although state House Speaker Thom Tillis is the early favorite of the GOP establishment. Hagan's backers also contend that controversy stirred this year by the GOP-controlled state Legislature (the NAACP has been staging protests against its actions on education, tax policy, and other issues) and a potentially bitter Republican primary will alienate moderate voters before the general-election campaign even begins.
Still, Obama's absence from the ticket will depress turnout — and his best efforts couldn't save his campaign from defeat there in 2012 even after the Romney campaign pulled out in the race's final weeks. The midterm will be tougher, Republicans say, adding that Hagan has yet to distinguish herself during her first term. "The Obama machine threw the kitchen sink at North Carolina, maximized the Democratic turnout and vote, yet still lost," said Brad Dayspring, spokesman for the National Republican Senatorial Committee. "Now the [Democratic Senatorial Campaign Committee] claims they'll be able to emulate their turnout, and that's going to be difficult to do for a wishy-washy incumbent like Kay Hagan."
West Virginia and South Dakota, two open Senate seats, are the hardest holds for Democrats next year. Mark Pryor of Arkansas is generally seen as the party's most endangered incumbent. Democrats Mary Landrieu of Louisiana and Mark Begich of Alaska also represent deep-red states. That would leave Hagan holding the sixth-most-vulnerable seat, the magic number Republicans need to wrest control of the Senate.
Bellwether, indeed.