Who Has the Upper Hand in the U.S.-China Relationship?
The presidents of both countries promise a more candid and equal relationship in their next meeting.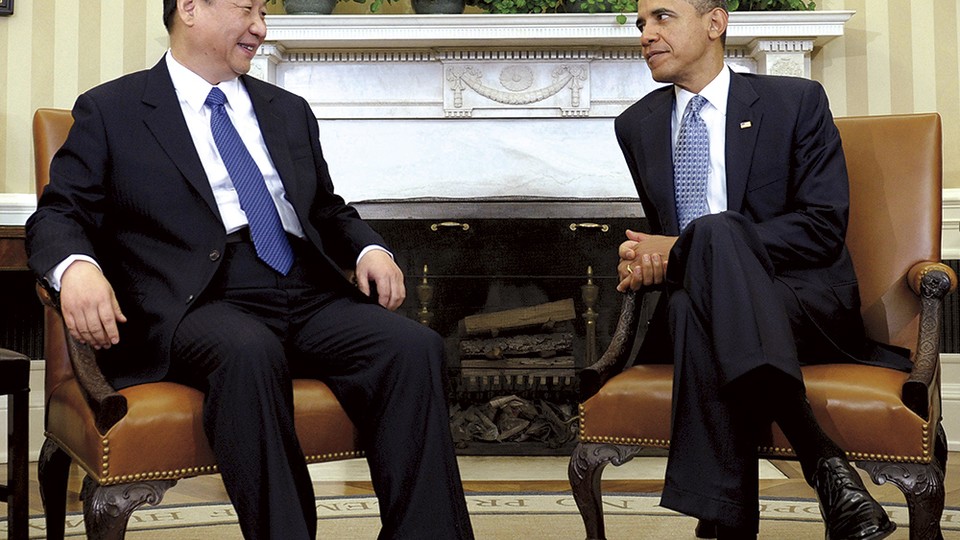 When President Obama sits down in California on Friday and Saturday with new Chinese President Xi Jinping, all the old, now-familiar issues will be on the agenda. Currency manipulation. Trade imbalance. Human rights. Disputed islands in the East China Sea. Intellectual property. Cybertheft. All are important; all are hardy staples of recent Sino-American summits. But even as Obama and Xi walk this well-plowed land, there is a distinct possibility that something different will happen.
And it's not just because this is the most casual summit ever between a new Chinese leader and an American president. Ever since Mao Zedung welcomed Richard Nixon to Beijing in 1972, the Chinese have insisted on the highest levels of ceremony and state pageantry, seeing those as affirmation of China's status as a great power. But there will be no White House welcomes this time for Xi, no state dinners, no tuxedos as the two men meet at Sunnylands, the 200-acre Annenberg estate in Rancho Mirage. There, with the thermometer outside expected to register 106 degrees, Obama and Xi will take the temperature of U.S.-China relations in a way that hasn't been done since the years immediately after the Tiananmen Square crackdown in 1989.
In part, this is because Xi last month called for "a new type of great-power relationship." In the weeks since, scholars and government officials in both Washington and Beijing have struggled to figure out what Xi has in mind. Most tie his pronouncement to the Chinese obsession with studying the history of relations between dominant and emerging powers. But the Chinese president has offered little elaboration, raising the stakes for the Sunnylands talks because it will be a topic of discussion between the two leaders, forcing Xi to put some flesh on the rhetorical bones.
The expectations for California are also heightened because of a subtle shift in the balance of power between Washington and Beijing — for the first time in several years, signs indicate that the Chinese leader does not enjoy most of the leverage in the talks. The Chinese economy is no longer roaring. All through the recession of 2008-09, the U.S. gross domestic product was in negative territory while the Chinese GDP grew at annual rates of 9.6 and 9.2 percent respectively. Even when the U.S. recovery started with a 3 percent growth rate in 2010, China's economy was rising at 10.4. But that gap has started to close. Last year, the U.S. GDP increased by 2.2 percent while China was shocked to record its slowest growth in a decade, at 7.8 percent. And last month, expectations for its growth this year were lowered to 7.6 percent.
"One significant change is that there has been something of a leveling of the playing field in the last year or so," argues Eswar Prasad, former head of the China division at the International Monetary Fund and now a senior fellow at the Brookings Institution. The Chinese economy, he notes, is "losing momentum" while the U.S. economy is slowly gaining strength. Because of this, Prasad says, "China has subtly but very, very slightly shifted to the defensive on some of these economic issues. They want to make sure they don't get left out, and I think the U.S. has, again very subtly, tried to maneuver a little bit around China by building stronger relationships with other countries in the Asian region."
Further complicating Xi's standing at this summit is the fact that the one-child policy and Beijing's domestic reforms are changing the labor market in ways that make it almost impossible for China to maintain its long reliance on an export-driven, cheap-labor economy. Prasad also notes that 7 million college graduates will be hitting the Chinese market this year. But because of internal reforms, as many as half of them — 3.5 million — may not find jobs, a development with a potentially destabilizing impact on the country.
Jeffrey A. Bader, senior director for East Asian affairs on the National Security Council for much of Obama's first term, believes that the president's early emphasis on making a U.S. policy shift toward Asia and on bolstering American alliances in the region has strengthened his hand.
But it is on the economy where the dynamics are changing most. Because of China's currency reserves and holdings in U.S. debt, Beijing retains strong leverage. Yet China's confidence has been shaken as it sees some of that leverage shifting to Washington. "There were a lot of Chinese talking about the decline of the United States during the recession," says Christopher K. Johnson, a longtime senior China analyst at the CIA who is now at the Center for Strategic and International Studies. "Those guys are pretty quiet these days. What has been happening in the economic relationship is a leveling towards a new equilibrium. U.S. confidence is rising a little bit ... and a little bit of the air is coming out of the Chinese balloon as they face these really challenging reform questions."
That changed dynamic is part of what makes the Sunnylands summit so intriguing. Unlike most of the past Sino-American meetings, this one is largely unscripted and is under the control of the two top leaders. What the White House expects was signaled at a background briefing for reporters this week. In only about 45 minutes, the two Obama officials described the talks 13 times as "candid," "direct," or "frank." Six more times, they called them "open," "open-ended," a "real conversation," or "less scripted."
It is enough to give professional diplomats some sleepless nights. They like to know what is going to happen before presidents sit down. This week, because of shifting leverage, changed dynamics, and the willingness of these leaders to trust their instincts, that's not possible. And that's why this unconventional California summit is about so much more than those familiar topics on the official agenda.