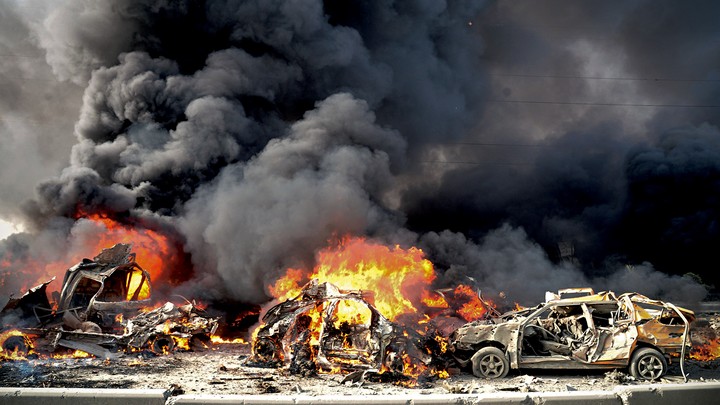 The White House on Thursday confirmed that Syria has used chemical weapons and will increase military assistance to rebels. But officials will not specifically say what new aid it will give rebel fighters.
For months, President Obama called the use of chemical weapons "a red line" that would be met with swift action from the U.S. However, critics of the president, most notably Sen. John McCain, R-Ariz., have said that the U.S. has delayed too long. Following an investigation by U.S. and European investigators, the White House has concluded that chemical weapons have been used by President Bashar al-Assad's regime.
"Following a deliberative review, our intelligence community assesses that the Assad regime has used chemical weapons, including the nerve agent sarin, on a small scale against the opposition multiple times in the last year," White House Deputy National Security Adviser Ben Rhodes said in a statement Thursday.
Rhodes said the intelligence community has "high confidence" in the assessment, which found that 100 to 150 people have died from chemical-weapons use.
Part of the U.S. response will be to arm and train rebels within the Jordan, The Wall Street Journal reports. In order to protect those rebels, the U.S. will enforce a no-fly zone within Jordan and 25 miles into Syria. This limited no-fly zone is also aimed at protecting refugees in Jordan and will cost $50 million per day.
The president has made a decision about providing more support, but Rhodes would not discuss or confirm this plan. He said, instead, that the U.S. will increase the "scope and scale" of assistance to the rebel Supreme Military Council. The aid would be substantively different both militarily and politically, he said.
"We are aiming to be responsive to the needs of the Syrian opposition," Rhodes said. "I can't go through an inventory of the type of assistant we're going to provide."
Rhodes also said that the Obama administration will consult with Congress.
Russia has reinforced its ties to the Assad regime in recent weeks, sending further weaponry as rebel forces seemed to have lost ground. The White House again pressured Russia to allow Assad to step down and help further a dialogue between the regime and rebels.
This week, the United Nations said that at least 93,000 Syrians have died in this conflict, and estimates the number is substantially larger. Since last July, the report notes, at least 5,000 people have died every month.
For the first time in April, Obama acknowledged the likelihood that the Assad regime used chemical weapons, but wanted those suspicions to be confirmed by investigators. It was only after those results confirmed the chemical-weapons use did the U.S. respond to its threat.
Rhodes outlined what tools the U.S. used to detect the use of chemical weapons, even though the Assad regime would not allow United Nations personnel to investigate:
The body of information used to make this intelligence assessment includes reporting regarding Syrian officials planning and executing regime chemical-weapons attacks; reporting that includes descriptions of the time, location, and means of attack; and descriptions of physiological symptoms that are consistent with exposure to a chemical-weapons agent. Some open-source reports from social-media outlets from Syrian opposition groups and other media sources are consistent with the information we have obtained regarding chemical-weapons use and exposure. The assessment is further supported by laboratory analysis of physiological samples obtained from a number of individuals, which revealed exposure to sarin. Each positive result indicates that an individual was exposed to sarin, but it does not tell us how or where the individuals were exposed or who was responsible for the dissemination.
The New York Times adds this:
According to a C.I.A. report, which was described by an American official who declined to be identified, the United States has acquired blood, urine and hair samples from two Syrian rebels — one dead, and one wounded — who were involved in a firefight with Syrian government forces in mid-March near the town of Utubya, northeast of Damascus.
Here is some analysis from Twitter:
Variety of factors in US #syria decision, chem weapons, hezbollah, iran and rapidly increasingly death toll

— Richard Engel (@RichardEngel) June 13, 2013
Boehner Spox: "As President Obama examines his options, it is our hope he will properly consult with Congress before taking any action."

— Todd Zwillich (@toddzwillich) June 13, 2013
Pres Obama will address issue of military support for Syrian opposition with fellow leaders at G8 Summit next week in Northern Ireland.

— Mark Knoller (@markknoller) June 13, 2013
So the "red line" was officially crossed, and the most US will say is that it will increase non-lethal aid? Seriously? #Syria

— Shadi Hamid (@shadihamid) June 13, 2013
I don't understand all the twitter outrage about the WH statement on #Syria. The admn has been pretty clear all along about its policy.

— Steven A. Cook (@stevenacook) June 13, 2013
This aligns US w/ UK & France, gives them cover to arm, train;also warns Russia before Obama-Putin meeting forcing us to escalate

— Laura Rozen (@lrozen) June 13, 2013
McCain spox: "Senator McCain heard that from reliable sources." re POTUS made decision to arm the rebels.

— Josh Rogin (@joshrogin) June 13, 2013
We want to hear what you think about this article. Submit a letter to the editor or write to letters@theatlantic.com.