What Is Mississippi's Strict New Teen-Pregnancy Bill Supposed to Accomplish?
A new rule requires seizing umbilical blood in various cases. But it raises serious privacy issues and seems to solve a problem that doesn't exist.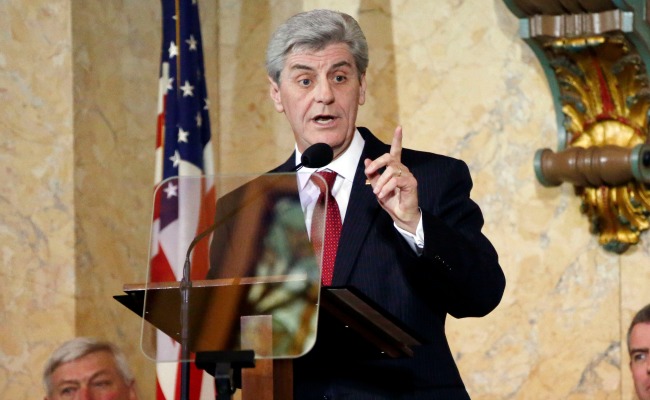 Last month, Mississippi Governor Phil Bryant's Teen Pregnancy Prevention Blue Ribbon Task Force met at the Salvation Army headquarters in Jackson. A crowd of about 70 people gathered to hear about progress in reducing teen pregnancy during Bryant's first year in office.
The event's keynote speaker was Mississippi First Lady Deborah Bryant. Within the first minutes of her speech, talk turned to the passage of House Bill 151. Beaming, she declared it "an historic piece of legislation" and said it would go far in protecting the youngest teens from sexual abuse. The bill was in fact one of her husband's greatest accomplishments so farm, Bryant said. The crowd erupted in applause.
HB 151 does not create any new law per se. It amends existing Mississippi code, which already requires DNA sampling in cases of suspected sexual abuse in teens under the age of consent. What HB 151 does do is create a new list of so-called reasonable suspicions of abuse under which cord blood from underage mothers must be collected.
When the mother of a child is under the age of 16 at the time of conception and at least one of the following "conditions" is met, sexual abuse must be assumed and cord blood must be seized at the time of birth: the mother of the infant will not identify the father of the child; the mother lists the father as unknown; the infant's alleged father disputes paternity; the father is 21 or older; or if the mother identifies the father of the infant as deceased. DNA collection is done without permission from the mother or her parent or guardian. These new amendments go into effect July 1.
Critics say the newly codified standards are not only arbitrary but also raise serious constitutional issues with them. (The bill's authors did not respond to my request to discuss the new conditions.) Matt Steffey, a constitutional law professor at Mississippi College School of Law, told Reuters he believes the law opens the state to legal challenges:
The argument is that the DNA is abandoned or about to be abandoned as medical waste, and a person doesn't have constitutional privacy over trash .... But I think people are understandably nervous about the government collecting and permanently storing information from their DNA.
Jessica Mason Pieklo, co-author of Crow after Roe, a chronicle of state-by-state model bills limiting access to abortion and other reproductive health care, and former assistant director of the Health Law Clinic at Hamline University, goes a step further.
"Above and beyond the privacy issues for mother and infant, this bill expands police powers by lowering the bar for probable cause," she says. "I don't think I have seen anything like this bill in the United States. I don't know if this is a model bill or not but I wouldn't be surprised if we see more like it pop up in other states soon."
A less noticed clause in HB 151 requires collection of products of abortion if the teen is 14-years-old or younger. Pieklo worries Governor Bryant championing this bill as one of his greatest accomplishments thus far could result in renewed vigor by anti-choice activists to shut down the last abortion clinic Mississippi. She also says the bill may lead to a deluge of Freedom of Information Act (FOIA) requests targeting the clinic demanding information on compliance with the law.
Campaigners have used FOIA requests to try to pressure providers out of business in the past. When Dr. Mila Means sought to open an abortion clinic in Wichita, Kansas -- replacing one run by Dr. George Tiller, who was assassinated in 2009 -- Operation Rescue and other groups inundated her clinic with requests for information and other alleged concerns over clinic safety. Campaigners managed to force Means out of business. A clinic has since opened with a new provider.
Medical professionals are concerned over HB 151, too. Dr. Pippa Abston, an Alabama pediatrician who blogs extensively about health care, says the concern for protecting adolescents from sexual abuse is justified, but the bill doesn't do it in a sensible way. Pediatricians are already trained in spotting sexual abuse, and they are already required by Mississippi law to make a report to authorities if there is suspicion of abuse.
"The specifics of 'reasonable suspicion' should not be encoded in law because [spotting abuse] is actually a science-based thing" in contrast to the arbitrary set of conditions outlined in the law, Abston says. "The healthcare providers are responsible for staying up to date on red flags for abuse. If the scientific literature says that a teen saying the father is dead is a significant predictor of rape, then the provider would need to take that into account in deciding whether to report."
But there's no clear evidence showing that the situations outlined in HB 151 are reliable indicators of abuse. HB 151 has followed a twisted path. It originated in the office state Attorney General Jim Hood, a Democrat. The legislation was then handed off for sponsorship to state Representative Andy Gipson, a Republican. Neither Hood nor Gipson responded to questions about how the conditions were decided.
Gipson is one of the most right-wing Republicans in the legislature. In 2012 he sponsored the so-called "personhood" bill, which would have granted fertilized eggs citizenship, and numerous anti-abortion bills similar to those in statehouses around the country, including fetal pain and heartbeat bills. HB 151 passed with bipartisan support -- but then, there is often very little daylight between Democrats and Republicans in Mississippi.
I have seen the governor speak twice, both times chairing teen pregnancy prevention events in Jackson. On both occasions he opened his remarks with a prayer, talked about his personal pain over teen pregnancy, God's design for repopulating the earth, and the scourge of deadbeat "baby daddies" in his state. Most recently he made national news by lamenting women's entrance into the workforce as "the reason for American mediocrity." He has made eradicating abortion in Mississippi a personal crusade. But Bryant's push hit a snag in April after a court granted an injunction allowing the state's last abortion clinic to stay open, despite a law intended to shut it down.
But Mississippi officials don't have their story straight on what this bill sets out to do. Is it, as the Bryants claim, a weapon against sexual predators? Or as Gipson claimed in an interview, a tool to "deter teenage pregnancy by causing men who are engaging in this conduct to think twice before they get a young girl pregnant"?
Either way, it's not clear that HB 151 solves a problem that exists.
"Governor Bryant's insistence that old men preying on young women is the reason for Mississippi's high teen pregnancy rate is not supported by actual data," says Jamie Holcomb Bardwell of the Mississippi Women's Fund. Mississippi is number one in teen birth rates in the country and number two in rate of teen pregnancy. Nationally, 70 percent of sexually active teenage girls have sex for the first time with a partner her age or one to two years older, according to the National Campaign to Prevent Teen and Unplanned Pregnancy,
"The real problem [is] politicians like Governor Bryant who say they want to protect women but have little interest in implementing policies that do so," Bardwell says.
And finally, it's unclear how the bill's conditions would work in practice. It doesn't spell out how paternity will be determined once cord blood is seized. Unless the father has been convicted of a crime serious enough to require his DNA be stored in a database, establishing paternity will become a matter of criminal investigation. Mississippi could use the need to determine paternity in accordance with HB 151 as pretext for broadening scope of who gets swabbed to any man arrested for any crime, no matter how small. The U.S. Supreme Court's ruling in Maryland v. King in early June that, like photographing or fingerprinting a suspect of a crime, a cheek swab is reasonable upon arrest.
What HB 151 illustrates is the growing currency of a narrative among anti-abortion advocates: that the teen-pregnancy crisis is caused by old men impregnating very young teens.
Dr. Freda Bush, an OB/GYN, staunch anti-abortion advocate, and personhood supporter told me that 10- to 14-year-olds who become pregnant are most often the victims of rape or incest, and said that age range is Mississippi's biggest teen-pregnancy problem. Bush is the medical advisory chair on Bryant's task force.
Dana Chisholm, head of Pro-Life Mississippi and frequent clinic protestor, told me something similar. She said she regularly sees young teen and pre-teen girls being forced into the abortion clinic in Jackson by men old enough to be their fathers.
In the last year, I have spent hours in and around the clinic, and I don't recall ever seeing this happen. That anecdotal evidence is reinforced by data. The National Campaign to Prevent Teen Pregnancy shows the rate of teen pregnancy highest among teens in Mississippi is highest for those aged 18 to 19. The most recent Youth Risk Behavior Survey by the Centers for Disease Control finds something similar: The highest teen birth rate in Mississippi occurs between the ages of 18 to 19 years old, at a rate of 55.7 live births per 1,000 teens. The rate for girls aged 10 to 14 years is only 1.1 per 1,000.
Even more revealing is a recent set of statistics about the ages of young men who father these babies from the Mississippi Vital Records Office. In response to an open records request the most recent data was provided. In 2011 there were 834 live births among girls aged 10 to 16 years old. Only 34 of those live births occurred in the 10-to-13-year-old group. None list the age of the father, so the proof that older men are the cause of the teen pregnancy problem in Mississippi just doesn't exist.
We can certainly all agree no girl aged 10 to 16 years should be pregnant, and that teen pregnancy and teen parenting is not ideal. Of course society must be vigilant in protecting kids and teens from rape and sexual assault.
But HB 151 doesn't bolster the existing statute it amended. Laws governing mandatory reporting of sexual assault have existed to protect kids for decades in Mississippi. Instead, HB 151 opens a new avenue for anti-abortion activists to craft a new and incorrect narrative. The bill is a blow to women's bodily autonomy and basic right to privacy, and it undermines Fourth Amendment protections.