What Is Going On in Istanbul?
Images of the erupting protests on the streets of Turkey's largest city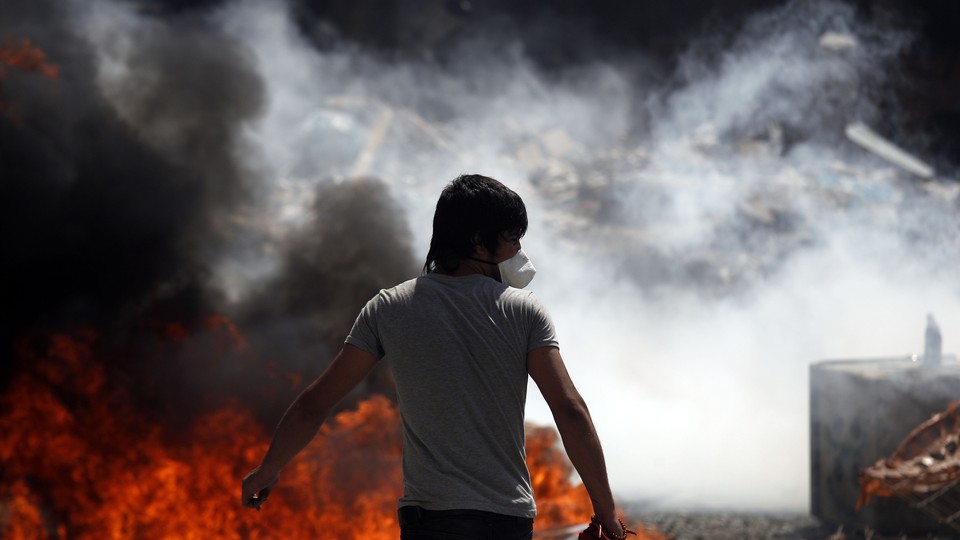 Arwa Damon, CNN's senior international correspondent, is wearing a gas mask on live TV. Around her, people are running, tear-gas canisters are flung, fireworks are going off, and buildings are on fire. It's a wild scene, something between the Fourth of July and Tahrir Square.
Damon is standing in Istanbul's Taksim square, where on Tuesday a two-week long environmental protest and demonstration morphed into something much more violent, and indicative of a growing discontent with Turkish Prime Minister Recep Tayyip Erdogan. Protesters reportedly threw Molotov cocktails at the police, and the police responded with the tear gas and water cannons.
Here's the digest version of what's going on: Two weeks ago, protesters were "occupying" Gezi Park, protesting its demolition, when police came to evict them. What followed was a series of escalations — and other protests around the country — as the movement directed outrage toward Erdogan's ever-less-secular government. The protests aren't about one thing in particular, but are against actions by the government that the protesters feel are authoritarian. In the past weeks, three have died and 5,000 have been injured.
Earlier today, the prime minister declared he had "no more tolerance" for violent protest. He said the park was full of extremists. Meanwhile riot police were arriving on scene.
Here are some images from the scene.
A man runs, covering his face from tear gas, past a burning van during clashes at Taksim Square in Istanbul on Tuesday. Some hundreds of police in riot gear forced their way through barricades in the square early Tuesday, pushing many of the protesters who had occupied the square for more than a week into a nearby park. (AP Photo/Vadim Ghirda) A protester tries to remain standing as a police water cannon fires water during clashes at Taksim Square in Istanbul on Tuesday. (AP Photo/Thanassis Stavrakis)  Protesters run to avoid the tear gas during clashes at Taksim Square in Istanbul Tuesday. (AP Photo/Thanassis Stavrakis) ( ) A policeman in plain clothes climbs on the Republic monument to remove flags and banners during clashes in Taksim Square in Istanbul on Tuesday. (AP Photo/Kostas Tsironis)
A protester holding a slingshot runs past burning construction vehicles during clashes at Taksim Square in Istanbul Tuesday. (AP Photo/Vadim Ghirda)