Welcome to Camp Grassroots
Every year thousands of average Republicans spend thousands of dollars to attend conservative conferences, some several times per year. But why?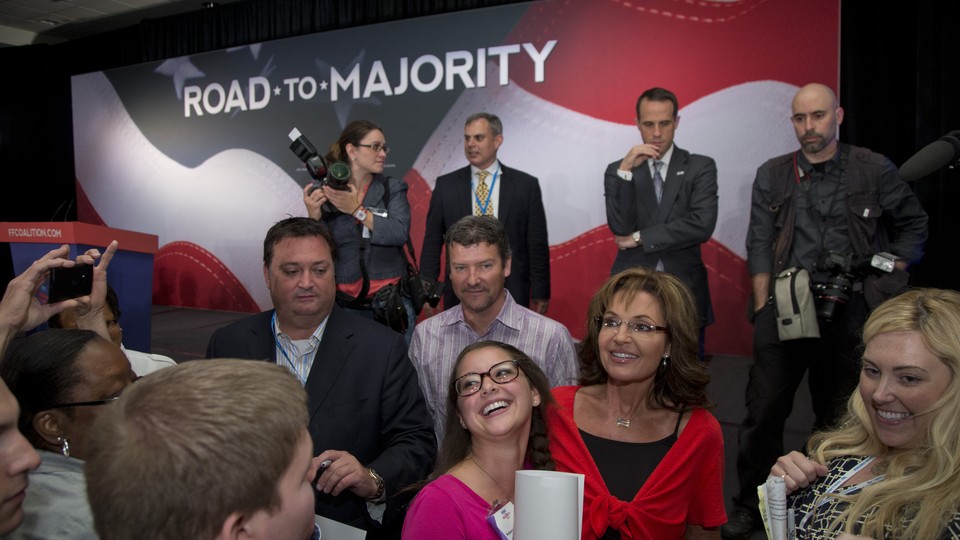 Every year, thousands of Republicans from all over the country spend hundreds, even thousands of dollars to attend conservative conferences, where they hear from popular party leaders, members of Congress and even celebrities on their issues, the state of the party and where it is headed. These include the popular Conservative Political Action Conference in the spring and the Faith and Freedom Coalition's "Road to Majority" conference, held this weekend at the J.W. Marriott in Washington.
Among the many conference goers are retirees, local tea party leaders and dozens of young conservatives, skinny bespectacled young men and well-dressed, high-heeled women in twenties, whose peers spend that kind of money on attending festivals like Bonaroo and Coachella. Like those festivals that populated by the country's biggest musical acts and a few up-and-comers, these Republican conferences include appearances by some of the top names in the conservasphere. This year's Road to Majority featured Rep. Paul Ryan, R-Wis., former Florida Gov. Jeb Bush and "Cheers"'s John Ratzenberger -- who some younger attendees may better recognize from "Toy Story" -- among others.
So why do they come? The political activists, who schlep a few times a year to Washington and other parts of the country, generally divide into two groups "" those who want to meet others with similar beliefs, and those who are there to train themselves to take action ahead of the upcoming election cycle.
The social, social conservatives of the former category describe conferences like Faith and Freedoms' the same way a wistful teen beginning a new school year describes summer camp. And there are some similarities. Breakfast is served buffet style at 9 a.m. sharp, the days are chockfull of activities, at night they swap scary stories -- about the growing concern that changing demographics could doom the party -- and there's a social on Friday night where the full slate of campers attendees get together in their nicest clothes and mingle with the new friends they've made. Like summer camps for young musicians, Girl Scouts, and religious groups, these conferences represent the only time many conservatives get to commune with people of their own political ilk. Jane and Jim Parker have been to three of these events over the last few years, beginning with Glen Beck's 9/12 rally on the National Mall in 2009. The opportunity to be with "other people that are like-minded," Jane Parker says, is indispensable for the couple who hail from the liberal town of Williamston, North Carolina.
"It's always encouraging to know you're not alone," adds Nancy Modlin, also of purple North Carolina.
Others see conferences like Road to Majority as training camps, where they can network with fellow conservatives and learn about immigration policy and how the party plans to attract young and minority voters. For them, these events represent an opportunity to educate themselves and bring that knowledge to phone banks and get out the vote efforts when they return home.
"The education that they provide to the grassroots in electioneering is invaluable," says Nora Craig, a coordinator for Dr. Alieta Eck's Senate campaign in New Jersey. Craig says she attends roughly one conservative conference per year, where she makes connections and gets tips on organizing. She'll use that information when she returns to her farm in southern New Jersey, where she runs the Barnyard Tea Party and attends meetings of the Greenwich Tea Party Patriots.
Douglas Stewart of Southern Pines, North Carolina, has a similar view. Stewart and his wife had never been to a conservative conference before the Road to Majority last week. But, disturbed by the direction the country is headed, they decided to do something about it. Stewart said he has done phone banking in past elections and hoped to get additional training while in Washington to bring back home, particularly ahead of the state's high-profile Senate race next year. "We have kids and grandkids," he says. Seeing the "family foundation in this nation in decline breaks out hearts."
Of course none of these opportunities come cheap. At the Road to Majority conference, tickets range from $99 per person to attend classes and see the high-profile speakers to $250 for the full slate of luncheons and a gala dinner. Capitol Hill interns are often given the cheapest tickets for free, while veterans and members of the clergy receive a discount. CPAC, meanwhile, runs from $40 for student tickets up to $1,000 for VIPs. National Review's cruise in the Norweigan Fjords, featuring speakers like former New Hampshire Gov. John Sununu and former Rep. Allen West, R-Fla., can cost up to $8,499 for a room.
But that's only the beginning. Aside from the cruise, most ticket prices do not include hotel or airfare or most meals. Faith and Freedom has a group rate at the Road to Majority Conference, where a night's stay at the swanky, maze-like J.W. Marriott downtown runs at $189 per night.
Still, this is a group of grassroots conservatives and they practice what they preach. All of the attendees who were willing to speak with National Journal, said they drove to Washington, and most carpooled, renting large buses and vans. The Parkers, who drove up with other North Carolinians and opted for Faith and Freedom's cheapest ticket package, estimate they spent $500 to attend the three-day conference. Craig said her group of three was sharing a single room and would stay just one night. Asked about the exorbitant costs of attending, Craig gestured at her booth for Eck's senate campaign. "Honey, I swiped five grand for this," she said.
Groups like the Faith and Freedom Coalition also subsidize trips for young conservatives, including the College Republicans, who spend the year traveling the country and working get out the vote efforts for them. A few dozen College Republicans from all over Georgia attended both CPAC and the Road to Majority this year, with help from organizers and other fundraisers. Whitney Wilson, a 23-year-old from Elverton, Georgia, said the students pool their resources and bus up together.
Of course, at the end of the conference, after the speakers have been gone home and the cocktail bar (cash, of course) has been cleared away, there are promises to stay in touch. But like at camp, not all of them will last. Asked if she planned to maintain contact with the friends she'd made at the conference, Parker pauses, "There's one couple." Still, there's always next year.