Wake Up, America: You're Letting Your Privacy Slip Away
The surveillance state couldn't have grown this invasive without widespread negligence by citizens.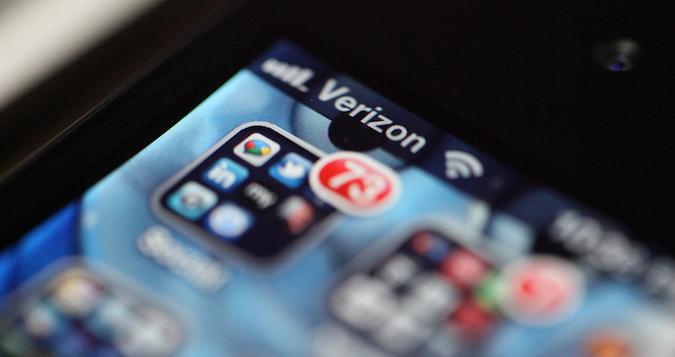 Robert Scoble / Flickr
Mark this news, America. It is yet another wake-up call.
"The National Security Agency is currently collecting the telephone records of millions of US customers of Verizon, one of America's largest
telecoms
providers, under a top secret court order issued in April," Glenn Greenwald
reports
. "The order,
a copy of which has been obtained by the Guardian
, requires Verizon on an 'ongoing, daily basis' to give the NSA information on all telephone calls in its systems, both within the US and between the US and other countries." Just as disturbing is the fact that we don't even know if AT&T and other major telecommunications companies have received similar secret orders.
Says the
Electronic Frontier Foundation
:
There is no indication that this order to Verizon was unique or novel. It is very likely that business records orders like this exist for every major American telecommunication company, meaning that, if you make calls in the United States, the NSA has those records. And this has been going on for at least 7 years, and probably longer. This type of untargeted, wholly domestic surveillance is exactly what EFF, and others have been suing about for years.
How is this legal?
There is, in fact,
debate
about whether it is legal, but
The New York Times
explains
the government's theory:
The order was sought by the Federal Bureau of Investigation under a section of the Foreign Intelligence Surveillance Act, the 1978 law that regulates domestic surveillance for national security purposes, including "tangible things" like a business's customer records. The provision was expanded by Section 215 of the Patriot Act, which Congress enacted after the 9/11 terrorist attacks.
How is it tolerated by the American people?
That's the most pressing question. The civic negligence required to reach this point is the thing that most disappoints me about my fellow citizens, who ought to throw out every last member of Congress complicit in the metastasizing surveillance state. I am serious. Look up your representative. In a letter or phone call, demand they take a stand against this, on penalty of you voting against them in a primary or general.
That's how change happens when the president who promised it turns out to have lied.
We don't know
if the federal government has a similar order for AT&T or any other carrier. Or if they're spying on Americans' emails as well. Why? That isn't the sort of thing President Obama thinks he needs to tell us, and Congress persists in giving him that latitude. Americans, who haven't been objecting to any of this in large numbers, aren't even demanding to know whether or not their government is assembling
the most sophisticated surveillance state in human history
.
Has fear of terrorism done this to us?
Apathy?
Denial?
Whatever the cause, the current behavior of the American electorate does not befit a free people. 
The Supreme Court, the one branch of government not accountable to the people, hasn't been helpful either, though there is a passage from a Sonia Sotomayor concurrence that merits wider
attention
:
...it may be necessary to reconsider the premise that an individual has no reasonable expectation of privacy in information voluntarily disclosed to third parties. This approach is ill suited to the digital age, in which people reveal a great deal of information about themselves to third parties in the course of carrying out mundane tasks. People disclose the phone numbers that they dial or text to their cellular providers; the URLs that they visit and the e-mail addresses with which they correspond to their Internet service providers; and the books, groceries, and medications they purchase to online retailers. Perhaps, as JUSTICE ALITO notes, some people may find the "tradeoff" of privacy for convenience "worthwhile," or come to accept this "diminution of privacy" as "inevitable," and perhaps not.

I for one doubt that people would accept without complaint the warrantless disclosure to the Government of a list of every Web site they had visited in the last week, or month, or year. But whatever the societal expectations, they can attain constitutionally protected status only if our Fourth Amendment jurisprudence ceases to treat secrecy as a prerequisite for privacy. I would not assume that all information voluntarily disclosed to some member of the public for a limited purpose is, for that reason alone, disentitled to Fourth Amendment protection.
A change in jurisprudence is years away from happening, if it ever happens. The surveillance state as now constituted could be reined in quickly if only the American people demanded it. Wake up! Senator Mark Udall
says
that this is the kind of surveillance Americans will find shocking.
Is he right?