The Supreme Court's Obamacare Ruling Was 1 Year Ago Today
What has changed since then, materially and politically?
It was just 365 days ago that the justices handed down their unexpected, Solomonically baby-splitting ruling on the major health overhaul passed by Democrats and favored by President Obama. It had something for everyone -- the Affordable Care Act is constitutional! Its mandatory Medicaid expansion isn't! -- and something to confuse everyone, especially CNN and Fox News.
With a presidential election behind us and a slew of new issues, from immigration to surveillance, on the docket, the court's decision in National Federation of Independent Business v. Sebelius seems long ago. But not only was it just a year, the law's major clauses still aren't in effect -- though they're now less than 100 days from implementation. Our friends at the Advisory Board put together a great infographic showing what has happened since then.
Perhaps the biggest change is the growth of accountable-care organizations, which are designed to save money by cutting unnecessary services: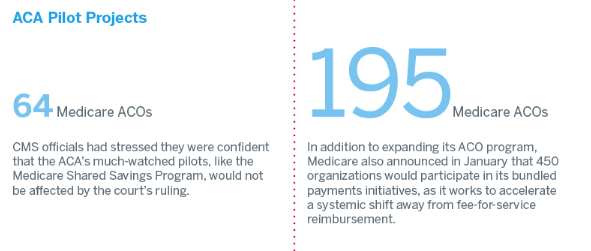 Partly as a result of the Court's ruling, which decreed that states couldn't be forced to accept a major federally funded expansion of Medicaid that was part of the bill, the number of states that have opted in hasn't even doubled. Many Republican-led states have rejected it as an unwise expansion of entitlements.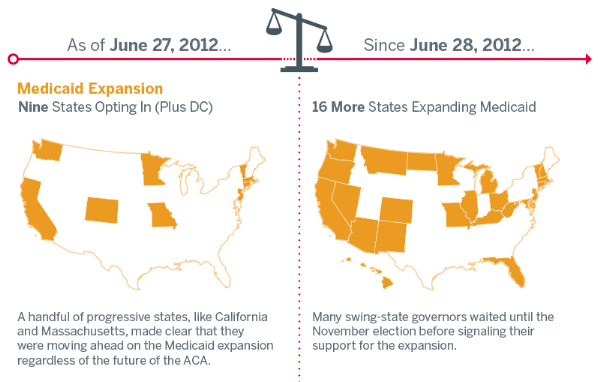 Meanwhile, it has become clear that while Republican officeholders remain opposed to the bill, they have tired of the strategy of frequent, symbolic votes against it, opting instead to fight the law at the state level or in future legislative rounds:
And yet despite all these changes, it's striking how little public opinion has changed. Despite the ruling, the presidential campaign, and the recent PR blitz by the president's allies, the American public still feels almost exactly the way it did in May 2012, just before the ruling. Plus ca change -- whether you can believe in it or not.