The Sleeper: Scott Walker Is the Dark-Horse GOP Candidate for 2016
You won't see him on magazine covers or late-night TV, but the Wisconsin governor has the resume and resilience for a White House run.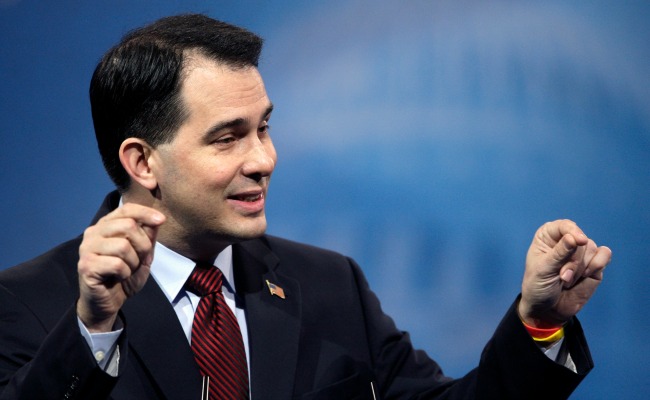 Jonathan Ernst/Reuters
Wisconsin Gov. Scott Walker polls near the bottom of would-be presidential contenders. Unlike potential rivals, you won't find him on the cover of Time magazine or slow-jamming the news with comedian Jimmy Fallon.
But he's a conservative Republican who won election in a blue state, survived a brutal recall campaign, and now posts approval ratings over 50 percent. A budget-slashing chief executive and son of a Baptist minister who straddles the fiscal and social conservative camps. A proven fundraiser who has put his thumb in the eye of President Obama and Big Labor.
He's poised to be the sleeper Republican presidential candidate of 2016.
"The recall was a gift to him in that it put him in touch with the big funders in the Republican Party, and I'm sure he keeps that Rolodex pretty close," said Brian Sikma, a spokesman for a conservative government watchdog group in Wisconsin. "I don't see any reason why he wouldn't run, and if you look at the tea leaves, he's taking all the traditional steps."
"I'm sure in next few months you'll find him somewhere in New Hampshire," said Milwaukee-based Republican consultant Todd Robert Murphy.
Walker has told the national media he's not ruling out a White House bid, and he headlined a Republican Party fundraiser last month in Iowa, which traditionally hosts the first presidential nominating contest, followed by New Hampshire. The governor is also writing a book about his triumph in the 2012 recall election after he revoked collective bargaining rights and set off a political firestorm.
This positioning for the national stage comes as no surprise to Wisconsin Republicans, who joke that Walker has been running for president since he was an ambitious politician-in-the-making at the American Legion's Badger Boys State. He was picked to represent Wisconsin at Boys Nation in Washington, D.C. and, in a moment he describes as seminal to his political career, met President Reagan. He was only 22 years old when he ran his first campaign for the State Assembly.
Last week, Walker gratified the religious right and provoked the Democratic Party when he said he would sign a bill requiring women seeking abortions to get ultrasound exams. The legislation is similar to the controversial law signed by Virginia Gov. Bob McDonnell. Eager to keep flogging the GOP's alleged "war on women," Democrats linked Walker's promise to sign the abortion bill with the recent vote by a all-male House committee to ban abortions after 20 weeks and Arizona Rep. Trent Franks' comment that rape victims infrequently get pregnant.
Democrats have also been taking shots at Wisconsin's economic record in the wake of Walker's fiscal reforms. Wisconsin was recently ranked 44th in private sector job creation. In another potential blemish on Walker's record, an audit last month found financial mismanagement at the state's economic development agency.
"Walker has put himself in a perilous position to pander to caucus-goers in Iowa rather than creating jobs and fixing the economy," said Danny Kanner, a spokesman for the Democratic Governors Association.
But despite the attacks, Democrats have struggled to find a credible challenger eager to run against Walker in 2014. The governor amassed a $30 million war chest for the recall campaign, while depleting the labor unions. Charles Franklin, a Marquette University professor of law and public policy, said Wisconsin Sen. Ron Johnson is viewed as more beatable in 2016 than Walker is in 2014.
"The Democratic bench is thin right now, and Democrats face a real issue of how to fund a campaign against him," Franklin said. "Between the money and his job approval, he looks awfully strong as a candidate."
One of the biggest obstacles preventing Walker from pursuing a presidential race is a Wisconsin Republican who has already run on the national ticket: Rep. Paul Ryan. The 2012 vice presidential nominee was warmly received Friday at the Faith and Freedom Coalition conference, while several people asked about Walker, who didn't attend, weren't familiar with him.
"He's not a known quantity," said Robert Lancia, a former Navy Chaplain from Rhode Island.
Even his own state, Walker ranked third -- behind Ryan and Marco Rubio -- in a poll of possible Republican presidential contenders by the Marquette University Law School. In national NBC News/Wall Street Journal surveys of Republicans, Ryan and Kentucky Sen. Rand Paul are leading the pack, while Walker's lower favorability ratings tied him for last place with Texas Sen. Ted Cruz.
But there's a flip side to Walker's lower profile. By not serving in Washington, he can steer clear of the contentious debate over immigration reform raging on Capitol Hill. The legislation to allow millions of illegal immigrants to earn citizenship is unpopular with the conservative base and could hamstring Rubio, who is spearheading the bill in the Senate. "He is making me seriously nervous," said Lancia, who described himself as a former fan of the Florida senator. The conference of religious conservatives sat silently when ex-Florida Gov. Jeb Bush, another potential candidate for the White House, touted his support for the bill on Friday.
Bob Wood, the head of a major Washington lobbying firm who served as chief of staff to former Wisconsin Gov. Tommy Thompson, said that Walker, a motorcycle-riding college dropout from the Midwest, is uniquely able to relate to ordinary voters. His proximity to Iowa, not to mention the seven years he claimed it as his home state, could also be an advantage in the caucus.
"The governor is getting things done and providing solutions while Washington is stuck in the mud," Wood said. "That would be a huge part of him separating himself apart."