The Obama Surveillance Revelations Are Pushing Liberals Over the Edge
Progressives aren't going to give the president a pass on civil liberties anymore.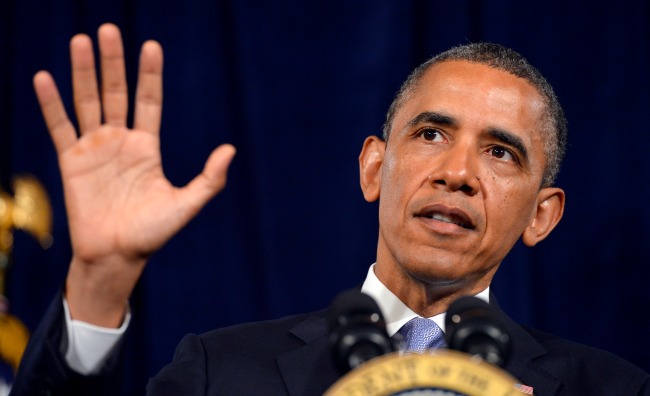 Jewel Samad/AFP/Getty Images
The email went out shortly after midnight Thursday, a few hours after the news broke about the Obama administration's large-scale monitoring of Americans' cell-phone records: "You are being spied on."
It was sent by the Progressive Change Campaign Committee, a leading liberal organization, to its list of supporters, and it asked them to sign a petition demanding an investigation of the cell-phone surveillance. "It's simply unacceptable," the email said.
As further revelations about domestic surveillance have emerged in recent days, the group has kept up the drumbeat. The response, PCCC officials say, has been overwhelming -- a sign of the widespread liberal anger at Obama over civil liberties.
"We just think that what's happening here is so outrageous, progressives can't afford to stand on the sidelines," PCCC's Zaid Jilani said. "We have to stand up for accountable, transparent government that respects your rights."
It is PCCC's first campaign on a civil-liberties issue; the group is best known for its work pushing progressive economic policies, including campaigns against entitlement cuts and on behalf of Massachusetts Senator Elizabeth Warren. On Monday, the group started a legal-defense fund for leaker Edward Snowden, and on Wednesday it plans to deliver nearly 30,000 petition signatures to the Senate Judiciary Committee.
It is hardly the first time the Obama Administration has angered civil libertarians. But this episode has finally pushed many of the president's liberal supporters over the brink, Jilani said.
"We thought there would be interest from our members in this issue, but we were definitely taken aback by the response," he said. "There have been concerns before about Obama's record on civil liberties and the security state, but people are genuinely shocked by the extent of this."
For liberals who accused the administration of George W. Bush of insufficient transparency, expansion of executive power, and disregarding constitutional protections, Obama's policies -- and the contrast with his campaign rhetoric -- have long grated. Many tolerated them until the NSA revelations made the issue too glaring to ignore, Jilani said.
"If you go back and look at candidate Obama's statements about whistleblowers and civil liberties, breaches of freedom and privacy under the past administration, you'd have a hard time saying Candidate Obama would agree with President Obama on this," Jilani said. "Within six hours of the whistleblower being outed, they were already talking about a criminal probe. They weren't talking about any internal investigation of the NSA's conduct or abuses of the Patriot Act."
The left is not necessarily unified in its outrage, and Jilani acknowledged some PCCC members have expressed dismay that the organization is turning its fire so harshly on the president. Similarly, in Congress, the issue has scrambled the partisan equation; hawkish liberals like Senator Dianne Feinstein have defended the administration, while civil libertarians on both sides of the aisle, from Democratic Senator Jeff Merkley to Republican Senator Mike Lee, have criticized it.
A Pew poll released Monday found majorities of Americans approve of call tracking and disapprove of email monitoring. The 41 percent of Americans who disapprove of secret NSA phone-record collection included 34 percent of Democrats -- about half the proportion who disapproved of surveillance tactics in the Bush Administration.
The partisan grassroots appear similarly divided. MoveOn.org has been silent on the issue -- the group's website features petitions about military sexual assault and genetically modified crops, but nothing about civil liberties. Similarly, Americans United for Change has stayed focused on gun control and criticizing congressional Republicans. In PCCC's corner on the issue are the Electronic Frontier Foundation, the American Civil Liberties Union -- and the Tea Party group FreedomWorks.
There is some heartburn about being at odds with Obama and in the same camp as some of his bitterest enemies. But the progressives blame the administration for alienating them, said Becky Bond, political director of Credo Mobile, the liberal cell-phone provider and political organizing group. As of Monday night, Credo had collected nearly 90,000 signatures on a petition it plans to deliver to the White House demanding that the administration acknowledge and provide a legal justification for its surveillance efforts.
"We're an organization that cares about issues," Bond said. "We know we often have to hold accountable those who are in power, especially when it comes to the security state and the apparatus the executive controls. It doesn't matter what party -- the potential for abuse is always there. But we're particularly disappointed that this president would go this far."