The Fiercest Battle in D.C. Is on the Baseball Diamond
If you think Capitol Hill is polarized, overcompetitive, and obsessed with winning, wait until you see the Congressional Baseball Game.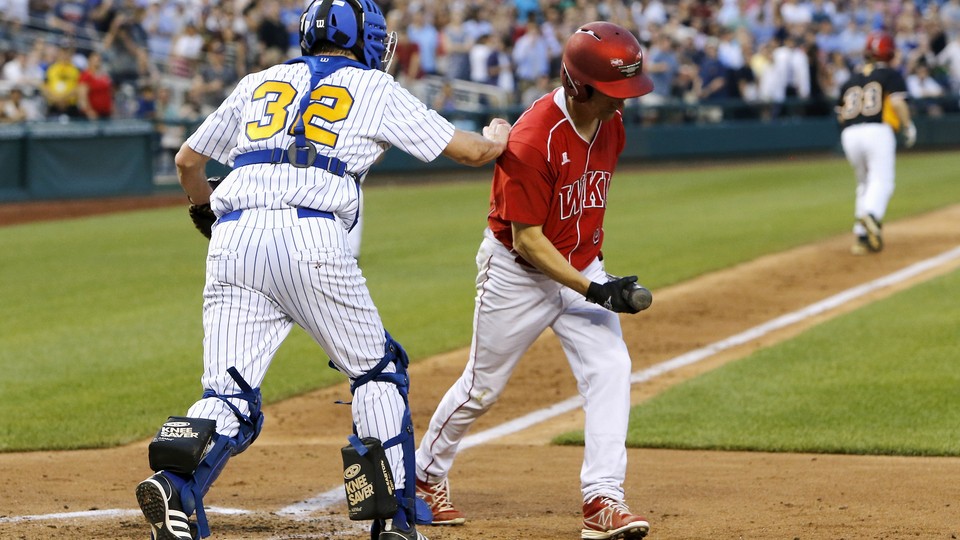 Ron DeSantis dug into the batter's box, his shadow stretching to the backstop in the morning light.
The first pitch was a fastball, although that's a generous description. Even through his sun-squinted eyes, it must have resembled a beach ball as it floated to the plate. With an almost casual flick of the wrist and a twist of the hips, DeSantis sent it soaring. It traced a spectacular arc before landing over the fence -- a good 320 feet from home plate -- and coming to rest beside a sign that boasted "Home of the Titans."
The sign referred to the high school baseball team that plays at the Alexandria, Va., field -- but to the Republican onlookers, scrimmaging a month before their annual congressional game against the Democrats, it felt like a portent. To this clutch of lawmakers in ill-fitting baseball pants and gut-hugging T-shirts, DeSantis wasn't just a 5-foot-11 first-term House member from Florida, a man who in suit and tie looks like any of a thousand lawyer-lobbyists who clog the capital. He became a Titan of their very own.
And he has much to bear. His teammates view DeSantis as a solution to the problem that is Rep. Cedric Richmond, the young Democratic pitcher from Louisiana who is universally considered the best congressional baseball player in memory, and the reason the Republicans have been completely embarrassed in the past two contests at Nationals Park.
"I think we'll call him the 'Cedric Slayer,'" said Rep. Bill Shuster of Pennsylvania, as DeSantis trotted around the bases of the freshly manicured field. Rep. Jeff Duncan of South Carolina, also impressed, turned to one of his colleagues. "I wanted to play the Darth Vader theme song when I came up to bat. But after that hit, I think maybe Ron should use it."
It's been a while since Republicans on Capitol Hill have had much to be excited about. Under the direction of Rep. Joe Barton of Texas -- a manager who has been accused of abandoning free-market competition in favor of giving everyone playing time -- the team has suffered a four-year losing streak. It hasn't been fun. Most members of Congress already endure being backbenchers in the least productive and most despised institution in America. Add four humiliating defeats on a professional baseball field, and even the most self-assured members of society begin to doubt themselves.
Morale reached a nadir in 2011, a year that had looked good on paper. The Tea Party had swept dozens of new members into office, and the Democrats managed to elect only nine new faces to the House of Representatives. Unfortunately for the GOP, one of those rookies was the fearsome Richmond, a former starting pitcher for Morehouse College. In his first outing for the Dems, he pitched a complete-game one-hitter with 13 strikeouts. Last year, he fanned 16. The Republicans saw no end to that streak in sight.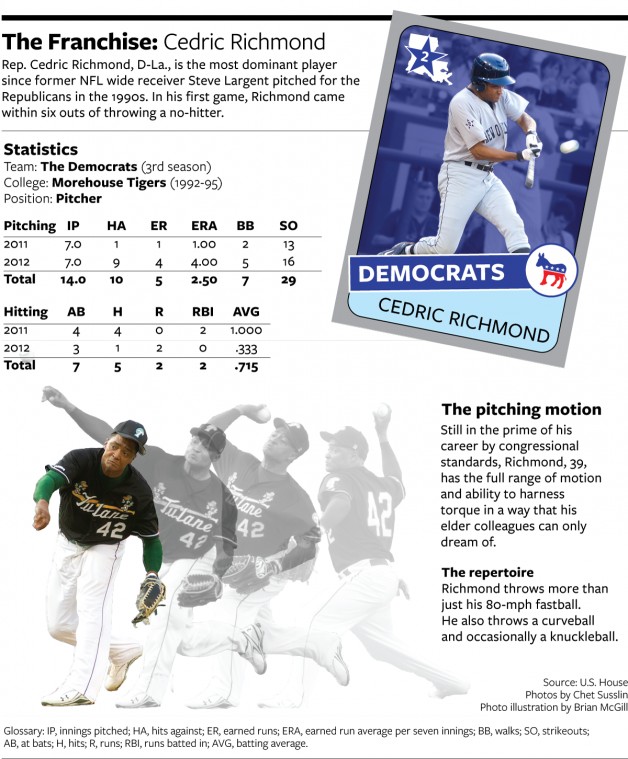 But the 2012 elections brought them DeSantis, a former Navy officer who in 2001 captained the Yale baseball team. And now he was already the first GOP player ever to hit a ball out of this Virginia park, where the team has been practicing since having to leave its training site after an errant foul ball struck a teacher out on a smoking break.
Normally, a freshman from Florida would not be recognized in the halls of Congress, even by his colleagues. But prowess on the field trumps the furtive anonymity of legislating, thus making DeSantis one of the most popular new members in his caucus. Not a week goes by at the Capitol, he said, that he's not stopped on the House floor or in the hallway to be asked about his arm or his swing.
The annals of sports are filled with names conjoined by epic rivalries: Magic and Bird; Ali and Frazier; Palmer and Nicklaus. For the most obsessed members of the congressional baseball teams -- of which there are plenty -- that list, they hope, could include Richmond and DeSantis.
"How serious do we take this?" asked Rep. Dennis Ross, a conservative from Florida with warning-track power. "We're up at 5:30 [every] morning, practicing for an hour and a half, for one game."
He added, "You won't see a lot of these guys this serious in their other congressional duties."
Pain and Gain
Nobody comes to Washington to lose. The 535 members of Congress are some of the most competitive people in the world, and some of the more competitive of those suit up to play congressional baseball. It's always been that way. It counts. So when Ross says his colleagues are putting the game ahead of other aspects of the job, he's saying they are part of a century-old tradition.
In 1914, the contest between the parties made it impossible to get enough bodies on the House floor to debate a Civil War cotton-damage bill. House Speaker James Beauchamp "Champ" Clark dispatched the sergeant-at-arms to retrieve a group of members from the field, but even with a quorum, the chamber adjourned without making progress on the bill: The members still had their heads in the game.
And it's not just the players' work that takes a backseat to baseball; it's their health as well. The first injury came two days before the first game in 1909, when Edward Vreeland broke his collarbone at practice, and recent examples abound. In 1994, Rep. Mike Oxley shattered his arm running into Sen. Sherrod Brown at first base; in 1996, Rep. Tim Holden collided mouth first with Rep. Bill Jefferson in foul territory, leaving tooth marks in his fellow Democrat's forehead and sending them both to the emergency room; and in 2008, Rep. Louie Gohmert tore his ACL and meniscus on a play at the plate.
The game has such a storied history of injuries that Speaker Sam Rayburn of Texas discontinued the rivalry in 1958, saying it had gotten too physical. When play resumed in 1962, a new era dawned, one with true bragging rights at stake. Games would still be played only once a year, but three wins in a five-game series would earn the coveted Roll Call Trophy, so named after the Capitol Hill newspaper that sponsors the game. As it stands, Republicans have won 10 of these trophies, and the Democrats have won only three (the overall win-loss record is much closer, with Republicans having a 41-37 edge). Already with one win in the current series, and with a team that is arguably better than last year, the Democrats have designs on getting a step closer to their fourth trophy on June 13.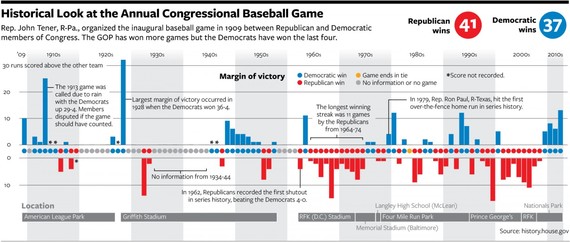 So the game means perhaps as much as it ever has. Just ask Rep. Lou Barletta, a relief pitcher from Pennsylvania who lost 20 pounds in the offseason and works out with a former minor-league ballplayer each week when he heads back to his district.
Or watch Austin Scott barrel headfirst into home during practice, scoring with something that was one part slide, another part tumble. With his colleagues cheering him on, the Georgian brushed the dirt off of his red shirt and proclaimed, "I hate to lose."
Sizing Them Up
When Rep. Mike Doyle, the current coach of the Democratic team, came to Congress from his Pittsburgh-area district in 1994, he was greeted by a peculiar question.
"I was standing in line to get my picture taken for my voting card, and someone comes up to me and said, 'Can you throw?'" he recalled in his Capitol Hill office. These days, Doyle looks less the player and more the old-timey portly manager, sitting in his leather chair and flanked by two trophies and a glory wall of congressional baseball photographs. "I said, 'Pardon me? Can I throw what?'"
The question came from Rep. Martin Sabo, the party's coach. He was on the prowl for players, a mission that felt very bizarre to Doyle. Not anymore. "I couldn't believe that the first question I was asked after getting elected was if I could play baseball," Doyle said with a laugh. "But now that I manage the team, any time there's an election, my first question for any freshmen who looks at all athletic is, 'Can you throw?'"
Naturally, it was the first thing he asked Cedric Richmond after he was elected in 2010. The answer made him giddy. This was a game Richmond has been mastering since he was a kid, growing up near a ball field in eastern New Orleans. Sports were always an important part of Richmond's life, especially after losing his father when he was just 7 years old. His coaches became his role models, and he quickly excelled athletically. By the time he reached Morehouse College, Richmond was a five-tool baseball player, adept not only on the pitcher's mound but also as a center fielder.
Unlike Doyle, Richmond was not taken by surprise when asked in Washington if he could play baseball. He knew it was coming. Even before arriving on the Hill, Richmond had heard from his predecessor, Rep. Bill Jefferson, about the game. Assistant Democratic Leader James Clyburn had even warned him not to "go out there and embarrass us."
"I knew it was serious," Richmond said. "So I got my behind to the gym to get in shape."
When he took the mound for the first time at Nationals Park in 2011, it was clear that he was in a different league than his mostly potbellied rivals. With a fastball that topped 80 miles an hour, Richmond looked like he was tossing Lipitor pills. He took a no-hitter into the eighth inning.
"I've been involved with this game for 27 years, and he is the best player on either side of the aisle I have seen play in the time I've been here," the GOP's Barton said.
After that game, Republicans took the year to regroup. During the three months of practice leading up to the 2012 showdown, they invested in new pitching machines they could crank up to 85 mph to get used to Richmond's speed. They also brought in some young hard-throwing staffers and a few former minor leaguers to toss batting practice.
Last year's game fell on the same day the Supreme Court ruled to uphold President Obama's health care law and the Republican-controlled House held Attorney General Eric Holder in contempt of Congress. "We went to the game, and both sides had some victory that day," Richmond said. "So we went to the game and said, let's break the tie right here."
Republicans were ready for the fastball. So Richmond threw the curve. The Democrats won 18-5.
Barton was in need of some new players. And he was vocal about it, telling staff members at the National Republican Campaign Committee, "Don't be afraid to recruit some flat-bellies." After becoming part of the NRCC's Young Guns programs, DeSantis cruised to an electoral victory.
And while he knows he won't be able to single-handedly tilt the score back in the GOP's favor (he's gone so far as to tell his teammates to donate money from their leadership PACs to support former major-league pitcher Jeff Suppan, if he decides to run in California), DeSantis is more than confident he can do his part. Compact and strong, with hands like baseball mitts, he says that in some ways he's in better shape than he was during his college days.
"It was the steroid era back then," DeSantis said in an interview in his office. He was in coat and tie, but his game-day jersey, a green Stetson University uniform, hung over his sofa. "I wasn't using, but I was lifting a lot of weights, and it wasn't that good for my arm."
Now, instead of benching 305 pounds, DeSantis does sets of more than 80 push-ups. As for whether he thinks he can hit Richmond, he says, "I'm pretty sure whoever they put out there I'll be able to hit. I was always the kind of hitter that if you threw it 92 miles per hour at me, I'd hit it right back at you."
Role Reversal
That Doyle was willing to keep Richmond on the mound for two complete games speaks to the Pennsylvanian's coaching style. He plays to win, even if that means some players don't play. "This isn't Little League," he says. "I've got a bunch of prima donnas who think they have the right to play, but I make that decision."
Here lies one of the great ironies of the game: While the Democrats only let you play if you're good enough, the GOP's Barton gives everyone a chance. One disgruntled Republican, who wished to remain anonymous out of fear that he might lose playing time, referred to Barton's coaching style as "socialist baseball."
But don't expect the coach to change his philosophy, even if his team has almost 30 players. "It wouldn't be right not to let everyone get some playing time," Barton said in an interview in a congressional office noticeably bare of trophies. "Imagine seeing your friends and family in the stands after the game and not having gotten to play. I don't want some kid to look at one of my players and say, 'Daddy, why didn't you get in the game?' "
It may sound like the everybody-gets-a-ribbon rationale that Democrats use to argue for a social-safety net, but Barton has an ulterior motive for giving everyone playing time. "Every one of my players has a voting card," Barton said. "You never know when I'll need one of their votes." It's actually not clear whether he will ever need their votes: Barton was replaced as chairman of the Energy and Commerce Committee in 2010.
And yet, these politics, whether real or imagined, often intrude. The first time DeSantis and Richmond faced each other wasn't on the ball field. It was at a recent Judiciary Committee hearing featuring Holder.
With the four-hour hearing coming to an end, DeSantis and Richmond were two of the last remaining members. As DeSantis tried to tear Holder down, demanding to know where was the credibility and accountability in the various scandals plaguing the White House, Richmond sat just seats away calling for more decorum during the proceedings.
Days later, in an interview in the Speaker's Lobby, Richmond implied that his first impression of DeSantis may act as motivation for him on the field. He even has some trash talk prepared.
"I might just say, 'Hey Ron, this one's for the AG,' " he said with a smirk.
Dealin'
The day before DeSantis hit one out during the GOP practice, the Democrats held their own workout. They were in a good mood. It didn't matter that their field in Northeast D.C. was lumpier than the Republicans' practice facilities, that a couple of homeless people slept on nearby benches, or that Rep. Dan Kildee had just pulled a calf muscle on a bumbling attempt to run down a fly ball. What mattered was that Richmond was on the mound.
Sen. Chris Murphy of Connecticut cut on and missed a fastball that Richmond threw at about three-quarter speed.
"Hey, Murph, you wanna use this bat?" Rep. Tim Bishop called out, holding up the smallest bat he could find in the dugout.
"Is that a woman's bat?" Murphy asked. "I'm OK."
When Richmond let a fastball sail, flying over the catcher's outstretched glove and rattling the backstop, Sen. Joe Donnelly, who was standing in the on-deck circle, looked to his colleagues and shouted, "I'm gonna use my good helmet today!"
The team has had plenty to smile about. Chief among the reasons is the addition of Rep. Patrick Murphy, the 29-year-old who defeated tea-party icon Allen West in a Florida nail-biter.
Rumors have been swirling that he may even get to pitch (giving Richmond the chance to catch, and really get to trash talk), but it's not clear how much the Democrats want to commit to him. On the one hand, he's young enough that if he can play, he may be good for years to come. On the other, he is already considered one of the most endangered Democrats in the House. It means he may not work out for the team in the long term.
What's sure is that Coach Doyle won't let on what his plan is until game day. If congressional baseball is anything, it's an exercise in deceit. Usually, it's self-deceit: delusional grown men taking a game too seriously. But, sometimes, it's a tool wielded to gain some sort of advantage.
"There's always a misinformation campaign going on between the teams," Doyle said. "I'm hearing from my Republican friends that DeSantis might be hurt, or that he can't really throw -- but who knows. They could just be peeing down our leg."
And while the game plan may be as difficult to pin down as one of the knuckleballs Richmond says he plans to feature this year (unless that, too, is just a ruse), one thing is sure. Doyle is not worried about the Republicans' Great White Hope.
"We have one player who can actually play baseball, and another who is just legend right now," he says. "Seeing is believing."