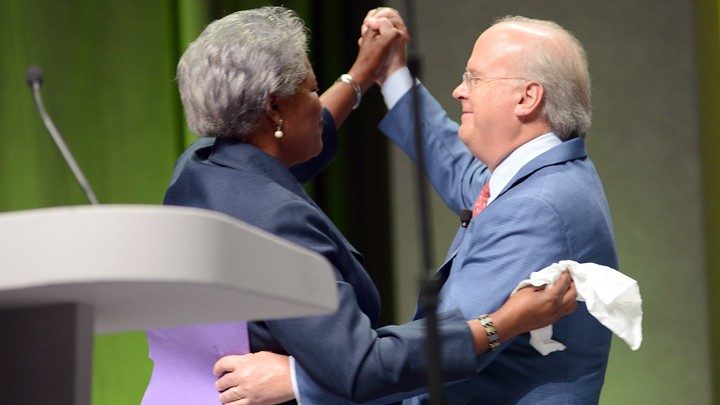 They couldn't be further apart politically, but that didn't stop Democratic strategist Donna Brazile and former Bush aide Karl Rove from dancing the night away at an event in Washington on Wednesday night.
It happened at the launch event for the National Conference of Volunteering and Service, hosted by Points of Light and JPMorgan Chase, with appearances from Brazile, Rove, Fox News host Bill O'Reilly, and former Obama strategist David Plouffe, among others.
Points of Light is a volunteerism organization that is run by Neil Bush, one of George H.W. Bush's sons, and Michelle Nunn, the daughter of former Sen. Sam Nunn, D-Ga.
At one point in the night, Brazile and Rove decided to dance:
(Points of Light/Flickr)
This isn't the first time that Rove has shown his dance moves. MC Rove showed his dancing and rapping skills at the White House Correspondents Association dinner in 2007:
We want to hear what you think about this article. Submit a letter to the editor or write to letters@theatlantic.com.