That Costly Africa Trip Is Actually Worth It
The president's three-nation trip will help U.S. businesses compete with China in a crucial and growing market.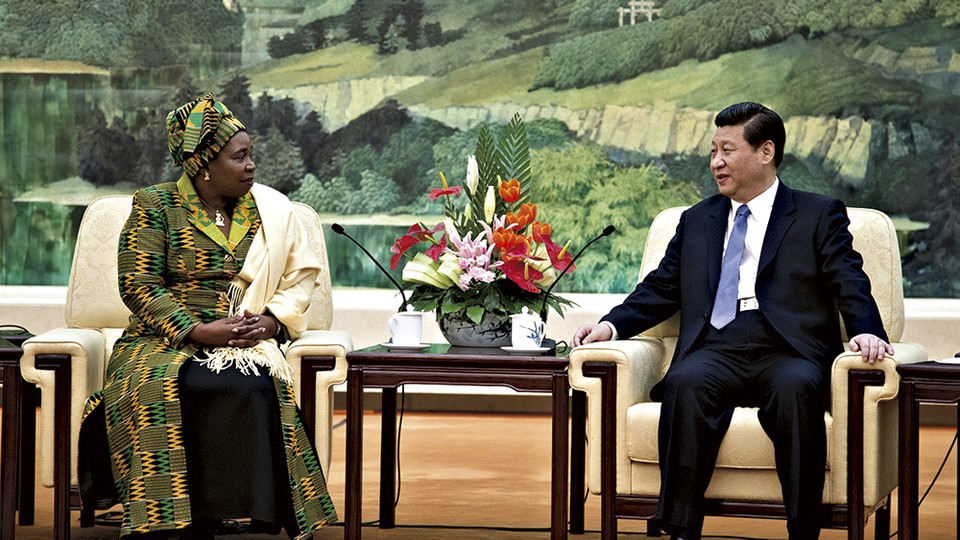 After The Washington Post reported that President Obama's upcoming trip to sub-Saharan Africa could cost more than $60 million, the conservative blogosphere overflowed with denunciations and demands that the White House cancel the journey. Nobody could have been happier with the outcry than the folks inside the Great Hall of the People in Beijing. For the president's trip, which will take him to Senegal, South Africa, and Tanzania, is a long overdue attempt to catch up with China in the battle for the burgeoning African market.
With trade at the top of the agenda, this tour may mark a welcome maturation of U.S.-Africa relations. Obama is the third president to make a serious, multicountry visit to sub-Saharan Africa. But this is the first one that — finally — has the feel of normalcy about it. And that separates it from the earlier visits by Bill Clinton and George W. Bush.
When Clinton toured six countries in 1998, he was cleaning up loose ends from an unhappy history and blazing a trail to a hopefully rosier future. He talked about the slave trade at the infamous "door of no return" where the slave ships docked in Senegal; he talked about genocide and the slaughter of 800,000 Tutsis in Rwanda; he talked about democracy in South Africa, paying homage to Nelson Mandela; he talked about malaria in Ghana. And Clinton talked about the changes he saw coming, declaring in Ghana's capital city, "I want to introduce the people of the United States, through my trip, to the new face of Africa."
Five years later, Bush continued the introductions. This time, he was introducing Africa to a new American attitude of involvement in the region. Far beyond expectations, he delivered on U.S. assistance in the battle against AIDS and overall financial help from the Millennium Challenge Corp. That commitment helped move Africa to modernity and stands today as one of the enduring accomplishments of the Bush presidency.
But even though Clinton and Bush alluded to the importance of an African market that has grown to encompass 1.3 billion people, neither had the luxury of focusing his trip on trade, investment, and jobs. That task is left to Obama. When he arrives early Wednesday in Dakar, Senegal, commerce will top his agenda. The irony, of course, is striking. The first son of Africa to be elected president of the United States will arrive on the continent of his ancestors for a visit less symbolic than those of his white predecessors.
To be sure, there will be moments of genuine emotion and public exultation in all three countries over Obama's return "home." But the Chinese emergence in Africa and the threat to American jobs demand a substance-heavy agenda for the president's first trip to Africa since a 22-hour stopover in Ghana in 2009. That year marked a milestone for the continent. When Clinton and Bush made their visits, U.S. trade with Africa far eclipsed China's. But in 2009, China surpassed the United States, according to the Government Accountability Office. The majority of U.S. imports from Africa are petroleum and other natural resources. China's exports of goods to the region have grown so rapidly that today they "far exceed" U.S. exports, GAO said.
And China is determined to widen the gap. There was no quibbling back home about the cost of the trip when Xi Jinping made a three-country sojourn to Africa his first foreign trip after he assumed the presidency. "One of the things you hear quite often is, "˜China is here. Where is the United States?' " said Jennifer G. Cooke, a veteran of the House Foreign Affairs Africa Subcommittee who is now director of the Africa program at the Center for Strategic and International Studies. In her travels, she says she hears the same questions about Obama. " "˜Where has he been? Why has he not engaged with us? He has abandoned us.' You hear that quite often."
Witney Schneidman, who was deputy assistant secretary of State for African affairs in the Clinton administration, hears the same questions. " "˜Where is the U.S.? Where are American companies?' " And he sees significant challenges that weren't there when he accompanied Clinton to Africa. "We didn't see Chinese companies; we didn't see Indian companies; we didn't see Brazilian companies; we didn't see Turkish companies," he said. "Today, when Obama goes, we [will] see companies from all these countries and more." But Schneidman, who is a senior Africa adviser for Covington & Burling, sees "a continent of great opportunity" for American businesses. He knows that seven of the fastest-growing economies in the world are in Africa — and he knows they crave U.S. investment.
"The fact is, African governments want American businesses to come out there. They like American brands. They like the way Americans do business. They want to be part of the U.S.," Schneidman said. And that is something Obama can build on next week, Cooke said. "He can use this trip to say, "˜Look, I am here. I am reengaging,' " she said, adding, "One of the themes of this trip will be the president saying the U.S. is in some ways a stronger business partner and a more desirable partner than the Chinese."
If Obama can sell that — if he can blunt the Chinese challenge and add to the 100,000 U.S. jobs dependent on African trade — the trip may seem like a bargain.