Television Cameras in the Supreme Court?
One senator's plea won't likely be heeded by the high court.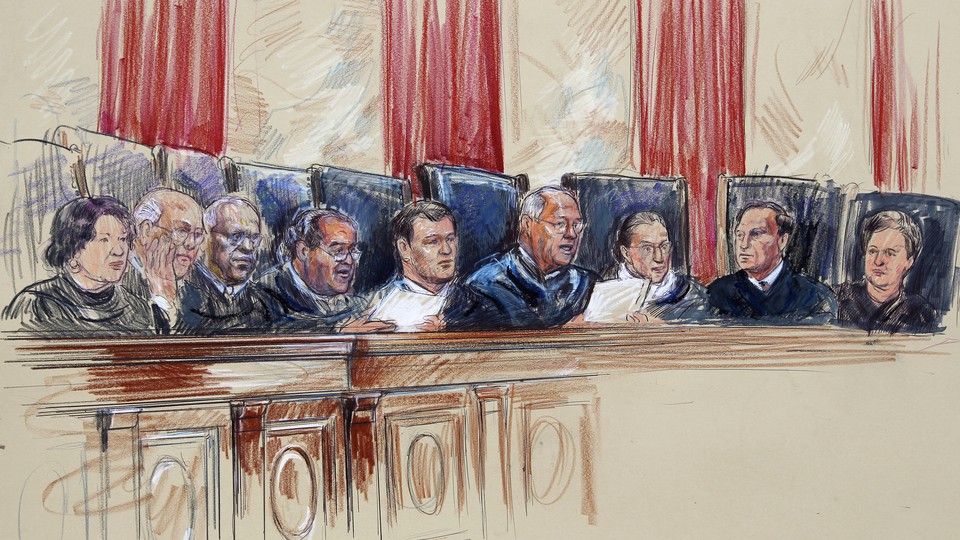 Calling for the Supreme Court to be more transparent is one of Washington's broken records.
Rarely does the high court agree to change its practices in the name of transparency, but that position doesn't stop some lawmakers and activists from trying. On Tuesday, Senate Majority Whip Dick Durbin, D-Ill., wrote a letter to Chief Justice John Roberts calling on the Court to allow for live audio in the chamber. Additionally, he called on the Court to allow for live video of public proceedings.
"It is not unreasonable for the American people to have an opportunity to hear firsthand the arguments and opinions that will shape their society for years to come," Durbin wrote to Roberts.
For years, people have called on the Court to allow cameras during proceedings. But many of the justices have been averse to the idea, citing both the negative effect C-SPAN arguably has had on Congress and joking that proceedings would be too boring for television to carry. Instead, the high court has gradually allowed other means of showing the public what goes on in the third branch of government: The audio of that week's proceedings is put online at week's end, and transcripts are released every day the Court is in public session.
Durbin is the author of the Cameras in the Courtroom Act, which would require live television access to the Court hearings unless a majority of justices believe it violates due-process rights for those before the Court. His bill passed out of the Senate Judiciary Committee in the last Congress, while a similar bill passed out of the same committee in the Congress before that one. But that's as far as either bill got.
It's unlikely that Durbin's call will be met with action this time around. But it doesn't hurt for trying.
Here's the full text of the letter from Durbin to Roberts:
Dear Chief Justice Roberts,

I write to urge the Court to provide the American public with access to live audio for all of its arguments and opinion announcements, beginning in the final week of the current Term.

People of reasonableminds may disagree on the proper outcome of any given case, but we can all agree that the American public is well served when all three branches of government are accessible and transparent. The opportunity to receive real-time access to audio from all public proceedings of the Supreme Court would greatly expand the Court's accessibility to average Americans. The enhanced transparency that would come from live audio broadcasts of public proceedings would allow the public to more closely track the many important cases that the Court decides. This year those issues range from patent law to marriage equality, bankruptcy to voting rights, and antitrust to affirmative action.

The recent high-profile arguments on marriage equality illustrate the obstacles awaiting any member of the general public interested in gaining live access to the Court. Some people started lining up five days early. Others reportedly paid up to $6,000 for line-sitters. Everyone else ""including those unable to travel to Washington, D.C. "" was relegated to the snippets of news leaking from the courtroom during the Court's proceedings and forced to wait until the afternoon to listen to the arguments in their entirety. At the same time, members of the exclusive Supreme Court Bar were able to show up to the Court shortly before each argument, secure seating in a comfortable lounge, and enjoy a live audio feed of the Court's proceedings.

I applaud the Court's recent efforts to increase transparency by releasing same-day transcripts and end-of-the-week audio. Continuing to delay the release of audio in the vast majority of cases, however, does not serve the Court's interests or the interests of the American public. Furthermore, when the Court has declined to offer same-day audio for some of the other high-profile cases this Term, it has sent the message "" intended or not "" that the constituencies invested in those cases are not as valued as other constituencies.

For example, although there were high levels of public interest in Shelby County v. Holder and Fisher v. University of Texas, the American public was forced to wait until the Friday after oral argument to listen to audio from these proceedings. By granting same-day audio in some cases, but not others, the Court leaves the impression that certain issues (like marriage equality and health care) are more important than others (like voting rights and affirmative action). All of these issues are important and every American deserves to have the same level of access to Court's public proceedings.

I continue to believe that the Court should permit live video broadcasts and I will reintroduce bipartisan legislation to make that happen. There are some who oppose putting cameras in the Supreme Court. That is a debate I welcome. There is, however, no legitimate reason for the Court not to immediately permit live audio broadcasts of its proceedings. An elite subset of the legal profession already benefits from live audio broadcasts of the Court's proceedings, while the rest of Americans typically must wait until the end of the week for the same audio. It's time for that to change.

In the next two weeks, the Court will announce opinions in some of the most closely watched cases in a generation. The Court's opinions in these cases will impact millions of individuals and the collective fabric of American life. Accordingly, it is not unreasonable for the American people to have an opportunity to hear firsthand the arguments and opinions that will shape their society for years to come.

Thank you for your consideration of this request.

Sincerely,

Richard J. Durbin

United State Senator