Republicans Can't Crack the Blue State Code
Gabriel Gomez's loss is the latest missed opportunity for Republicans to compete on Democratic turf.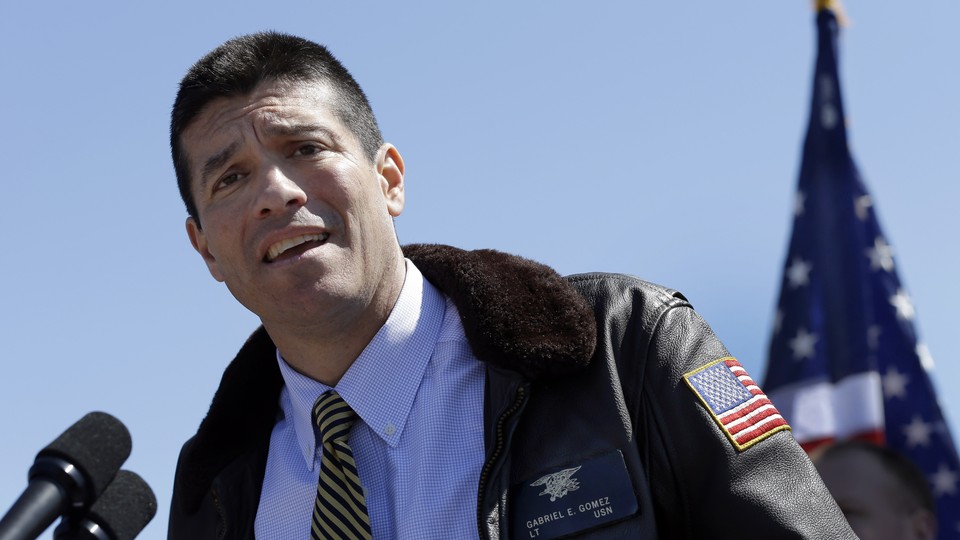 Gabriel Gomez billed himself as a modern Republican "" more moderate and culturally-savvy, the kind who could win in heavily-Democratic Massachusetts. Tuesday's defeat showed that most Bay State voters didn't believe the message.
Blue state voters rarely do. Democratic-leaning states have been close to off limits to most GOP Congressional candidates. In New England, there isn't a single Republican representative in the House and only two GOP senators remain: Kelly Ayotte in New Hampshire and Susan Collins in Maine. The West Coast is dominated by Democrats, and a winnable open Senate seat in New Jersey this year has been all but conceded to the Democrats.
That's handicapped Republicans as they pave their path back to the presidency and, in the short term, hope to win back a Senate majority. The challenges have GOP leaders wondering whether, with a plethora of opportunities during next year's midterm elections, they can crack the blue state code in time.
"It's imperative for any candidate in any blue state, especially for federal office, to cut your own image or better explain why the party stands for certain things," said Mike DuHaime, a GOP consultant based in New Jersey who advises Gov. Chris Christie. "I don't think we've done a great job of that lately. It's very difficult in blue states to overcome the caricature of the Republican Party right now."
Republicans would have less of a problem if their struggles were matched by the Democrats' challenges on conservative turf. At the presidential level, it's largely true. But in the Senate, Democrats have found ways to in win in unlikely places. Sen. Heidi Heitkamp in North Dakota and Sen. Joe Donnelly in Indiana both won Senate races last year in states where the Democratic Party rarely does well.
The GOP has several blue-state senators it can call its own, like Pat Toomey in Pennsylvania, Ron Johnson in Wisconsin, or Mark Kirk in Illinois. But their victories happened in 2010, the most favorable election for the Republican Party in a generation.
The explanation is straightforward for some GOP operatives: The party's primaries, forcing candidates to appeal to the most conservative constituencies, produces inferior general election nominees.
"I think Democrats are more pragmatic than Republicans when it comes to their nominees," said Fergus Cullen, a former New Hampshire state GOP chairman, who credits former Congressman Rahm Emanuel with instilling into his party a necessary political hard-headedness. "It's hard to see Republican primary voters accepting the equivalent of a Mark Pryor as their nominee, or Mary Landrieu as their nominee."
But in Massachusetts, Republicans managed to recruit a candidate that broke the mold. The son of Colombian immigrants and a former Navy SEAL, Gomez constructed a campaign around the premise he was a new kind of Republican. He favored expanding gun-sale background checks, embraced gay marriage, and hailed immigration reform that included a pathway to citizenship for those currently living in the country illegally.
On paper, he compared favorably to Tuesday's winner, Democratic Rep. Ed Markey, who had served as a congressman for nearly four decades.
But in the election, party labels mattered "" a lot. The 'R' next to Gomez's name on the ballot became a scarlet letter.
"Gomez is certainly a very different type of Republican from the national party," said Ryan Williams, a veteran of Mitt Romney's presidential campaign. "But all [Democrats] have to say is you're going to support the party's leadership, and it's hard to win that way in a deep blue state."
After Markey's win was secured, the Democratic Senatorial Campaign Committee issued a memo proclaiming the Gomez's defeat proved the GOP was struggling to win outside of red states.
"The circumstances in Massachusetts and New Jersey are indicative of a larger failure for the Republican Party and the NRSC: the complete inability to expand the map and compete in blue or purple states," said Guy Cecil, the DSCC's executive director. "This is a particularly bad sign for the NRSC as they seek to expand the 2014 map into any state beyond those won by Mitt Romney."
The blue and purple state targets in 2014 include New Hampshire, Minnesota, Virginia and Colorado, each of which is represented by a Democratic incumbent. Michigan and Iowa are also in play after incumbent Democratic senators there retired. In all six, an array of high-profile Republicans have passed on running.
Not all Republicans see a problem with the party's record in blue states, or think this week's loss in Massachusetts is symptomatic of a deeper problem. Markey and the Democratic Party felt compelled to spend about $3 million and to parade luminaries from President Obama to former President Bill Clinton through the state, noted Republican strategist Brian Walsh, a former spokesman for the National Republican Senatorial Committee.
"The fact that it hasn't been a cakewalk for Democrats is a minor victory," said Walsh. "That's $3 million Democrats aren't going to have going into next year."
In a statement, National Republican Senatorial Committee Chairman Jerry Moran said the midterm map offers far friendlier opportunities for the GOP than Massachusetts.
"We're doing things differently this cycle, and today's result only strengthens our resolve and commitment to recruit and support excellent candidates in every race," said Moran. "Democrats may have won this round, but it came at a massive cost on friendly turf. The same cannot be said in Louisiana, West Virginia, South Dakota, North Carolina, Arkansas, Montana, Alaska, Michigan, Iowa, and New Hampshire."
---
Beth Reinhard contributed to this report. contributed to this article