Republicans Begging for Money to Put Massachusetts Senate Seat In Play
Despite polls showing the race competitive, GOP outside groups aren't buying.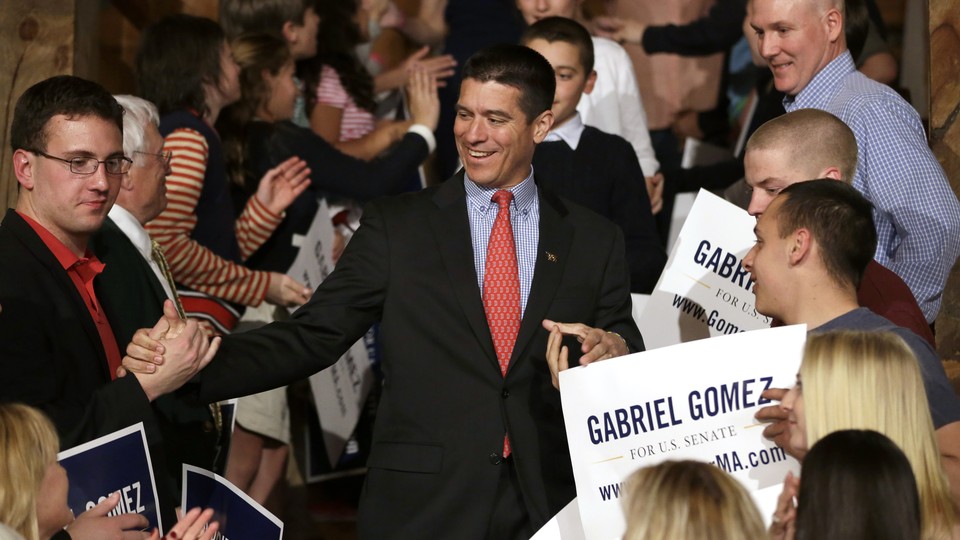 On paper, Gabriel Gomez is the type of Senate candidate Republican strategists have been waiting for. A former Navy SEAL who's the son of Colombian immigrants, his biography is tailor-made for big-money donors to salivate over.
But in an unwelcome twist, the Massachusetts Senate nominee is struggling to raise money from donors or receive help from the outside groups traditionally involved in helping the GOP pick up Senate seats.
In an unusual move, Republicans involved in the campaign are publicly complaining that they are being badly outspent and getting minimal reinforcements just as the election enters a critical home stretch. Their absence has given Democratic Rep. Ed Markey a significant financial edge, aided by liberal allied groups who have poured millions into the special election battle.
The GOP's public sniping amounts to a last-minute plea to get donors on board in a race Republicans think Gomez can still pull out "" even if polls show him trailing. But it also hints at a deeper frustration among some Republicans, who think last year's presidential election gut-punch has made the GOP's money men timid.
"A lot of Republicans were taken by surprise that Mitt Romney lost and we didn't win the Senate in November. And I think the shell-shock is enduring longer than anyone anticipated it would," said Brad Todd, a Republican consultant working with the Gomez campaign.
Over the past month, Todd has been surprisingly open about the donor class' lack of enthusiasm for Gomez, sending out a regular stream of Tweets mocking his own party for missing a golden opportunity. "GOPers have moped in sack cloth lab coats for 7 months. Stop analyzing. Start winning. Get out of the Endless Post Mortem & help," he tweeted on May 30. One week later, he Tweeted: "Leave your clothes at the end of the dock and dive in, my friends."  He's gotten few takers.
Gomez has run a surprisingly competitive race against Markey, seizing on the congressman's 36-year tenure in Washington as proof he's out-of-touch. Gomez's relative youth and ethnic background have made for an effective contrast with voters.
But his campaign has been hindered by relentless attacks from Democrats that he's a cookie-cutter Republican, poised to curtail women's rights and cut entitlement benefits. And those attacks have been most effectively delivered on television, many of them funded by Democratic outside groups. All told, Markey and outside Democratic groups have spent over $5.1 million "" most of it blasting Gomez.
Their aggregate has dwarfed what Gomez has been able to spend from his own campaign coffers. All told, Gomez and his allies have spent about $1.5 million on the general election race as of Wednesday, according to a source tracking ad buys in the stat. That includes $800,000 from a coordinated buy with the Massachusetts Republican Party. A newly-formed conservative super PAC placed a $581,000 ad buy Wednesday on Gomez's behalf, according to a GOP source, but that only puts a small dent into the GOP financial deficit.
One Republican official affiliated with an outside group said that they were skeptical that spending millions on an expensive Massachusetts Senate would be a good investment, given the obstacles Gomez faced.
National Republican Senatorial Committee spokesman Brad Dayspring said that he thinks the donations will come, especially as donors watch Markey struggle to put away the race despite his cash advantage. But he said that the next week will be "pivotal" to see if they arrive in time to help Gomez surge to the finish line.
"In general, the outside groups and donors are suffering from election fatigue from 2012," said Dayspring. "They want to invest in causes and candidates they want to win ""and when you're looking at a navy blue state like Massachusetts, there's a high level of doubt among donors they can repeat what happened in 2010."
Even if it does, it's no guarantee of victory. Gomez trails Markey by seven points, according to the latest Suffolk University survey of the race. And Democrats say Gomez, whose campaign has received assistance from the NRSC, is still getting outside help.
"Democrats always get outspent in Senate races," said Justin Barasky, spokesman for the Democratic Senate Campaign Committee. "Republicans, while spending heavily for Gomez, have allowed themselves to be outspent. That suggests that it's not a winnable race."
But the Democrats have also given no indication they think Markey has locked up the race. In addition to the outside group spending, President Obama, Vice President Biden, First Lady Michelle Obama have all campaigned for the Democratic congressman. And former President Bill Clinton is scheduled to arrive in Massachusetts this weekend on Markey's behalf.
It suggests to Republicans the race is winnable, but if only the party can get over what happened last year. According to Todd, the campaign has suffered in donations from everyone from "people who make a $25 donation on the Internet to those who write $5,000 checks."
"The only way to stop losing is to start winning," he said. "And the only way you start winning is to start competing. Any donors around the country who were disheartened by Republican candidates losing in November, the only way they can clean that bad taste out of their mouths is to start competing and start winning. It's the obligation for every Republican leader to make that pitch to our donor base."
CLARIFICATION: The Republican official affiliated with an outside group was not a reference to NRSC spokesman Brad Dayspring. The story was updated to clarify.